Here's What October's Full Moon Could Mean For Your Sign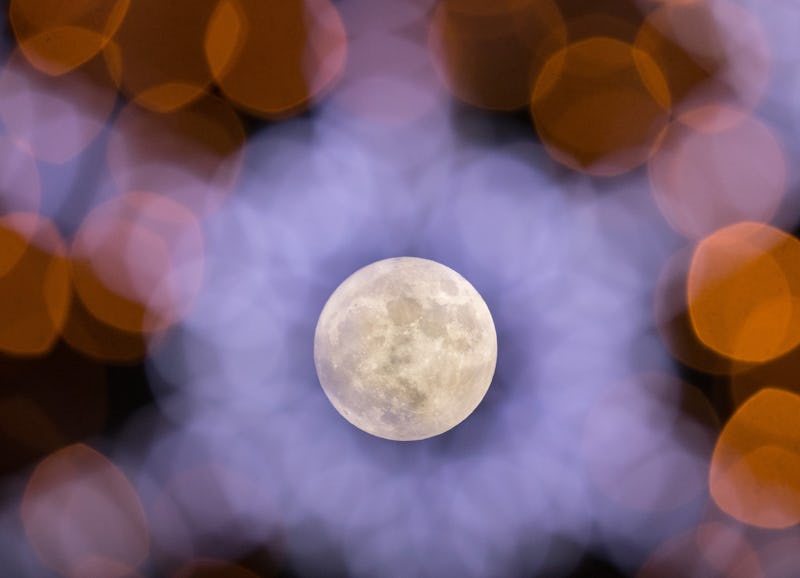 Matt Cardy/Getty Images News/Getty Images
This month's full moon, known as the Harvest Moon, will light up the sky on Oct. 5. The bright moon lingers through out the night which traditionally allowed farmers to finish collecting their crops in the wake of its shine. But this year's appearance of the moon will cast a spotlight on our emotions, in different ways based on the zodiac — so, it's worth asking what the Harvest Moon could mean for your sign so that you're appropriately prepared. While the phases of the moon have always had an affect on emotions, this one might call for a few extra entries in the journal.
If you don't have any corn to harvest, this full moon is the prime time to sit with yourself and reflect on your goals. What have you gathered this year? What can you work on? How do you move forward. It's the finale of a cycle that deserves celebration and allows literal as well as spiritual illumination.
Thursday's full moon will rise in Aries as the sun remains in Libra. While Aries is courageous and enterprising, Libra is a harmonious sign favoring gentleness. The polarity of these energetic planets in these particular signs makes this full moon one to find a balance in. Don't be afraid to feel all the feels you will surely feel the need to embrace this week. Being open and reflective has the ability to open a lot of doors in your heart and maybe onto a new, more fulfilling path.
Aries
This is your moon to bask in! Typically when a moon falls in your sign, you're the ones soaking in most of its beams. And you sure are feeling this one. Ready to take the next step? The power of this moon could highlight your courageous nature and urge you to move forward on plans you made back in March around the time of the New Moon. If you crafted the ultimate vision board a few months ago, now would be the time to recognize what the universe has granted you and continue to follow that dream. You're a courageous one, Aries, and this full moon might have you feeling particularly brave.
Taurus
According to astrologists, you might be feeling ready to break free from old habits. These habits might be the kind that hold your characteristically patient sign back from achieving personal growth. This moon might have the power to give you the push — and light — you need to venture down that independent path you've been meaning to explore. Sometimes, the full moon is about letting go, and your sign might need to step back and recognize in this illuminating light what is no longer helping you move forward.
Gemini
All of the approximately one million goals and projects you have? Well, you only have two opposable thumbs and 24 hours in a day. This moon could open you up to the idea of partners. And I'm talking more people than just your astrological twin. There might be a team out there, around the corner, who will assemble to possibly bring your ideas to fruition. In the light of this moon, it's a good idea to keep an eye out for that right crew.
Cancer
Lights, camera, career path. Your work life is ready for its close up as the moon spotlights your career sector. This could mean success for the hardworking crab! The farmer might be collecting corn but you are collecting opportunities. Perhaps you've been putting in double shifts or overtime and working hard towards a particular goal. Turns out the seeds you planted and the field you nurtured grew some sweet fruit for the plucking.
Leo
Feeling the urge to explore more than your corner coffee shop? This moon could rev up your need for adventure! Channel the positive emotions you're being #blessed with during the Full Moon into your ventures — whether that's to a coffee shop across town or to a new office in another city. Good news could be revealed to you during this time. You are Leo, let's hear you roar!
Virgo
Has something been building up since late March? Like, emotionally? The moon, and its relationship with our feelings, could deepen whatever you're feeling attached to. This isn't a time to shove those feelings creeping to the surface down. You could feel encouraged by the moon to share your feelings with the class — or, one special person in particular. Don't worry, I don't think you'll need to recite your diary entries, but it might be in your best interest to embrace what's been building for the past six months.
Libra
Is it Valentine's Day yet? The moon could be lighting up your relationship sector with scented candles, if you know what I mean. In this light, you might be growing closer to somebody, or it might be showing you that it's time to blow out the candles and find a better suited partner to strike a spark with. And as the moon lingers in Aries, a sign of self-confidence, it wouldn't hurt to give yourself some love too.
Scorpio
Your intense sign is always hard at work. This moon could illuminate the significance in rest. Training for a marathon? Hitting the books early for those midterms? Make sure you soak your feet and submerge your whole self in the embrace of a lavender-rose bath. Bookmark your textbook and wander outside to hear the leaves crunch under your booties. The Harvest Moon might lead you down a rejuvenating path of wellness. Time to zen out.
Sagittarius
Under the beam of the moon you could find yourself in a romantic daze. This might be the time to open yourself up to people you want to grow closer to over the next six months or so. And for those who don't seem to operate on your level of feels, this could be the time to let them go and work on yourself to attract the next bout of suitors. And sometimes the best thing to do is to work on the relationship you have with yourself.
Capricorn
Is it all about the foundation? The Harvest Moon suggests that it could be for you. Your focus during this time might be on your home life. If you have a space to reclaim, hop on Pinterest and gather inspiration and transform a room into a sanctuary. Now might also be the right time to rely on family for emotional support.
Aquarius
Maybe you've written your wants and needs down, but have had a hard time articulating them past the paper. This moon could bring you the emotional clarity to move forward with these dreamy fulfilling plans. You definitely know what you want and the gentle yet pointed push from the moon will get you closer to the people and places you need to collaborate with. Get out there! Search for clubs to join or reach out to friends who can introduce you to other friends. You might be joining a few more group chats soon.
Pisces
This Harvest Moon could mean something for your bank account. With a light on your money sector, this moon could encourage you to spruce up the ol' resume. Have your friend or your mom's co-worker look it over and offer honest feedback. Dust off the old social media and put yourself forward. The right job — or future boss/co-worker — could catch a glimpse of your talents.