What Does The Midnight Mint Mocha Frappuccino Taste Like?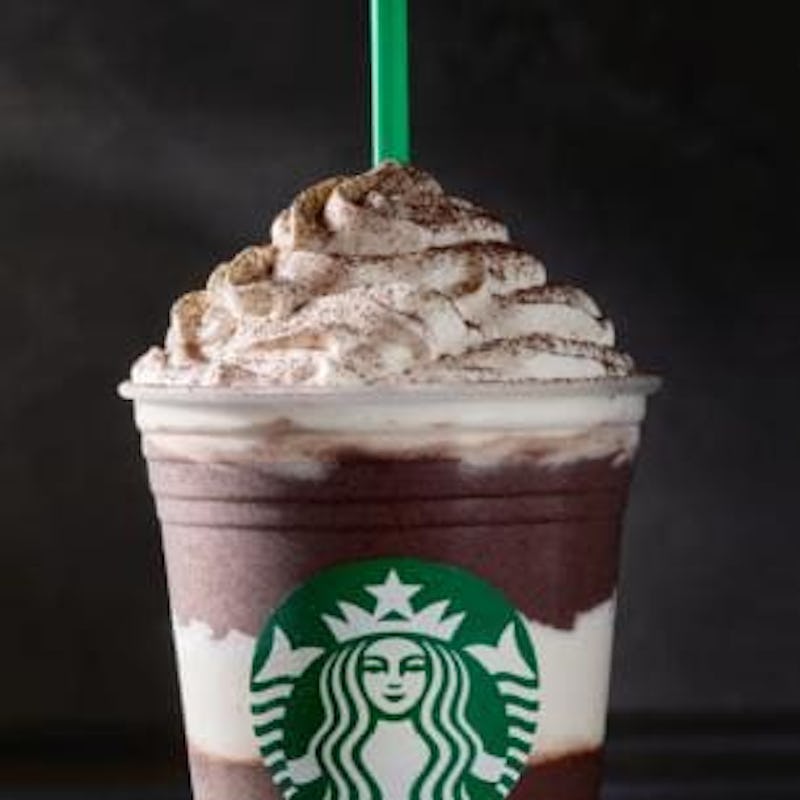 There's a new frappuccino on the menu at Starbucks and it's exactly what you didn't know you needed this spring. And, after looking at pictures of this icy queen, you're going to think you know what the Midnight Mint Mocha Frappuccino tastes like — but you won't. Because however good you think it looks, however rich, icy, decadent, and refreshing the pictures look, they are nothing in comparison to how it tastes.
Sure, Starbucks has been making dessert-like ice blend drinks for ages. They're nothing new. But this new menu item is a serious step up from the other Frappuccinos. The flavors come together to create this swirled gourmet taste that is somehow both filling and light.
The Midnight Mint Mocha Frapp has both dark cocoa and refreshing mint with churned with Frappuccino Roast Coffee, milk and ice. To make it super sweet and minty, they infuse the blended chocolatey beverage with cooling mint sugar crystals, cut with a layer of whipped cream, then topped it with more whipped cream and a dusting of dark cocoa. Oh, what, you're drooling? Yeah, I told you so. It's basically like a cross between mint chocolate chip ice cream and and Thin Mint Girl Scouts cookie with a hint of smooth coffee. If the Peppermint Mocha Latte was the perfect winter drink, the Midnight Mocha Frapp is the perfect spring drink — they're like two peas in a seasonal pod. Here's what the dreamy drink looks like:
The minty treat will cost you around $4.45 to $4.75 for a 12-ounce tall, depending on the store location. It's available starting May 2 Starbucks stores in the United States and Canada. And unlike the fleeting unicorn and mermaid Frappuccinos, this drink is here to stay for a bit. It's available while supplies last! So while there's no literal need to drop everything and run out of your house right now get one, no one would judge you if you did.
Image: Starbucks