To Solve 'The Sinner' Murder, Fans Have To Figure Out What Vera's Cult Believes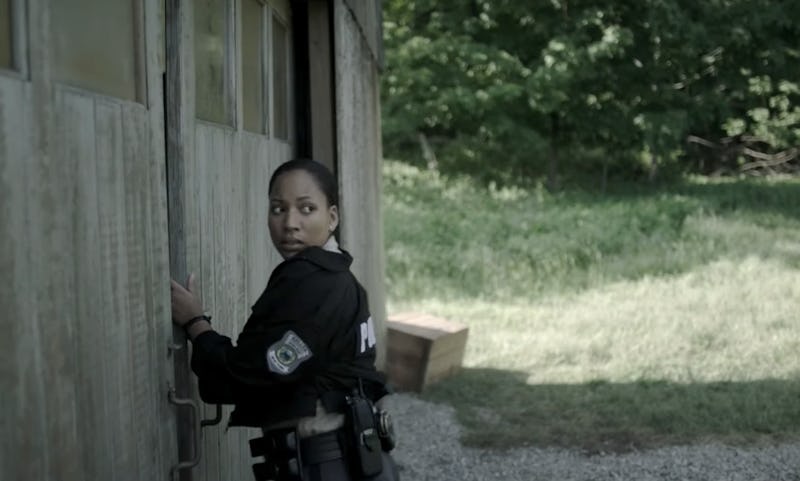 USA Network
After "Part II" of The Sinner Season 2, Carrie Coon's Vera is still quite an enigma. But the episode provides insight into where she and her alleged son Julian live. Spoilers ahead. Heather discovers a rock at the Mosswood compound. Kept protected in the barn, the rock on The Sinner Season 2 appears to be an item of major importance to Vera's community. The towering piece of stone could have something to do with the "shadow" aspect of people's identities that Vera explains to Detective Harry Ambrose. Or, based on its location, it could be the entire basis of Mosswood's belief system. Either way, this rock is a major clue when it comes to figuring out why Julian murdered Adam and Bess.
As Ambrose continues to emphasize, Julian must have experienced some traumatic incident in his life to lead this 13-year-old to poison two people. And so Ambrose and Heather head to Mosswood, the troubled compound where Julian grew up. This triggers memories for Heather of when she and her friend Marin snuck onto the compound. In the flashbacks, Heather becomes slightly enamored with the message of Mosswood and is taken to the barn by a man from the community. So when Heather returns to the compound, she enters the barn to see what this building holds that so intrigued her missing friend.
The man who brought Marin into the barn had said, "There's someone I want you to meet." But Heather doesn't discover a person in the barn. Instead, behind some curtains, there is a large rock that stands underneath a moonroof. There are also crevices in the rock that could potentially be engravings. And the energy this stone gives off (or she imagines it's giving off) makes Heather hesitate when it came to touching it.
Since Mosswood is considered a cult, one theory is that this rock has some sort of ancient religious connection — kind of like how, as The Guardian reported, Stonehenge has been theorized to hold religious significance. As Ambrose noted in the Season 2 premiere, Keller was part of the religious revival movement that occurred in the U.S. in the 1800s. While Mormonism is often associated with Utah, the Church of Jesus Christ of Latter-Day Saints believes that Joseph Smith found gold plates on Hill Cumorah, which is located near the upstate town of Palmyra, New York. These plates are the source for the Book of Mormon. The Latter-Day Saints website notes that people tried to steal these plates from Smith, so he hid them in the loft of his barn. And while the gold plates weren't a large stone like what is at Mosswood, the connection to a potentially important religious artifact being kept in a barn in upstate New York can't be just a coincidence.
The trailer for the rest of Season 2 that aired after the premiere also shows Vera seemingly paying homage to this rock. In the trailer, she reverently walks up to it with her palms raised before she touches it. And there have been other hints in the first two episodes of rocks being important to members of Mosswood. Bess is wearing a necklace with a purple gemstone in a photo that's featured in her memorial. When Heather and Ambrose go to search Bess and Adam's living quarters, Ambrose notices a woman wearing Bess' necklace. While this moment is more to indicate that Bess never intended to return to Mosswood, perhaps the gemstone has another layer of importance.
Julian also reveals a rock connection pretty early on. He placed rocks on the eyes of the dead bodies of Bess and Adam, a funeral tradition that should have been familiar to Game Of Thrones fans. This makes it seem like the members of Mosswood may believe the rock in the barn — or even rocks in general — has some association with a spiritual afterlife. Especially since Julian told Heather that he believes that their deaths meant that Adam and Bess would go back "to the beginning."
This rock not only holds the secret behind the beliefs of Mosswood but behind Julian's motive. So Heather will have to keep digging into Mosswood and her own past if she wants to understand the full scope of these murders.