Kim Kardashian's Insta Filter Is A Huge Mystery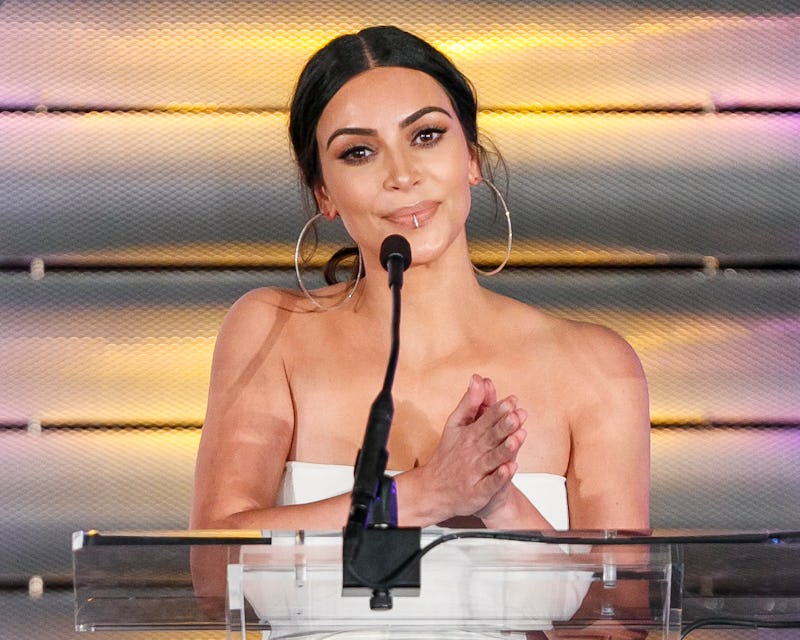 Rich Polk/Getty Images Entertainment/Getty Images
Kimmy, it's time you give the people what they want. Ever since she first returned to social media after her October 2016 robbery in Paris, the Keeping Up With the Kardashians star has been sharing eye-catching Instagram photos that look like they're straight out of the 1970s. It's still not clear what she is doing to make the photos look this way or if she's using some type of app, which is why I'm here to try and answer the one question I know is running through your mind: What filter does Kim Kardashian use for her new, 2017 Instagram pictures?
First things first, Bustle has reached out to Kardashian's rep regarding the '70s filter look, but did not receive an immediate response. Unfortunately, it doesn't appear that the reality star has divulged exactly the secret behind her vintage Instagrams to anyone yet. Here's hoping at some point in the near future, she'll come outright and answer everyone on Twitter wondering how the heck she is turning both old and new photos into a fresh trend.
According to Us Weekly, her family photos were part of a series from Kanye West's creative director Eli Russell Linnetz. "Kim is obsessed," the source revealed. "She loves the way they look." It's unclear whether or not Linnetz is responsible for the '70s look, but it appears the photos she shared of her family upon her return to social media might have been the ones that were thanks to Linnetz.
As for the filter and/or app she is using now, wouldn't it be fantastic if it was something she created herself as a business idea for Instagram? Or, better yet, she designed the filter herself and Instagram could adopt it because Kardashian's biggest fans want their photos to look just like hers? Hey, it could happen.
If you ask New York-based fashion and runway photographer Jonas Gustavsson, there's a chance Kardashian is going through quite the effort to get her photos to look this way. "It could be one of many things," he told Pret-a-Reporter in January. "She might be shooting them on Snapchat, filtering them and then importing them into Instagram and filtering them again, thus the heavy, blurry almost grainy film look."
Gustavasson also said, "She may also have an inside track to a filter that Instagram or Snapchat will be releasing soon." See? A maybe a Kardashian filter could be happening.
According to Los Angeles photographer and Getty lensman Donato Sardella, he told Pret-a-Reporter, "It looks to me like they were shot with a Polaroid camera and afterward re-photographed with the phone." Advertising photographer Stefanie Keenan also told the Pret-a-Reporter if others want to create images similar to Kardashian's they should try Photoshop's Gaussian Blur and then use a purple and blue filter. "It creates an intimate feeling."
Thanks to a January Who What Wear article, there are other steps that will seemingly help your photos become a Kardashian creation. What are you waiting for? Get to it!
Whatever Kardashian is doing, people really want to know.