Here's What You Need To Know About Unite The Right, Then And Now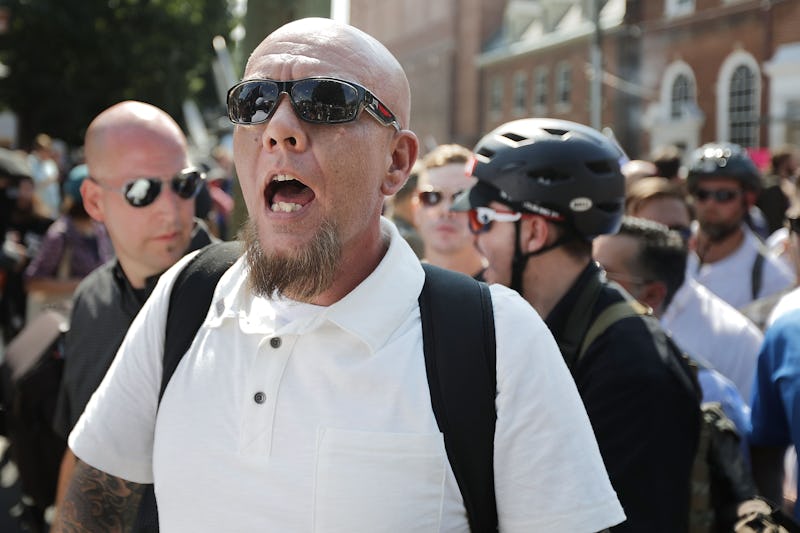 Chip Somodevilla/Getty Images News/Getty Images
It's been a year since white nationalists descended upon Charlottesville, Virginia, to ostensibly protest the removal of Confederate Robert E. Lee's statue from a local park. On Aug. 12, white supremacists plan to mark Unite The Right's anniversary with a rally at Lafayette Square in Washington, D.C. Some people might be curious to know why what happened at the Unite The Right rally has led to increased security and anxiety in Washington, D.C. this year on the anniversary of the protest.
The rally last year was deadly. Three people were killed as a result of it, including a counter-protester named Heather Heyer and two Virginia State Police troopers who died in a separate helicopter crash. Shortly after the rally began, former Virginia Gov. Terry McAuliffe declared a state of emergency in Virginia, noting that people getting together "in the park, on the streets, and on the sidewalks" were forming "an unlawful assembly."
That Unite The Right event was preceded by a march the night before on the University of Virginia campus. Hundreds of white nationalists stormed the campus, carrying blazing torches and yelling anti-Semitic slogans such as "blood and soil" — a chant that has origins in Nazi Germany.
What further angered the public was Trump's response to the rally, even after the deadly violence. In a statement drawing an equivalency between "both sides," Trump said, "We condemn in the strongest possible terms this egregious display of hatred, bigotry and violence, on many sides. On many sides. It's been going on for a long time in our country. Not Donald Trump, not Barack Obama. This has been going on for a long, long time."
News pundits slammed the president's statement as amoral. Both Republicans and Democrats criticized Trump. Even House Speaker Paul Ryan tweeted in a statement (that did not name Trump): "We must be clear. White supremacy is repulsive. This bigotry is counter to all this country stands for. There can be no moral ambiguity."
But Trump doubled-down on his comments, later saying, "You had a group on one side that was bad and you had a group on the other side that was also very violent. Nobody wants to say it, but I will say it right now."
In March, white supremacists argued in a lawsuit that their violence at the rally was in self-defense. The judge later ruled in favor of the victims of the Charlottesville rally.
According to The Richmond Times-Dispatch, confirmed speakers for this year's Unite The Right rally include white supremacists such as the Ku Klux Klan's "grand wizard" David Duke as well as others. The names were revealed to The Richmond Times-Dispatch in documents from The National Park Service.
In light of last year's rally, Gov. Ralph Northam released a statement on Wednesday, announcing a state of emergency for Virginia ahead of the anniversary. In his statement, the Virginian governor said:
We hope the anniversary of those events passes peacefully. I am urging Virginians to make alternative plans to engaging with planned demonstrations of hate, should those arise. Declaring this state of emergency in advance of the anniversary and the related planned events will help us ensure that the state and the city have all available resources to support emergency responders in case they are needed.
In D.C., massive counter-protests against Unite The Right 2 are expected. Though there are security measures in place at the capital, the violence at last year's rally likely will be on people's minds come Aug. 12.