Yikes, This 'RHOA' Feud Between NeNe & Kim May Be The Most Complicated One Yet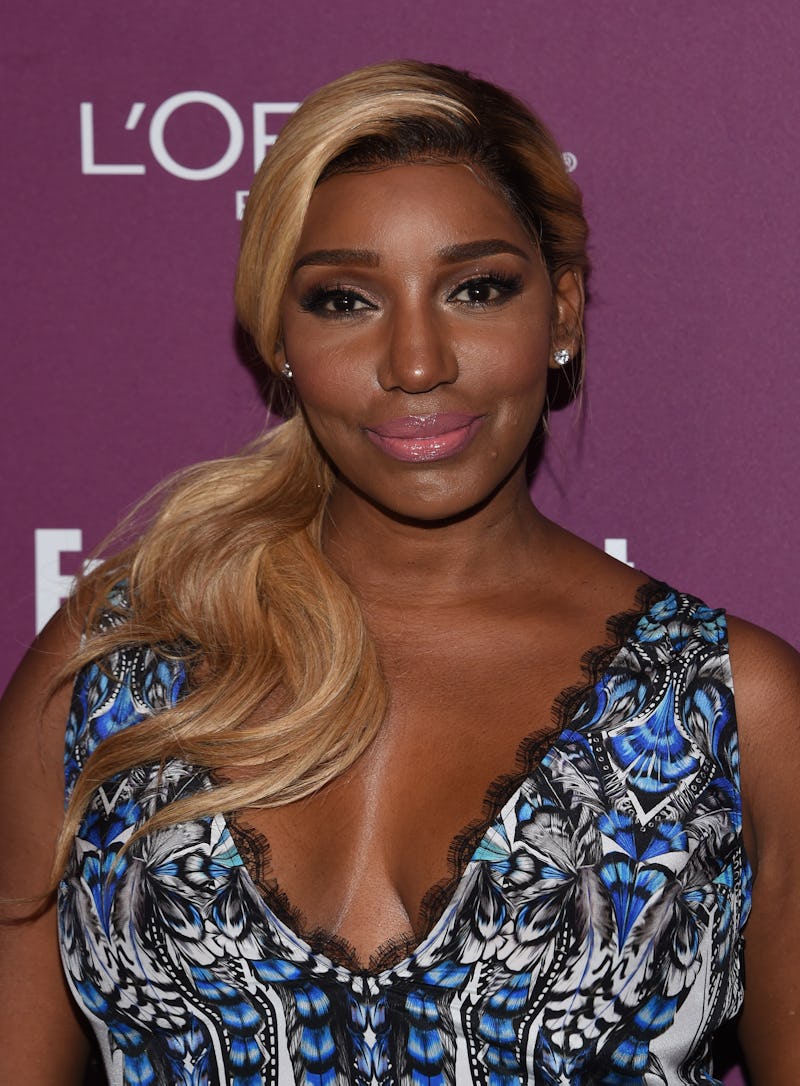 CHRIS DELMAS/AFP/Getty Images
The upcoming tenth season of the Real Housewives of Atlanta hasn't even aired, but there's already a ton of drama making headlines, including an ongoing feud between NeNe Leakes and Kim Zolciak. One might even say it's worse than that time Leakes watched Shereé Whitfield "tug" Zolciak's wig. Overall, this current fight is extremely heated and definitely needs a lot of explaining, because it's quite complicated. So, what happened between Leakes and Zolciak exactly? (Bustle has reached out to both Leakes and Zolciak for comment, as well as Bravo, but did not receive an immediate response.)
According to People, it all started when Zolciak's daughter, Brielle Biermann, filmed a video on Snapchat from Leakes' home that Leakes then posted herself on her own Instagram on Thursday. In the video, Biermann is squatting down, looking at herself in a mirror and captioned it: "when u gotta get down on the floor to see ur self bc this bathroom has no mirrors besides the sink lmao." Then, the next Snapchat shows Biermann zooming in on some black bugs on the bathroom floor that appear to be ants. She also turns the camera around on herself and sticks out her tongue.
On Wednesday, Leakes responded to the video in an Instagram that read: "On the way back to the A, I fell asleep thinking about how imma live in my ROACH infested brand new home." She also included some explicit hashtags, including "#pottymouthtrashychildren, #jealousprejudiceb*tch, and #blackpeopleneedtostopsupportingtheprejudice."
That's only the beginning, and here's what else has happened — so far.
The Snapchat Video
Per People, this is an old video that was reportedly filmed in July during a white party event at Leakes' home for RHOA Season 10. It appears Leakes interpreted Biermann's Snapchat as judging the cleanliness of her home. People also reported, "While not caught on camera, Biermann appeared to have claimed Leakes' home was infested with cockroaches, which only upset Leakes more." According to People, Leakes then went onto call both Biermann and Zolciak "racists."
On Thursday, Leakes uploaded the aforementioned Snapchat videos to Instagram. She addressed Biermann directly in the caption, writing,
"@briellebiermann We don't have roaches! If you found 1, u brought it with u or it fell outta yo funky p*ssy! Please know I will get You all the way together when you start f*ck*ng with me and mine! Go somewhere and let the air outta those fake lips, fake t*tt*es and fake *ss because you will never be @kylejenner Yo trashy mama should have taught you better! My home is Brand New but you guys were so jealous of it, you couldn't even give a compliment. You had to stoop so low and be so disgusting #racisttrash."
Biermann's Turn To Respond
As reported by People, Biermann responded to Leakes' accusations on her own Instagram post in the comment section and wrote: "I'm not calling BLACK people roaches! I found a roach in NENEs home! not calling her a roach dumb f*ck. doesn't matter if you're black, white, hispanic, asian etc you can still have roaches in ur house if u don't f*ck*ng clean ur sh*t!!!" (Biermann has since removed the ability to comment from most of her Instagram photos.)
Leakes Reportedly Calls Them "Racists"
Things seemed to go from bad to worse when, as reported by People, Leakes then posted the following response on a separate Instagram account, where she wrote, "Kim & her daughter oops whole family are racists!" She also reportedly claimed Zolciak and Biermann were not invited in the first place. She called their actions "pure disgusting, racist, learned behavior etc." Leakes continued,
"children are NOT off limits when you allow your child to talk to adults any kind of way, post disrespectful things on social media and so on. Kim is a calculating bio polar racist with a horrible mouth, who uses black folks for her come up."
Zolciak Defends Herself & Her Daughter
After all of that, Zolciak got involved and took to Instagram defending herself (above) and her 20-year-old daughter. Next to a screenshot of what appears to be a text message exchange between Zolciak and her daughter, the Don't Be Tardy star wrote, "First off that video is a combination of 2 videos! I COMBINED THEM! Brielle posted the first video on snap unaware of the large bug in front of her when she was kneeling down .. until her DM's blew up! She removed the video immediately!!" She also went onto claim that both she and Biermann were invited to Leakes' home to film RHOA and that her daughter had sent only Zolciak the video on Snapchat of the "several bugs."
Zolciak continued defending her daughter,
"We ARE filming a show, remember that, (RHOA) and Nene released this video herself! No one has EVER seen this video but RHOA! Nobody would have ever seen this video! Nene has said and done some things that are absolutely disgusting, however I will take the high road as you will see it on the show soon enough, but you WILL NOT make it seem as though my daughter did ANYTHING wrong! She never posted this video nor would she! As you see here I myself was not willing to send the video just for ratings for RHOA. END OF STORY."
Leakes Disputes Zolciak
Neither Zolciak or Leakes stopped there, because they also posted the following statements on Instagram Thursday. In Leakes' (below), she alleges Zolciak sent the video of Biermann to RHOA stars Cynthia Bailey, Whitfield, Porsha Williams, Kandi Burruss, and Marlo Hampton, while they were all filming in Spain for the show. Leakes also claims that neither Zolciak nor her daughter were invited to her white party, but that Zolciak came as Whitfield's plus-one.
Once Again, Zolciak Goes On The Defense
As for Zolciak, she defended herself against Leakes and called her comments "slanderous." Zolciak wrote, "It's so sad and offensive that someone can stoop so low as to call someone a racist just because they are mad."
However, during Thursday's Watch What Happens Live with Andy Cohen (which was pre-recorded and before details of their feud were made public), Zolciak said the following about Leakes: "I love her, I mean, always will, we started together."
It's unclear if any of the above will be addressed during RHOA's upcoming season (it premieres on Nov. 5), but as Cohen noted on WWHL Thursday, Season 10 is still being filmed. And if it doesn't make it to the actual season, Zolciak and Leakes' feud will surely be discussed at the reunion.