How Protests In Berkeley Rapidly Escalated Into Something Much Bigger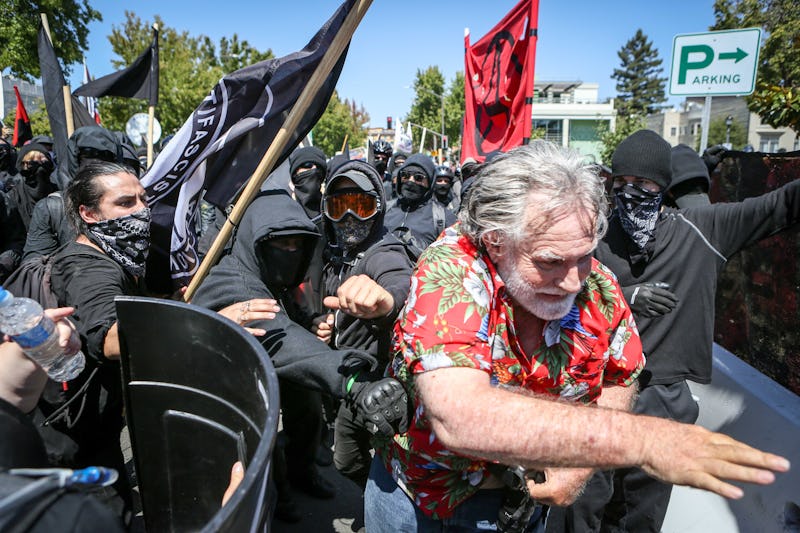 AMY OSBORNE/AFP/Getty Images
If you're having trouble discerning exactly what happened in Berkeley on Sunday, you're not alone. What started out as a "march against Marxism" quickly snowballed into something much much more. An estimated 4,000 protesters on both the left and the right clashed, reportedly sometimes violently, in the city that is known for its liberal tenets and for being the birthplace of the 1960s free speech movement.
The first event to be scheduled for Sunday was a "No to Marxism in America" rally, organized by Amber Cummings. Though the rally was being described as an alt-right event in media reports, Cummings, a Trump supporter, wrote on Facebook, "I myself am a transsexual female who embraces diversity and loves diversity. This event is not a event of hate speech." But city officials reportedly still feared the event would attract the kind of alt-right protesters that descended upon Charlottesville weeks earlier.
This was not the only alt-right adjacent event planned for the Bay Area this weekend. The group "Patriot Prayer," whose leader reportedly denounced white supremacists forces, but whose events have drawn white nationalist and alt-right supporters in the past, had scheduled a free speech rally in San Francisco on Saturday. Ultimately, event organizer Joey Gibson felt it necessary to cancel the event, due to what he said were concerns for the safety of his invitees.
Cummings eventually followed suit, cancelling her rally against Marxism because she felt that her group was not being given the opportunity to properly protect themselves, and for fear that far-left groups like Antifa, a self-described anti-fascist group that has a history of violence at protests, would target the event. Cummings released a statement on Saturday, urging people not to attend the rally.
In light of all the violent threats taking place and the past history of police being ordered to stand down at Prior Rallies in Berkeley this gives me grave concerns for the safety of the people attending my event. My event seems to have lost its meaning in the press and the intent seems to not be getting out there. My event is to speak out against the political violence happening to people who do not agree with Marxist ideology and I wanted to point out that people are being attacked In a ruthless violent manor by thugs like Antifa and BAMN.
But there was already a counter-protest in the works. A Facebook page for the Bay Area Rally Against Hate was making the rounds, and as of Sunday had over 7,000 people indicate they were interested in the event, and almost 3,500 say they attended. The event was organized by Unite for Freedom from Right Wing Violence in the Bay Area, and was intended to be a response to the alt-right rallies planned for the area this weekend.
While some alt-right supporters did reportedly appear at Civic Center Park in Berkeley on Sunday, they were far outweighed by counterprotesters, who filled the streets with their chants of "No Trump, no KKK, no fascist USA!"
Though the protests are being described as largely non-violent, things did at some points turn violent throughout the day. At least 10 people were arrested for "various violations," according to Berkeley police. When reading accounts of Sunday's events from the protesters on the ground, it's hard to tell where the violence originated or who it should be attributed to, mainly because these clashes do not come down to two easily recognizable warring factions.
In many accounts, however, the violence is being attributed to Antifa. Members of the anti-fascist group reportedly showed up donning black outfits and face masks, and became a menacing presence in a situation where tensions were already heightened. The LA Times reported that Antifa protesters "beat one man with a shield and another person wearing an American flag," and also "threatened to break the cameras of anyone who filmed them, including journalists."
Though the scene in Berkeley was nothing short of calamity at certain points on Sunday, the scene mellowed by late afternoon, with the anti-hate contingency reportedly declaring victory for itself. With the events this weekend in the Bay Area, as well as previous weeks in Boston and Charlottesville, it's clear we've entered a new era of political protests, where people and ideologies don't fit so neatly into distinct sides any longer.