This 'Creed' Recap Is Necessary Training For The Upcoming Sequel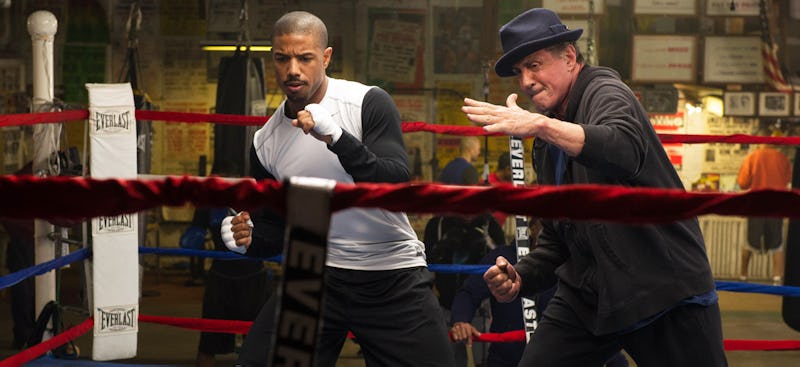 Warner Bros. Pictures
Creed II is about to punch its way into theaters, roughly three years after the critically-acclaimed first film Creed brought the Rocky franchise back to its former glory by focusing on the new character Adonis Creed, played by Michael B. Jordan. And since the new film picks up where the previous one left off, knowing what happened in the first Creed is essential to anyone who plans on checking out the sequel. So here's a rundown of everything you need to know about Creed.
Before getting into the story of Creed, it's important to understand a little background on the Rocky franchise. Underdog Rocky Balboa's opponent in the original Rocky film was Apollo Creed (Carl Weathers), who was the heavyweight champion of the world. Apollo won the match, and the two then had a rematch in Rocky II, where Rocky won. After that, they became best friends, and the now-retired Apollo took over as Rocky's trainer in Rocky III. In Rocky IV, Apollo came out of retirement to fight the Russian champion Ivan Drago. Drago killed him in the ring, so Rocky fought and defeated Drago in Apollo's honor. Now with the story of Rocky and Apollo out of the way, let's talk about Creed.
In Creed, we meet an aspiring young fighter named Adonis Johnson, who is actually the son of Apollo Creed. He was born after Apollo died, to a woman who was not Apollo's wife that had been impregnated shortly before the fighter's death. His mother died when he was young, and after bouncing around in foster care during his troubled youth, he was eventually adopted by Apollo's widow, who told him who his father was. Stuck between resenting and admiring his deceased dad, Adonis decides he wants to become a boxer, so he travels to Philadelphia to seek out his dad's BFF, Rocky Balboa, in the hopes that he'll train him.
After some resistance, Rocky agrees to train Adonis, who has a ton of potential as a fighter. Adonis rises through the ranks of the amateur circuit, while also seeing some major drama in his personal life. He begins a relationship with a musician named Bianca who suffers from progressive hearing loss and will eventually go deaf. He also deals with Rocky's reluctance to fight his recently-diagnosed cancer. Finally, he confronts the fallout of being publicly outed as Apollo Creed's son, which helps land him a match with the light heavyweight champion of the world, Ricky Conlan. It all works out for the best, though, as Apollo and Bianca go through a rough patch but recover, Rocky eventually beats cancer, and Apollo adopts his father's last name and goes the distance against Conlan, losing by split decision and mimicking Rocky's loss to his father in Rocky.
By Creed's end, Adonis Creed is a well-respected professional fighter who has solid relationships with his girlfriend, Bianca, and trainer, Rocky. But that reputation and those relationships will all get tested as he faces a more personal challenge in Creed II, where Creed will face off in the ring against Viktor Drago, the son of the man who killed his father.