Remember Why The Original 'Will & Grace' Finale Made You Cry, Then Call Your Best Friend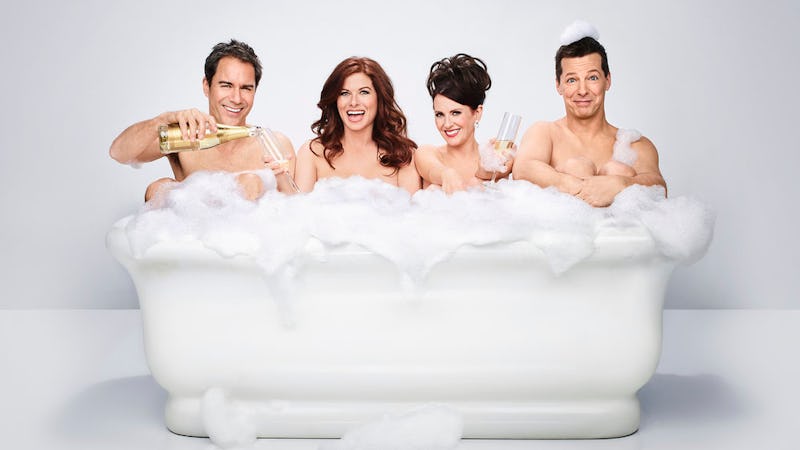 NBCUniversal
Fans of the original run of Will & Grace are finally going to be brought back to that Manhattan apartment to join Will, Grace, Karen and Jack, when the Will & Grace revival premieres on Sept. 28. The show's initial eight seasons did come to a definitive conclusion, but after so much time has passed, you may need a refresher about what happened in the original Will & Grace finale.
So, when the 2006 series finale begins, Grace is having a bit of a life crisis stemming from her dreams about her raising a child with Will. She begins to wonder if they can actually maintain living together in that same apartment forever, and it throws her into panic about the direction her life is moving. This panic, coupled with the fact that Grace is pregnant with her ex-husband Leo's (Harry Connick Jr.) child, may or may not factor into her accepting his marriage proposal and moving in with him. This whole thing creates a huge argument between the two best friends, and Will decides that he is basically breaking off the friendship and cutting off all contact with Grace. And that was pretty devastating for fans to see, considering this enviable friendship had spanned eight seasons, with lots of flashbacks.
The finale time jumps occur in two increments. The first jump forward is to two years after the whole friendship breakup. In this time, Grace had moved to Rome with Leo and their daughter Lila, but the family came back to New York City. Will had reunited with Vince (remember, the cop played by Bobby Cannavale?), and they have a son, Ben. There's a fun Karen and Jack ploy where they attempt to get both Will and Grace at the same spot, but it doesn't exactly heal any of the old wounds, and the ex-friends remain really distant.
The second time jump is a whopping 18 years, which brings the series to 2026. Grace and Will inadvertently meet when their children become friends at college and their parents move them into their respective dorm rooms. Their friendship thankfully reignites and all is well with the universe again.
Of course, during this whole thing, the shining light that is Karen and Jack have remained Karen and Jack. Fans may remember that Jack had moved in with the eccentric and extremely wealthy, Beverley Leslie. As it turns out, Beverley meets his demise when he is blown off a balcony by a strong gust of wind, leaving his entire fortune to Jack. Karen, now broke from her divorce from Stan, moves in with Jack and the best friends that there ever were end up living in luxury together with Rosario, the maid. Perfect ending for them.
Although the finale ends with the standard toast at the bar between the four friends, news of the revival brought up questions about how the new episodes were possibly going to deal with all of that time jumping and those life changes. Luckily, it looks like things are going to be pretty simple, because the revival will just pretend that the finale never happened.
The show's executive producer and co-creator Max Mutchnick told Entertainment Weekly that the finale was meant to be final, which is why there was so much craziness packed in there. "That finale really caused us a lot of grief," Mutchnick said. "You write a finale because a show is over. You never think that it's coming back again." As for the revival adding kids into the mix, he said, "We frankly did not want to see them being either good parents or bad parents. We wanted them to be Will and Grace." This is further confirmed by a look at the revival's cast list, which doesn't include actors for Lila or Ben.
What does this all mean for the revival? It means fans don't have to worry one bit about that divisive finale. They'll be meeting Will, Grace, Jack, and Karen back where they spent most of their time. Mutchnick told E! News that all will be explained. He said:
"They are very much living in that apartment in 2017 in the month of September, on the 28th of September at 9:00. That's when you're going to meet up with them again and they are going to explain to you exactly what happened so you know the rules moving forward and you won't feel like anything is left open."
It sounds as though the revival premiere will be a far cry from the original series finale, but that's a welcome change for many fans, who were sad to imagine that their favorite twosome could ever stand to be apart.