Rachel's Dog Is Pawsitively Adorable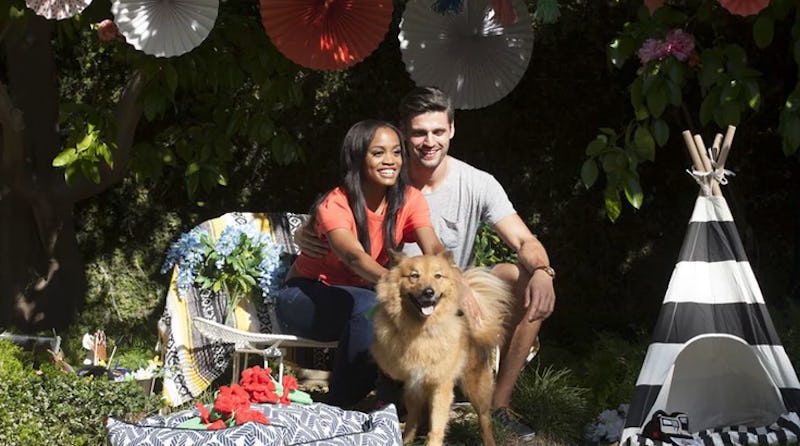 Scott Baxter/ABC
Whenever you start dating someone new there is always a fear of introducing them to the most important people in your life. There's meeting the parents, meeting the friends, and meeting the dog. Dogs have a sixth sense about people and can sniff out a bad boyfriend from a mile away. And, most pet owners would likely agree, the dog is a non-negotiable. So, when Rachel Lindsay introduced her dog Copper during her Bachelorette date with Peter, audiences fell in love... to be clear, with Copper. While the doggo definitely stole the show, viewers were also worried about their new favorite contestant, because of his little cast. What happened to Copper's leg, and why was Rachel's dog wearing a cast on The Bachelorette?
Copper was one of the most tweeted about Bachelorette men of the night, according to a press release from Twitter. Copper's appearance on Rachel and Peter's date at Bark Fest in Palm Springs resonated so strongly with viewers, not even DeMario's ex-girlfriend could knock the moment off Twitter. Of course, tweets flooded in asking about Copper's blue cast, and Rachel finally put viewers minds at ease about the pup's injury. She tweeted, "Inquiring minds want to know what happened to Copper...he broke his toe jumping off something." Phew, mystery solved.
And, Bachelor Nation can rest easy knowing that Copper is going to be healing right next to his mom, because he's not going anywhere — yet. According to E! News, viewers will be seeing more of Copper before the contestants start to travel. "He comes in and out, so he was there in the beginning," she said. "I have to have him. He's my dog-child!"
While Rachel still has time to pick a winner on the show, and we know she is engaged after the taping of the series, there is one man that fans already know has a special spot in Rachel's heart. I guess viewers will just have to tune in to see if Copper approves of Rachel's choice of fiancé.