Rachel Brought Her Dog To 'The Bachelorette' Mansion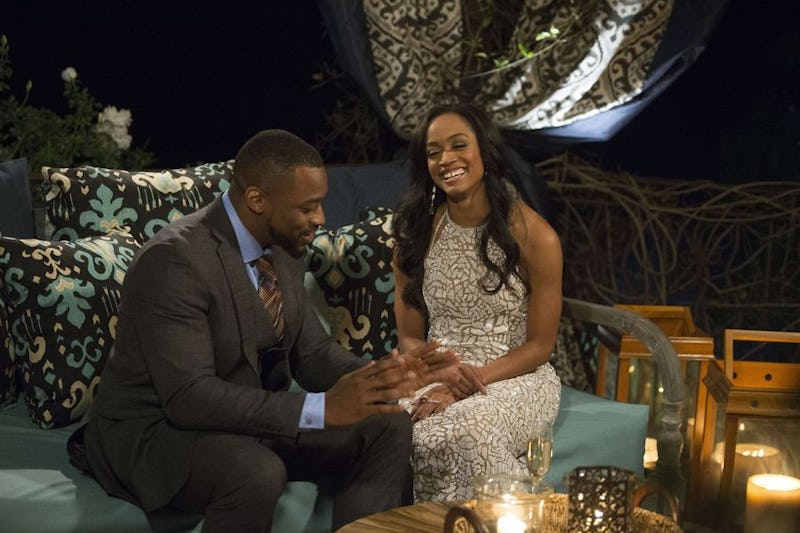 Paul Hebert/ABC
I've watched many a season of The Bachelorette in my day, but I think Rachel Lindsay could be the luckiest Bachelorette lady of all. Sure, she's about to be chased around by 31 men (which actually doesn't sound great to me, but I am really lazy), but Rachel busted through another big milestone — Rachel brought her dog to The Bachelorette. Sweet boy! Rachel's fluffy companion was traipsing all over that Bachelorette mansion, and I want to know more! Will Rachel's dog stay at The Bachelorette mansion the whole time?
I certainly can't think of another Bachelor or Bachelorette that was allowed to bring their pup to stay with him or her in the Bachelor mansion, can you? Maybe it's a sign of the changing times — pets today get treated better than family (my family dog's wardrobe and diet is certainly anecdotal evidence of that), and Rachel's dog is part of her inner circle. Maybe she couldn't get anyone to watch him while she was gone, or maybe she just wanted somebody to snuggle with and kiss that wasn't going to feed her cheesy pick-up lines and tell her his life story. Even the Bachelorette needs a break, y'all. Having your pup with you is the perfect way to feel at home during the crazy experience of being on The Bachelorette. Plus her dog did have a cast on its leg so maybe Copper was injured and she simply couldn't leave him alone.
The only problem with this arrangement that I can see is when Rachel and her dudes start traveling — Rachel may have to leave her dog at The Bachelorette mansion while she's jet-setting not because she wants to, but because it's hard to fly with a pet. That dog is too big to fit under a seat, and stowing dogs under the plane makes me so nervous (as it does with many pet owners). Right now, I'm hoping there is a date with Rachel's dog acting as some sort of barometer on who Rachel should choose, but I'll hold out hope for the rest of the season.