Dale Can't Escape His Fate On 'Twin Peaks'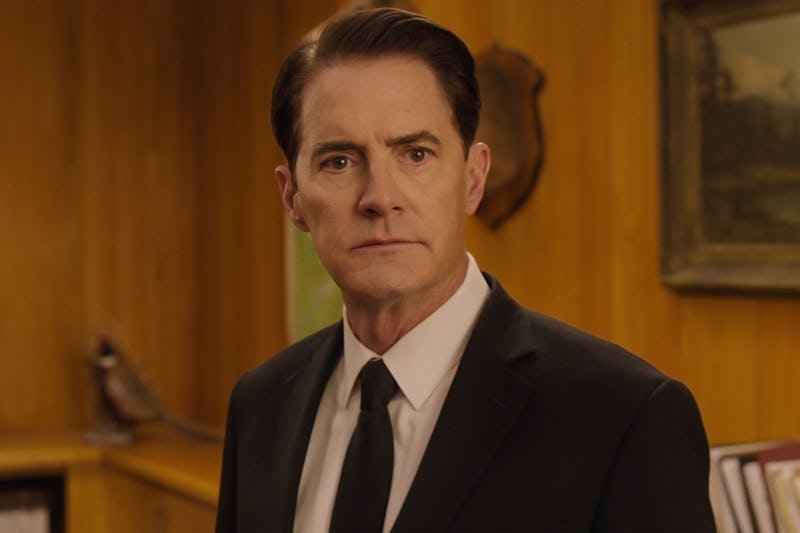 Courtesy of SHOWTIME
Although it was certainly optimistic, it didn't seem impossible that Dale Cooper would be able to change his fate in the Sept. 3 finale of Twin Peaks: The Return. Spoilers follow. Yet, the ending to David Lynch's reboot left Agent Cooper in just as uncertain of a spot as he was left in during the original Twin Peaks. While Dale isn't stuck in the Red Room with an evil doppelgänger out on the loose, it sure doesn't seem like he completely escaped the Black and White Lodges. And like before, Cooper's fate on the Twin Peak finale ends up being significantly intertwined with Laura Palmer's — even if she's calling herself Carrie Page these days.
Evil Dale Cooper had been wreaking havoc for the last 25 years since the original Twin Peaks ended and for most of The Return. However, his story wraps up fairly quickly in the first episode of the two-part finale on Sept. 3 with Lucy shooting the impersonator; Freddie (the British guy with the unstoppable hand) punching away the evil orb full of Bob's energy; and the real Cooper putting the ring on evil Cooper to send him back to the Black Lodge. Cooper then travels back to the past to stop Laura from being killed by Bob. And while it seems to work — after all, Pete Martell goes fishing and doesn't discover her dead body — all is not made right since Laura disappears while Dale is trying to save her back in 1989.
While Mike creates another doppelgänger/decoy Dale who returns to Las Vegas to live out a happy life with Janey-E and Sonny Jim, the real Dale has business to attend to. In the Red Room, Leland Palmer asks Cooper to "find Laura" and when Cooper exits the Lodge (in the presumed present), he is met by Diane. She joins him on his trip and after driving 430 miles, they cross over into some other plane. (The Fireman had previously told Cooper to remember "430" and "Richard and Linda. Two birds with one stone.") After Diane and Cooper have sex, she abandons him overnight, leaving a note to Richard from Linda, and that leaves him free to go find Laura. After some shenanigans at a diner (typical Cooper), Dale does find her, but now she goes by the name of Carrie Page.
Cooper brings Laura/Carrie to Twin Peaks to her old home so she can reunite with her mom. But when they get to Laura Palmer's house, Sarah Palmer doesn't live there. Instead, Alice Tremond lives there and she bought the house from Mrs. Chalfont. (It's important to note here that Mrs. Chalfont, who also goes by the name of Mrs. Tremond, was in both the original Twin Peaks and Fire Walk With Me and is connected to the Lodges.)
Even without considering the connection to Mrs. Chalfont/Tremond, it seems that Cooper never crossed back from whatever dimension he had entered into at 430 miles. Perhaps it's a new timeline that he's responsible for creating when he saved Laura, another mysterious element of the Lodge, or something else entirely. But wherever he is now, Twin Peaks is not as he left it and Laura Palmer, in some form, is alive.
That means that, yet again, Lynch didn't give Dale Cooper a happy ending. While it's perhaps not as ominous as the original ending of Twin Peaks — after all, it's Fireman approved — it still leaves plenty of unfinished business for Cooper, since he still really hasn't saved Laura and might not have really escaped the Black Lodge. But unlike the original series, Cooper has Laura by his side this time around. However, that most likely won't be enough for unsatisfied fans, so while Showtime has said there have been no discussions about a Season 2 of Twin Peaks: The Return, the story of Dale Cooper is sadly far from resolved for a second time.