How Jax & Brittany's Kentucky Trip Tested The 'Vanderpump Rules' Couple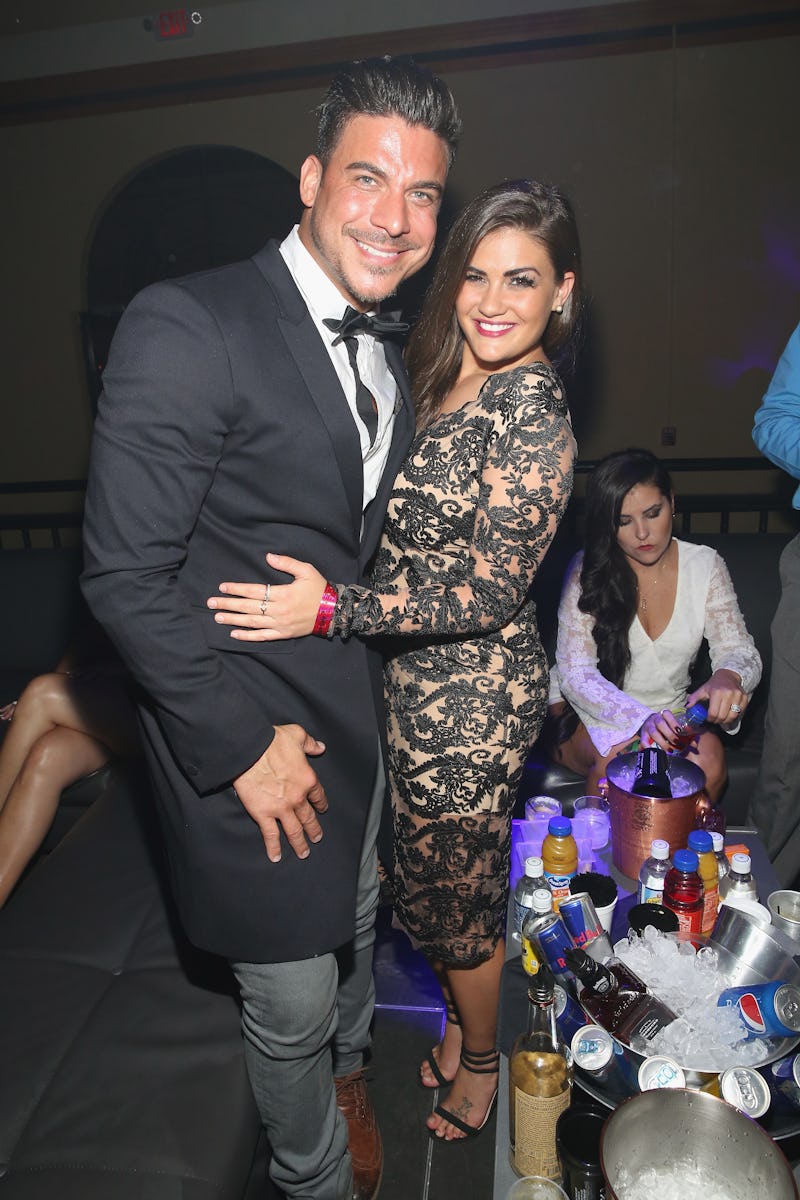 Robin Marchant/Getty Images Entertainment/Getty Images
Vanderpump Rules' resident commitment-phobe finally seemed be settling into life as part of a relationship. Brittany Cartwright and Jax Taylor became Vanderpump fan favorites after getting together on the series; so much so that they were able to snag something coveted by pretty much every reality star on the planet. This power couple got their own spinoff, Jax And Brittany Take Kentucky, and take Kentucky, they did. So, what happened to Jax and Brittany in Kentucky? The couple certainly had their bond tested.
Well, the whole concept of the spinoff was to take Jax out of Los Angeles and plunk him on the farm in Kentucky, where Brittany's kin reside. You know, it is always funny to see a fish out of water situation go down. Between the "no alcohol" rule that Brittany's Meemaw enforced upon his arrival, the constant marriage pressure from her family, old boyfriends appearing, and some really uncomfortable fights, it didn't really look like it was in the stars for these two to make it work in the long run. To be honest, Jax didn't come off all that well in the series, and his inability to rationally discuss problems with Brittany when they arose was pretty concerning.
In a September interview with Bravo, Jax confirmed that the couple stayed together, even though Brittany was seen staying behind on the farm in the Jax And Brittany Take Kentucky finale. Of course, after observing his behavior on the spinoff series, fans may be wondering whether that is a good thing or not.
After the Jax And Brittany Take Kentucky season finale aired, Jax did take to his Instagram to admit that he had a lot of work to do when it came to his relationship with Brittany and how he handles issues. This was a welcome change of pace for fans to see from him, but putting the words into action is what everyone is waiting for Jax to finally do. After all, Brittany deserves complete and utter respect from her significant other, as everyone does.
One of the trailers for Season 6 of Vanderpump Rules doesn't exactly help Jax's case, either. In one of the trailers, during a random masquerade party, a rumor starts circulating that Jax cheated on Brittany in a big way. Poor Brittany appears to be pretty devastated and because of Jax's reputation, she can't immediately dismiss the claims and take him at his word. In the clip, fans will see Brittany tell Jax that if she finds out it is true, she is moving out and taking the dogs with her. Of course, I am inclined to believe that she took him at his word eventually or found out it was a lie because their Instagrams show them pretty cozy and happy lately. At least, from the few photos they seem to be posting together lately.
By the looks of things on their social media now, Jax and Brittany seem to be getting back on track. For one, Brittany looks very happy in her Instagram posts and has even jumped on the promotional 'gram train that most reality television stars jump on eventually. (Hey girl, use that influence.) The couple even hosted a Halloween party in Vegas this year called, what else, Jax and Brittany Take Halloween. No, that is not a joke, and, yes, Jax wore a costume reminiscent of Hugh Hefner, which is right on brand. Also on Jax's Instagram is a very recent video that clearly shows a "J" and a "B" stocking hanging from the couple's mantle among their holiday decor. This seems like a very good sign that they are still together.
To see where this couple takes their relationship from here, tune into Season 6 of Vanderpump Rules premiering Dec. 4 on Bravo. The promos suggest that the drama followed Brittany and Jax home from Kentucky and back into the restaurant.