Here's The Lowdown On What Went On With Trump & Trudeau At The G7 Summit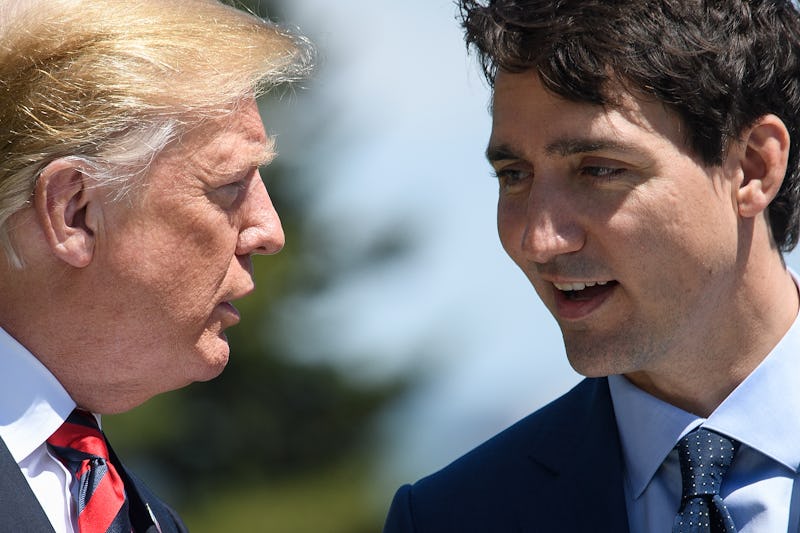 Leon Neal/Getty Images News/Getty Images
The North American buddy comedy, full of handshakes and compliments seems to be over. The goodwill between the American president and Canadian prime minister waned over the G7 meeting this past week and culminated in a tweet Saturday from Trump attacking Trudeau for giving "false statements." But what happened between Trump & Trudeau came suddenly and without much explanation.
Trudeau had been trying to keep Canada out of Trump's trade wars and was successful — until this month. Trump signed an announcement in March adding a tariff on steel and aluminum from all other countries. But Canada, along with other U.S. allies, was given a temporary exemption. On June 1, that exemption expired and Canada also fell subject to these 25 and 10 percent tariffs on these metals.
This left Trudeau in a delicate position because of domestic political pressure to respond, but Canada also does not want to start a trade war with the United States, its main trading partner. What happened at the G7 meeting is not altogether known, but afterward, things got messy.
Trudeau gave a press conference announcing retaliatory tariffs. He added, "Canadians are polite, we're reasonable, but we also will not be pushed around."
That led Trump to respond on Twitter:
PM Justin Trudeau of Canada acted so meek and mild during our @G7 meetings only to give a news conference after I left saying that, "US Tariffs were kind of insulting" and he "will not be pushed around." Very dishonest [and] weak. Our Tariffs are in response to his of 270% on dairy!
Trump also said that he would not be signing a communique from the G7. "Based on Justin's false statements at his news conference, and the fact that Canada is charging massive Tariffs to our U.S. farmers, workers and companies," Trump wrote on Twitter, "I have instructed our U.S. Reps not to endorse the Communique as we look at Tariffs on automobiles flooding the U.S. Market!"
The abrupt turn of events seems to have come from the press conference. Upon leaving the G7, Trump had had a different take on things. "Just left the @G7 Summit in beautiful Canada," Trump wrote. "Great meetings and relationships with the six Country Leaders especially since they know I cannot allow them to apply large Tariffs and strong barriers to U.S.A. Trade."
Trump seemed to leave understanding that no one would take retaliatory measures. "They fully understand where I am coming from. After many decades, fair and reciprocal Trade will happen!" Trump wrote just two hours before his tweets blasting Trudeau.
One other way to understand what happened is to look at what White House advisers said on Sunday morning political news programs. White House economic adviser Larry Kudlow said on Sunday CNN's State of the Union that "it was a betrayal."
"He was polarizing," Kudlow said. "He really kind of stabbed us in the back."
Peter Navarro, Trump's trade adviser, also spoke on the issue. On Fox News Sunday, Navarro said:
There's a special place in hell for any foreign leader that engages in bad faith diplomacy with President Donald J. Trump and then tries to stab him in the back on the way out the door. And that's what bad faith Justin Trudeau did with that stunt press conference. That's what weak, dishonest Justin Trudeau did, and that comes right from Air Force One.
The main issue seems to be trade. But Trump's upcoming meeting with North Korean leader Kim Jong Un also played a role, some of these top advisers suggested.
Trump would like the G7 to be celebrating him for the Kim meeting — not striking back on trade.