What To Know If You Procrastinated On Your Taxes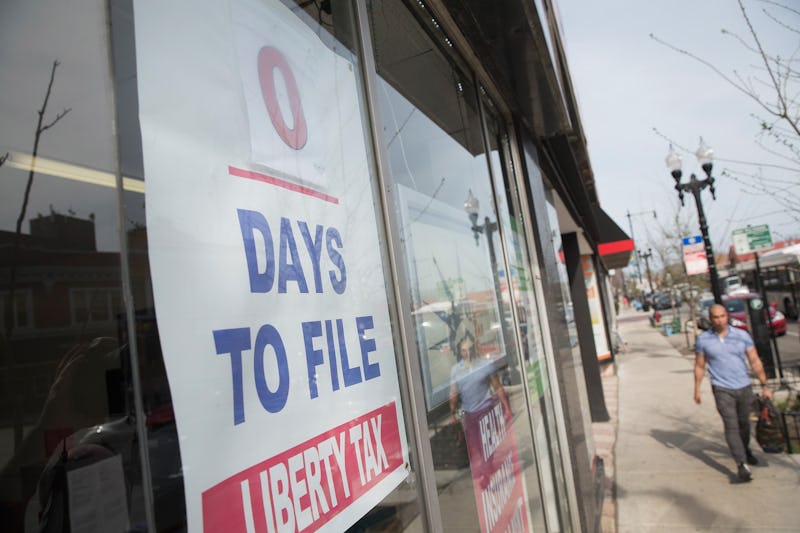 Scott Olson/Getty Images News/Getty Images
Taxes. They're one of life's two certainties. Every year we tell ourselves that we're adults now, that we're going to be more organized, that we're going to file our taxes in January and put our return into retirement savings instead of blowing it all on whimsical throw pillows and Seamless orders. And every year on April 15th we wake up and think: "Shoot, that was today?!"
If you've waited until the last minute to file your taxes, don't panic. You're not alone. According to the IRS, 20 to 25 percent of Americans wait until the last minute to file their taxes, and in 2016, 12 million tax returns were submitted in the week following Tax Day on April 15. This year returns are coming in even more slowly. In March, the IRS reported that it had received 5.7 million fewer individual returns than at a comparable point last year, an 8.5 percent drop. Some tax professionals have attributed these numbers in part to anxiety about the Trump presidency, specifically his immigration initiatives, which have made undocumented immigrants more hesitant to file, and confusion about potential tax cuts.
Still, you have to file your taxes. If you don't, truth be told, you probably won't get in trouble for a while. But when the IRS realizes you've failed to file, you'll be trapped under mountains of soul-sucking paperwork, and because the IRS charges a penalty of up to 25 percent of whatever you owe, you'll also end up paying way more than you would have in the first place.
So, before you hit up Tax Day protests, here are a couple of things to keep in mind when filing at the last minute.