Here's What Might Happen To Health Care Next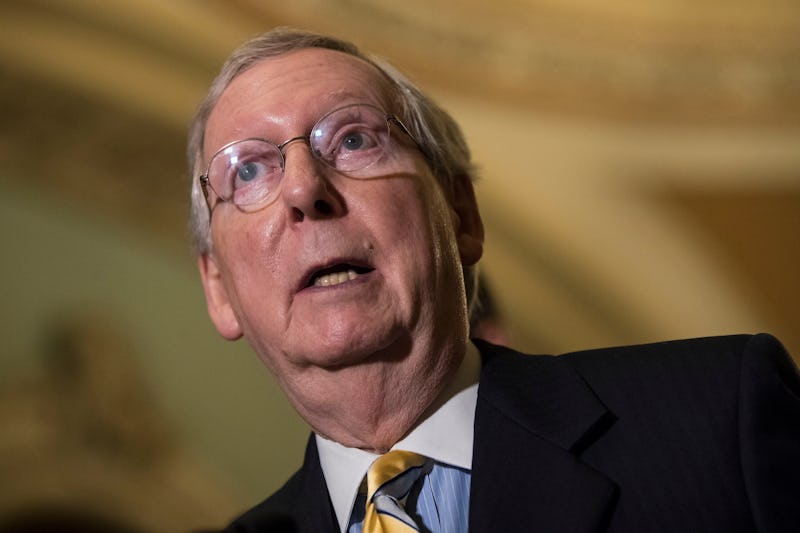 Drew Angerer/Getty Images News/Getty Images
Despite several failed efforts since May, Senate majority leader Mitch McConnell has not given up hope on repealing former President Barack Obama's signature health care bill. McConnell vowed on Tuesday that the Senate will vote on Obamacare repeal "sometime in the near future."
The House of Representatives passed its bill to repeal and replace the Affordable Care Act — which they called the American Health Care Act — on May 4. Senate Republicans then spent weeks drafting their own version of the bill, which became known as the Better Care Reconciliation Act. However, only a small group of Republican senators were involved in the bill's creation, and its contents were revealed only a week before a vote was set to take place. This secrecy angered not only Democrats, but also Republicans who were shut out of the process.
Upon reviewing the BCRA, a handful of Republican senators opposed it, along with all of the Democrats, leaving the bill short of the 50 vote minimum needed to get it through the Senate. Then, Senate Republicans revised the healthcare bill, with help from Texas Sen. Ted Cruz, but it still did not get the support it needed to pass a vote.
On Monday, when Republicans realized that they were not able to pass a repeal and replace bill simultaneously, they began exploring the option of repealing now and replacing at a later time when they could come up with a plan that would satisfy both moderate and conservative fractions of Senate Republicans. However, some were skeptical of the proposition of leaving people without a health insurance plan and what that uncertainty would do to the health care market.
By Tuesday, at least three Republican senators vocally opposed the option to repeal now and replace later, which meant it, too, didn't have the votes to pass.
The Senate just two years ago successfully voted to repeal Obamacare, which Obama vetoed once it reached his desk. But now that they have the chance to actually do it, along with a president who has publicly encouraged it, they are still coming up short.
Regardless, it seems that McConnell still has hope in at least bringing a vote to the Senate floor soon. By doing so, it would force Republican senators who opposed the repeal without a replacement plan to proclaim it in a formal vote against the bill, potentially marring their image in the party that has spent the last seven years talking about dismantling Obamacare. However, Congress is supposed to take its summer recess in August, so the Senate has only a few weeks if they want to get something done before the break.
Meanwhile, President Trump told reporters on Tuesday that he was very disappointed that the Senate has not gotten enough votes to pass Obamacare repeal. He also suggested that he could now let Obamacare fail, but said, "eventually, we're going to get something done and it's gonna be very good." For now, we'll have to wait to see what that will be.