What David Letterman's Been Up To Since Leaving Late Night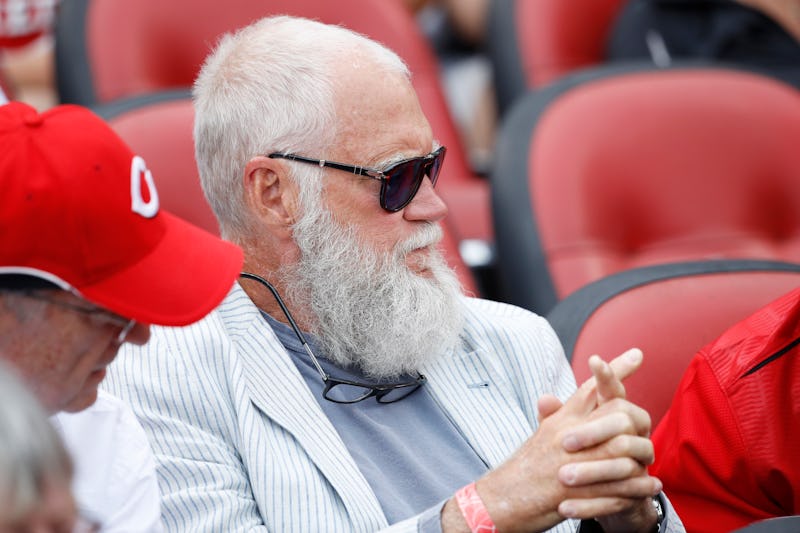 Joe Robbins/Getty Images Sport/Getty Images
David Letterman is returning to your screens. After spending over 30 years as a late night television host, Letterman retired in 2015 — but it seems that while you can take the man out of the television, you can't take the television out of the man. On Jan. 12, Netflix will premiere an interview series entitled My Next Guest Needs No Introduction With David Letterman, which will allow the comedian to ignore typical late-night structure and instead focus primarily on long-form interviews with notable figures. My Next Guest... is his biggest post-retirement project, but Letterman has still been working since his departure from The Late Show. He's just been doing a lot less of it.
The most immediately obvious change in Letterman's life is his much-talked about beard. In Letterman's first post-retirement interview on Dateline, the former Late Show host admitted that his family was not fans of the facial hair, with his son even saying it was "creepy." While the beard is definitely a new feature, it seems that Letterman's priorities and interests have also shifted slightly. While the host is still wants to comment on the state of the world, he's less interested in cracking jokes and more interested in finding the answers behind larger questions.
In a way, My Next Guest... is a spinoff of Letterman's contribution to the Years Of Living Dangerously docuseries. The National Geographic series focuses on the continued effects of global warming on the world, and features celebrities acting as correspondents, speaking to experts on subject matters relating to climate change. The first episode of Season 2 of Years Of Living Dangerously finds David Letterman traveling to India and interviewing Prime Minister Narendra Modi about renewable energy. His long-form interview with Modi may have been specifically about climate change, but it also closely models the structure that My Next Guest... seems to be using for similar in-depth looks at various topics.
In addition to his appearance on that show, he also participated in a web series produced by Years Of Living Dangerously called "Boiling The Frog." In the series, Letterman and former Senator Al Franken have discussions about the ramifications of climate change, ranging from America's relationship with the threat of global warming to the long-term effects of using coal for energy. So while Letterman is known primarily for interviewing actors, musicians, and other celebrities mostly about their work, My Next Guest... will focus on political issues. The show's first season includes with influential figures such as Barack Obama (his first guest), Malala Yousafzai, and Tina Fey.
Letterman has popped up onstage and in front of a camera a few other times since his retirement. He briefly returned to a host position for the Turner Classic Movies series The Essentials, where he and co-host Alec Baldwin introduced and discussed classic movies being aired by the network. He also appeared onstage with Martin Short and Steve Martin to deliver his "Top 10 Facts About Trump," which, as the New York Times reports, included the joke, "Donald Trump weighs 240 pounds – 250 with cologne." Letterman may be telling less jokes nowadays, but he's still able to deliver them whenever he so chooses.
While Letterman's retirement served as a well-deserved break for the hard-working comedian, he admitted in an interview with Vulture that getting used to life without The Late Show wasn't easy. Said Letterman, "It's still hard. I have trouble operating the phone. That's the God's truth. I needed a pair of shoelaces. And I thought, 'Hell, where do you get shoelaces?'" When asked if he was interested in revisiting late-night, however, Letterman admitted, "My interest has shifted. When I'm talking about things to do now, it's not like, 'God-dang, let's get right back into comedy.'"
Letterman's retirement has shown him taking steps in a new direction for his career, and his career goes to show that it's never too late to try something new.