These Are Ursula K. Le Guin's Most Memorable Books, If You're Looking To Honor Her Legacy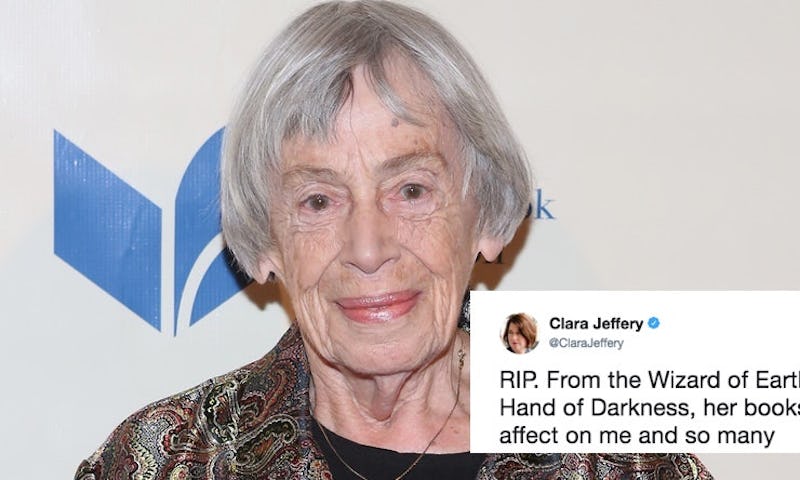 Robin Marchant/Getty Images Entertainment/Getty Images; Clara Jeffery/Twitter
Heartbreaking news in the literary world: Ursula K. Le Guin has passed away at age 88. The New York Times broke the news on Tuesday, Jan. 23, reporting that the beloved science fiction author died in her home in Portland, Oregon. In light of this news, you may be wondering what Ursula K. Le Guin has written. Even if you're familiar with her better-known works, it's a valid question, especially for those of you who may want to honor her memory by revisiting one of her best books or diving completely into a new one.
As soon as news spread about her passing, quotes from Le Guin began to pop up on Twitter, with many frequently citing her critically acclaimed texts like A Wizard of Earthsea and The Left Hand of Darkness. For instance, the following passage from the latter title feels especially poignant right now:
"It is good to have an end to journey toward; but it is the journey that matters, in the end."
Over the course of her career, Le Guin was applauded as a pioneer in the sci-fi and fantasy field. In her lifetime, the feminist author wrote more than 20 novels, as well as countless poems, essays, and short stories, according to the Times.
Here's a look back at some of her many contributions to the literary world.
The Left Hand Of Darkness
As mentioned above, this is one of Le Guin's most frequently cited texts. Even just the excerpt above is enough to convince you why that's the case. Published in 1969, The Left Hand of Darkness has garnered multiple awards and fans along the way.
The Dispossessed
More than one fan on Twitter made it clear that The Dispossessed had an impact on their life. This 1974 utopian novel is just one of many contributions Le Guin made to the science fiction field, earning her the Nebula Award for Best Novel that same year.
A Wizard Of Earthsea
Even Hank Green weighed in on the impact A Wizard of Earthsea had on his life. Like many others on Goodreads, he applauded the fantasy elements of the 1968 novel and how truly compelling it is.
The Lathe Of Heaven
As pointed out on Twitter, The Lathe of Heaven is an equally powerful text. It's summarized on Goodreads as "a dark vision and a warning -- a fable of power uncontrolled and uncontrollable," which is as enticing a description as any to pick up the book, if you haven't done so already.
The Tombs Of Atuan
Like every single title already mentioned, Le Guin's The Tombs of Atuan is considered a classic by her fanbase. Just read this review on Goodreads and you'll be reminded why she's so beloved:
"I want to give this five stars, but I'm afraid one of the next ones will be even better, and my attempts to rate it higher will cause Goodreads to implode. Or something. On second thought, no. Five stars. Let's do this thing."
Yes, it's entirely possible for one author's books to warrant multiple five-star ratings, and Le Guin is proof.
Words Are My Matter
Just two years ago, Le Guin published an essay collection called, Words Are My Matter. According to NPR, the book earned the Hugo Award for Best Related Work in 2017. As is the case with her earlier works, passages from this text popped up on Twitter as well, with readers highlighting the words that meant the most.
These are just a handful of Le Guin's unforgettable contributions to the world of literature. From the Annals of the Western Shore series to her Going Out With Peacocks poetry collection, the options are endless. Take a deep dive into any of her works, and you surely won't regret it.