Bill Cosby's Children Have Been Outspoken About His Case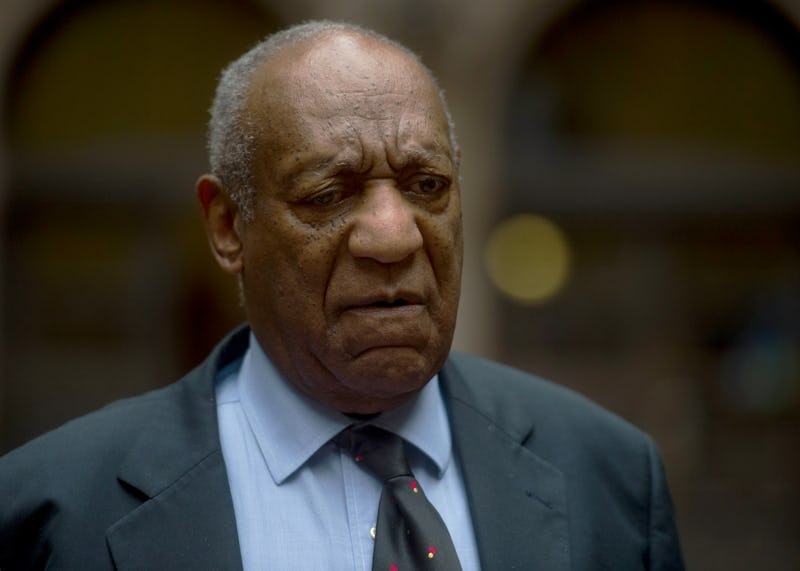 Pool/Getty Images News/Getty Images
As details emerge from his highly controversial trial, many have wondered about what Bill Cosby's children have said about the case. Cosby is accused of three counts of "aggravated indecent assault" and faces a 12-person jury in Norristown, Pennsylvania, on Monday. The case is brought forth by Andrea Constand, a former staffer for Temple University's women's basketball team, who has accused Cosby of drugging and sexually assaulting her. While he acknowledged there was sexual contact (he characterized it as consensual), Cosby has denied all charges against him. According to The Washington Post, the case may span over two to three weeks.
Cosby's daughter Evin has been open with her thoughts about her father. She shared her views about him and the allegations against him in a statement to ABC News back in April. Evin Cosby spoke of her love for her father as his fourth daughter and that "he raised me to go to college, start my own business, and be my own woman." She went on to say that her father has assisted her in bringing up her children and inculcating in them "family values." She also said, "He loves and respects women. He is not abusive, violent or a rapist."
Another of Cosby's daughters, Ensa, has also supported her father. In a statement to Power 105.1's Breakfast Club radio show, Ensa made her thoughts about her embroiled father public. She firmly asserted that she believed in Cosby's innocence, adding, "I believe that racism has played a big role in all aspects of this scandal." She also spoke of how black men are treated unfairly in the court of public opinion and that society "passes off 'boys will be boys' when white men are accused."
"My father has been publicly lynched in the media," Ensa asserted.
According to The New York Times, Cosby's wife, Camille, did not join him at the trial. But while Camille was not present, Cosby's on-screen daughter actress Keshia Knight Pulliam — otherwise known as Rudy from "The Cosby Show" — was seen by his side on the day of the trial.
Noting that she was there in court to support Cosby, Pulliam said, "I want to be the person that I would like to have if the tables were turned." But she also stated that it was the "jury's job and the jury's decision to determine guilt or innocence. It's not mine or anyone else's."