Brendan Dassey's Appeals Process Since 'Making A Murderer' Has Been Full Of Ups & Downs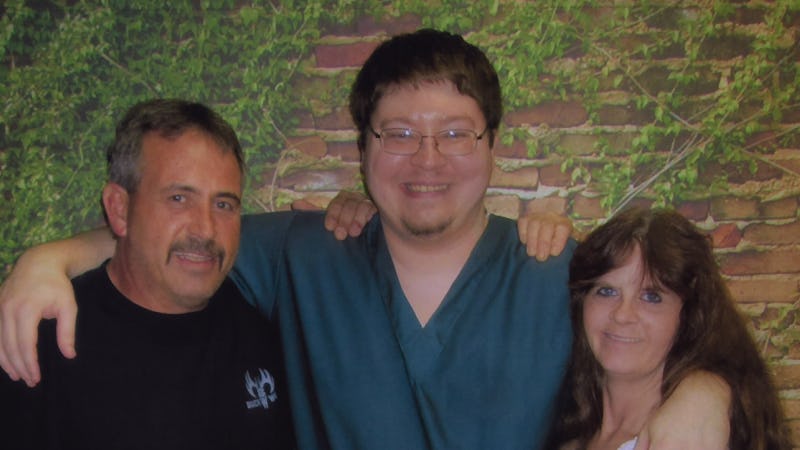 Netflix
You likely remember Brendan Dassey's confession tape from the first part of Making A Murderer, with Dassey slouched in the corner of the couch, answering questions from police officers for hours. On this tape, Dassey makes a confession that allegedly implicated him and his uncle Steven Avery in the rape and murder of Teresa Halbach. In the first part of Making A Murderer, this reported confession seemed to ensure Dassey's conviction. But now, Dassey's lawyers hope that this tape will also help set their client free. After years of imprisonment and appeals, Making A Murderer Part 2 offers some insight into where Brendan Dassey is in 2018, both physically and emotionally. Bustle's request for comment from Brendan Dassey's representatives was not immediately returned.
Despite what initially seemed like a promising appeals process, Dassey's case was dealt some devastating blows this year and remains in prison. Dassey and his team appealed to the Supreme Court after a full appeals court ruled to uphold Dassey's 2007 conviction, per CNN. The Washington Post reported that in June of 2018, the United States Supreme Court denied an appeal to hear his case, without any reason for the rejection, as is customary.
It was a massive setback in Dassey's appeals process after he and his legal team had achieved two previous victories. In 2016, Variety reported that a federal judge overturned Dassey's conviction, and a three-person panel on the U.S. Court of Appeals for the 7th Circuit upheld that judge's decision in a 2-to-1 vote, according to the Chicago Tribune. But the state decided to ask for a review by the full 7th Circuit, leading to the 4-to-3 decision to ultimately uphold the initial 2007 conviction, according to the same Chicago Tribune report. Dassey's life sentence remains in effect, and he remains incarcerated at the Columbia Correctional Institution in Portage, as per NPR and the Post Crescent, respectively.
The case to overturn Dassey's conviction rested on that tape of his confession back in 2005. The Center on Wrongful Convictions at Northwestern University represented Dassey to the 3-member 7th Circuit panel, which declared in its opinion that "no reasonable court could have come to the conclusion that Dassey's confession was voluntary," as reported by The Washington Post. According to the opinion released by the panel, investigators "manipulated the then-16-year-old, fed him facts that investigators wanted to hear, acted like father figures and made false promises of leniency — all to extract a confession that fit their theory," the Washington Post summarizes.
Dassey's confession remains one of the most contentious aspects of Making a Murderer. The New Yorker chronicled the many ways in which allegedly coercive methods were employed to extract a confession from Dassey. Those methods reportedly included chastising Dassey when he gave them the wrong answers to their questions, and even steering him very clearly towards admitting details of a crime that he seemed to have no knowledge of. As reported by The New Yorker:
"In one exchange, the police repeatedly ask Dassey what happened to the victim's head. Dassey gives several wrong answers, including that her hair was cut and that her throat was cut. Finally, Wiegert [a detective] blurts out, "All right, I'm just gonna come out and ask you. Who shot her in the head?" Such tactics can easily overwhelm a young person's will."
Bustle's request for comment from Wisconsin's Manitowoc Sheriff's Department about the allegations made in both Making A Murderer Part 1 and 2 was not immediately returned.
Brendan Dassey recanted his confession, reiterating that he knew nothing about Halbach's death. But the confession was already enough to convince a jury that he was guilty, and in 2007 Dassey was convicted and handed down a life sentence.
Making A Murderer Part 2 focuses on the renewed attempts to free Avery and Dassey, and viewers through Dassey's heartbreaking appeals process. The docuseries also highlights the outpouring of support Dassey has received from Making a Murderer viewers all across the country who were moved by his story. In one scene, Dassey's mother Barb Tadych holds up a quilt that a woman in Arizona had made for her son. "I knew there was a lot of people that cared," she tells the documentarians. "It makes me feel good."
Whether Dassey will ever receive justice remains to be seen. But if he does, cameras will surely be there to capture every minute of it for his supporters.