Verona, Italy Declared It's An Official "Pro-Life City" — And It's Not Alone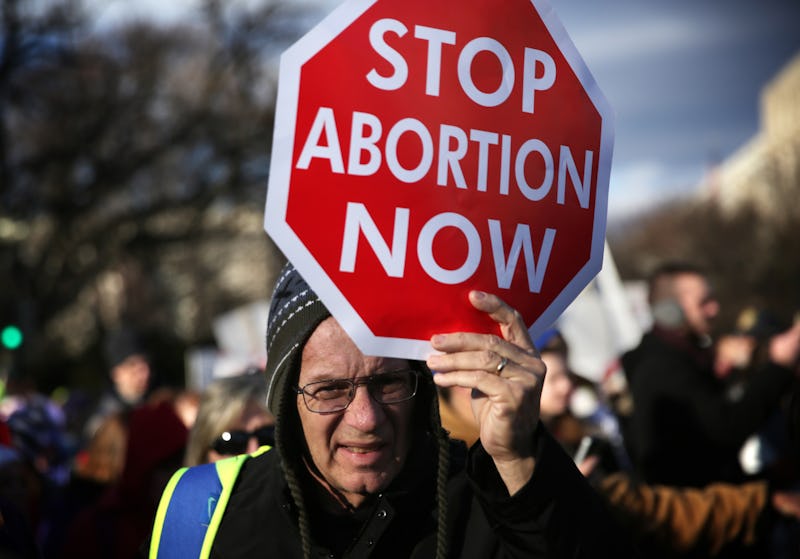 Alex Wong/Getty Images News/Getty Images
Women's reproductive rights face threats all over the world, particularly in regards to abortion access. Indeed, multiple cities around the globe have declared themselves "pro-life cities," officially taking a municipal stance on what many women view as a private heath issue. If you're wondering what a pro-life city is, Verona, Italy's recent declaration offers some insight into the issue.
As The Local Italy reported on Oct. 5, councilors in Verona, a northern Italian city famously known as the setting for Romeo and Juliet, recently voted to pass a motion approving a host of pro-life policies. These policies included an official declaration of Verona as a "pro-life city." Moreover, the motion also required that public funding be provided to anti-abortion organizations and mandated the promotion of a project to encourage women experiencing unwanted pregnancies to utilize adoption services.
Verona's council passed this motion with a vote of 21 to six. Notably, abortion is legal in Italy within the first three months of a woman's pregnancy. However, despite this, women in the heavily Catholic country have regularly faced hurdles to obtaining the procedure, as Euro News reported in May. Frustrations about abortion access were echoed in the sentiments of many women who protested Verona's "pro-life" city declaration on Saturday.
As Women in the World reported, many Italian women, with some dressed in outfits similar to those worn in The Handmaid's Tale, took to the streets to express their disdain for the council's decision. "We are furious, so are many women who fought in the 1970s to legalize safe, free abortions," Sara De Falco, a member of one of the organizations that put together the protest, told Agence France-Presse.
While Verona is the most recent city to officially declare itself "pro-life," it is not the only one to have taken this step. In August, ahead of the Argentine National Senate's vote on a bill to legalize abortion, which ultimately did not pass, various provinces and cities in the country made official pro-life declarations. As the Catholic News Agency reported, legislatures in the Tucumán province, and in the cities of Concordia, San Salvador de Jujuy, Presidencia Roque Sáenz Peña, San Fernando del Valle de Catamarca, and others, all voted in favor of issuing decrees that they are pro-life municipalities.
The Catholic News Agency also reported at the time that legislators in these areas, including Sandra Mendoza of the Tucumán province, knew that their declarations may be "symbolic" if the Senate passed the bill legalizing abortion (which it ultimately did not). However, as Mendoza noted, many legislators believed their declarations were worthwhile nonetheless because they thought they represented the beliefs of the majority of their constituents.
Pro-life city declarations are not only very recent phenomena. For example, in February 2015, Mayor Sally Lee of Sorsogon City, Philippines, officially declared Sorsogon City "pro-life," issuing an executive order on the matter. However, instead of focusing primarily on abortion, which is illegal in most cases in the Philippines, the executive order seemingly concentrated largely on what the mayor believes are the perils of contraception, as the Philippine Daily Inquirer reported.
It appears that the city's pro-life declaration has had significant consequences for its citizens and mayor. As the Philippine Daily Inquirer reported this month, the Commission on Human Rights recently condemned Lee for allegedly making contraceptives unavailable in local community health centers and retail areas following her pro-life declaration. This alleged removal violates the country's Responsible Parenthood and Reproductive Health Act. Lee did not comment on the issue in the Inquirer's article; however, as Human Life International reported, she has previously made her anti-contraception stance known.
Overall, Verona's recent declaration that it is a pro-life city certainly does not constitute the first time a municipality has taken this step, even in the face of contrasting national laws. Many abortion rights advocates will likely be closely watching to see if other cities around the world attempt to take similar actions.