More Couples Are Getting "Sleep Divorces" — And They're Not As Bad As You Think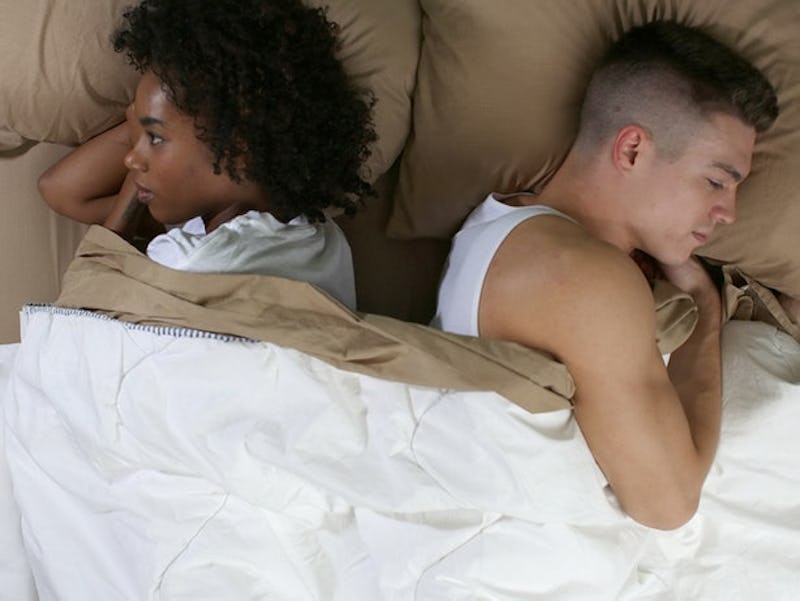 Ashley Batz for Bustle
When you hear the word "divorce", it's natural to jump to the worst possible conclusion, but it turns out, a lot of people would like a divorce with slightly less dramatic effects, aka a sleep divorce. So what is a sleep divorce? It's having separate sleeping arrangements from your partner — and they're more popular than you might think. In fact, A 2010 study by the National Sleep Foundation found that almost a quarter of married couples sleep separately,
Mattress Clarity, a sleep product review site, asked 3,000 Floridians about their sleep habits and needs and found out that a whopping 39.1 percent would rather sleep in separate beds than the same bed as their partner. In fact, they found that 10 percent of those surveyed had a relationship end over sleep issues. And it makes sense, because sleep is important for us individually, but also for our relationships.
"Research shows that adults need at least seven hours of sleep," Sarah Watson, licensed professional counselor and sex therapist, tells Bustle. "When we don't get enough sleep we tend to be short-tempered, have increased anxiety or mood swings and this can impact your connection with your partner."
Of course, asking for a sleep divorce can be tricky. A lot of people consider sharing a bed together an integral part of the relationship. So your partner may be resistant to the idea of sleeping in separate beds — they may even be hurt by the idea of it. So if you want a sleep divorce and your partner doesn't want one, it's important to tread carefully. Erin Berman, Lifestyle Expert with NECTAR Sleep has some tips on on how to approach your partner about a sleep divorce — and why they work.