Teddi Mellencamp Explains What An "Accountability Coach" Actually Is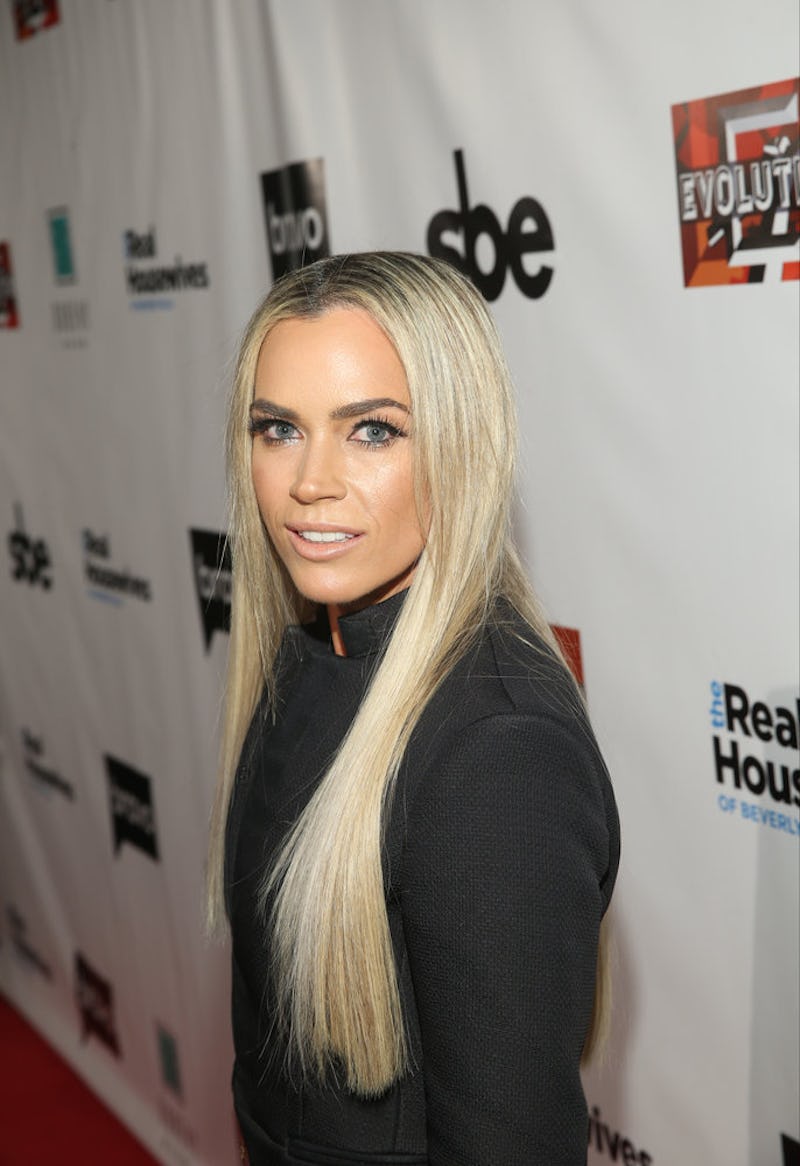 Jesse Grant/Bravo
Teddi Mellencamp is all about holding her Real Housewives of Beverly Hills co-stars accountable — for instance, when they are an hour late to drinks —because, well, holding people accountable is her job. Teddi is an accountability coach and for those who might be wondering what an accountability coach is, allow the 36-year-old Housewife to explain. "I'm somebody who helps monitor your health and fitness goals," she tells Bustle over the phone. "So, I'm empowering my clients to plan ahead and be committed to their intentions."
It's not a one-time thing, either. Teddi regularly checks in on her clients and makes sure they're doing what they set out to do. "I'm in constant communication with all of my clients in regards to workouts and what they're eating and together we change their patterns and their lifestyles and make healthier options for them," she explains.
The fact that Teddi's not a personal trainer, a personal chef, or a dietitian makes what she does for a living all the more interesting — and a little confusing at first. But once you hear more about it, how Teddi got her start, and why she does hold people, including herself, accountable, it makes a lot more sense.
How she found herself on this career path started all the way back when Teddi was a teenager. Her weight has fluctuated her entire life and it's been a struggle for her to maintain a weight that made her feel happy and confident. "When I was 17 I gained a bunch of weight when I moved to Los Angeles," she says. "Then, when I went back to ride horses for a living, I lost the weight pretty easily, because I was in my 20s and it was easier then for me."
However, that all changed when she went through the in vitro fertilization process. "But once I had kids and I went through IVF and I was on all these different hormones and steroids and blood thinners and all these things, I packed on a bunch of weight." She continues, "Not just being pregnant, but just trying to get pregnant."
She also says it was hard for her to lose the weight she wanted after having a child. After she gave birth to her second child, son Cruz, Teddi says the weight didn't "just [fall] off" like it does for some women. "I was in this vicious cycle of not really getting anywhere, because I wasn't really holding myself accountable," she says about trying to lose the weight after her second pregnancy. "I was giving myself a pat on the back for one thing, but then just destroying all my hard work the other way."
That's when she found herself looking to the area of accountability coaching. "I realized I was spending a lot of time talking to my husband and my friends about the things that I wanted to change, but what I needed to do was change them." She adds, "I realized there is a large group of people out there that are similar to me that need those tools the same way I did and need that reminder."
Before even getting into her career, Teddi rode horses for a living for over a decade. It's something she enjoyed immensely, as RHOBH fans have seen, but when she gave birth to her first child, daughter Slate, it became too difficult. "I was kind of metamorphosing into what it is I wanted to change about my life," she explains. "I still loved riding horses, but I just couldn't do it the way that I did it before I had a family. Then, I got pregnant with Cruz and it was after that I started with the accountability coaching."
She's only been doing accountability coaching for a few years now. Teddi started her business, LA Workout Junkie, after the birth of Cruz and he's three now. "As much as it doesn't sound like the conventional business, it's something that I'm very passionate about," Teddi declares. "It's something that I see such a huge change in so many women. I love it. I love waking up knowing I love what I'm going to do every day. Also, it holds me accountable."
For her, accountability coaching isn't a "diet", but it's a "lifestyle change". She says, "Once I changed my lifestyle, everything started coming into place. I started feeling more confident, I started feeling happier, I started losing the weight. It's all about a healthy balance."
Teddi is also thankful she's on RHOBH, because she can promote her career and message, which is: "You can work hard. You can do your best. If you're accountable to yourself, you can reach all the goals that you want."
For her, it's important that women know that they can meet any lifestyle goals they may have without being super wealthy. "I want women across the country to know, you don't have to have a high-end celebrity chef and a famous personal trainer and blah blah blah to reach your goals." She continues, "You just need to commit. Even if you're walking an hour a day, be active. These are important messages that I want people to know, because there's not many shows out there that show change that don't require a lot of money."
Well, it certainly seems like Teddi is getting her message across on RHOBH both as a Housewife and an accountability coach.