Amazon Now Lets You Try On Clothes For Free Before You Buy & Here's How It All Works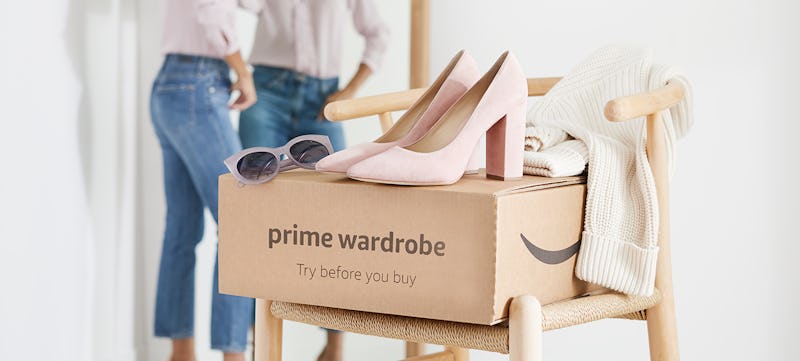 Courtesy of Amazon
If you're not a fan of browsing through messy clothing racks, waiting in long check out lines, or trying on clothes from a tight dressing room space, the fashion gods have provided a solution. Amazon's Prime Wardrobe lets you try on clothes before you buy, and you never even have to leave the comfy confines of your home.
As of late, Amazon has been on a roll in the fashion sphere. The leading e-commerce retailer just made the virtual closet organizer and personal stylist Echo Look available to all customers, making it easier than ever to get the most out of your wardrobe. Now, Amazon users can have Alexa style them in hot new fashions delivered right to their door step by turning to Amazon Prime Wardrobe. The subscription service put through beta testing last year is now available to all Prime members without an invitation or no additional cost. Giving members the shopping experience at home, the service allows shoppers to order clothes, shoes, and accessories, and try them on without ever stepping foot outdoors.
If it sounds a lot like Stitch Fix, or other services that deliver a curated selection of clothes to your front door in a box, that's because it's pretty much the same thing. But there's just one key difference that makes Amazon Prime Wardrobe an even more personal shopping experience.
The process is simple. Members would shop Amazon's selection of clothing, looking for the prime wardrobe logo as they browse. One would choose three clothing items and accessories, or up to eight pieces, to fill their box. Once the package is delivered, a seven-day try-on period would begin so that the shopper may narrow down the styles that fit best. Once all decisions have been made, one would keep the pieces they loved and simply return the ones they didn't using the re-sealable box and pre-paid return label provided by Amazon. There are no upfront fees for the service and shoppers would only get charged for the styles they keep — easy peasy!
Giving the subscription service a leg up on companies like Stitch Fix, Prime Wardrobe actually lets the consumer choose the styles that are delivered. While Stitch Fix's personal styling service is quite the game changer, having fashion experts handpick your wardrobe based on a profile and style preferences you provide to the service, members don't have a real say-so on the five items being delivered. With Prime Wardrobe, on the other hand, YOU are the judge, jury, and executioner of the shipped out fashions.
That is not to say that one service trumps the other. It's really all about consumer preference — either you want to fully control what goes inside of your virtual cart or you're ready to put your fashion fate in an expert's hands.
Just know that Amazon has some worthy fashions just waiting to be selected, even if their entire online inventory isn't up for grabbing and trying on via Prime Wardrobe. Brands include Lilly Pulitzer, Levi's, Guess, and Adidas, among others, along with Amazon's own popular private labels like Lark & Ro, Daily Ritual, and Amazon Essentials. Since the beta trial period, denim and dresses have been most popular among women, casual pants and tops are favored by men, and shoes have been the most sought-after for kids, according to Amazon.
Online shopping is already highly favored, but Prime Wardrobe is truly giving consumers a retail experience like no other. Now that shoppers have the option to handpick their fashions and try them on without there being a single catch, there's no reason to ever set foot in a brick-and-mortar again if that's what you want.