What Is Anya From 'Buffy' Up To Now?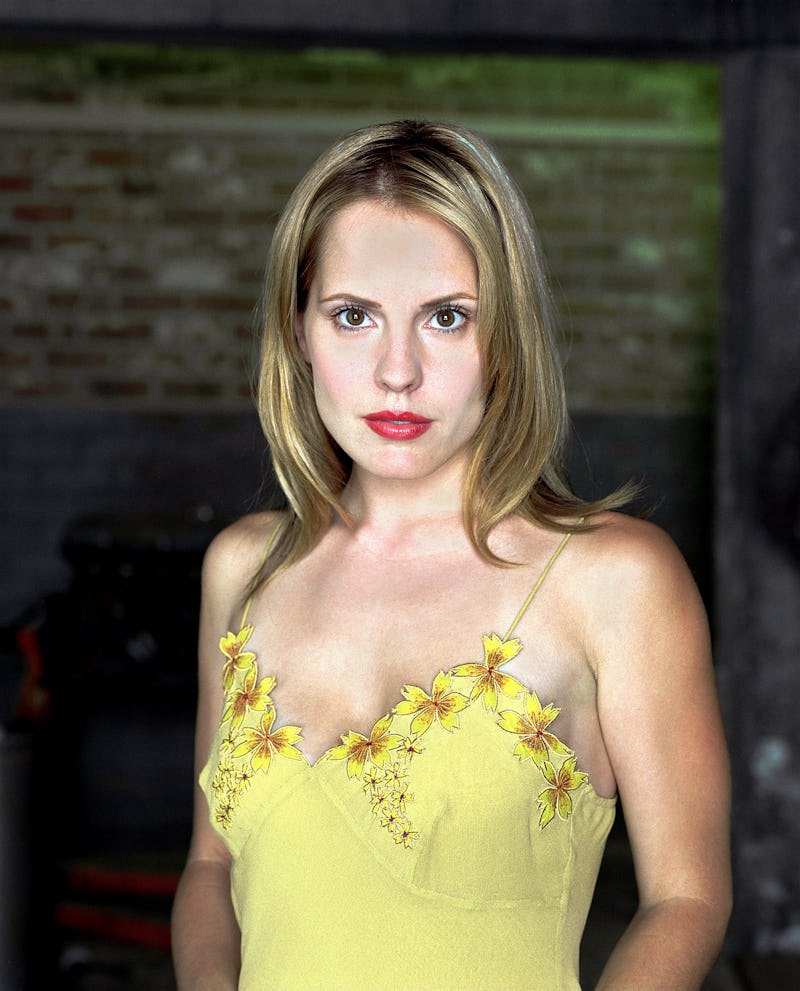 Getty Images/Getty Images Entertainment/Getty Images
In honor of Buffy The Vampire Slayer's 20th anniversary, it's worth catching up with some of your favorite characters who weren't named Buffy. While Alyson Hannigan, aka Willow, starred for nine years on How I Met Your Mother, and Michelle Trachtenberg, who played Buffy's sister Dawn, was causing drama over on Gossip Girl, there's one member of the Scooby gang you may have forgotten about. In other words, what is Anya from Buffy The Vampire Slayer doing now? Played by Emma Caulfield, Anya was everyone's favorite reformed vengeance demon with a bunny-phobia. As I wax nostalgic over the '90s show that slayed us over and over again, it's worth digging into what Anya's been up to since the series ended in 2003.
Caulfield's Anya first appeared on the show back in 1998 and soon stole our hearts — and, of course, Xander's — as she learned to be human after so many years not being of the mortal world. After Buffy, Caufield continued to take on roles that had her living in a land of fantasy. Since 2012, she's played Hansel and Gretel's Blind Witch on Once Upon A Time, casting spells and baking gingerbread in the Enchanted Forest. Though, as she has made clear time and time again, she would be more than happy to cook up a few children for you. She also plays Nurse Misty Windham on the animated series Fantasy Hospital, which focuses on the dwarves, giants, fairies, and other wizarding doctors that run a magical hospital.
Caulfield also plays Cameron Chase, a hardheaded FBI agent who lost her father and definitely doesn't want to lose a case, on Supergirl, showing she has a penchant for playing kick-ass women. While her character has only appeared on one episode of the show up to now, Cameron Chase does play a role in the DC comics world. According to Nerdist, Chase first appeared in a 1998 issue of Batman before becoming the star of her own comic book series, Chase, that "placed her within the DEO (the Department of Extranormal Operations) as an agent assigned to take out metahuman threats."
Caulfield clearly has spent a lot of her post-Buffy career on TV, with movies like I Want To Marry Ryan Banks alongside Jason Priestley and Bradley Cooper, and series like Life Unexpected and Gigantic. She also offered up her voice for several characters on fellow Buffy alum Seth Green's Robot Chicken. But she's also found success in the 2003 horror movie Darkness Falls.
One of the reasons fans loved Anya was, of course, her habit of saying exactly what was on her mind — whether it was appropriate or not. Who can forget her breakdown of those particularly un-feminist wedding vows?
"I promise to love you, to cherish you, to honor you, uh, not to obey you, of course, because that's anachronistic and misogynistic and who do you thing you are, like a sea captain or something?"
Perhaps then it's no surprise to hear that Caulfield has been sharing her own opinions as a contributing writer for Entertainment Weekly. Since last year, Caulfield, who previously had her own advice vlog, has been reviewing TV shows via her TV Diary. She has written a love letter to The 100, explained how you can process death on The Walking Dead, and, like so many of us, tried to break down her obsession with This Is Us.
So whether you realized it or not, the actor better known as Anya has been busy since Buffy The Vampire Slayer ended — and will continue to be way after the 20th anniversary.