This Brand Sells Every Beauty Product You Could Ever Need For $3 & Under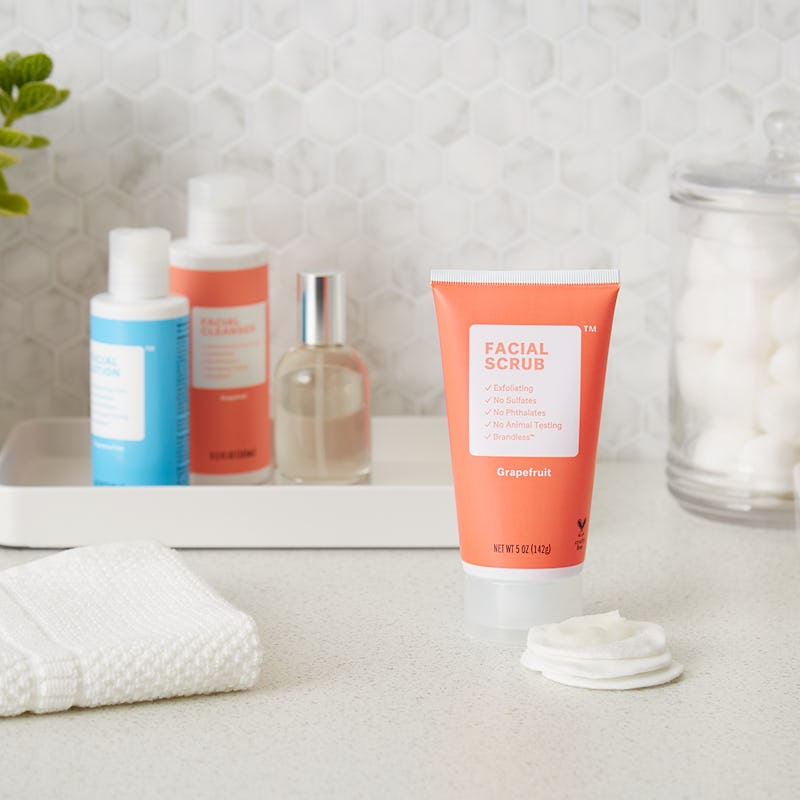 Courtesy of Brandless
You'd probably think it was a cruel joke if someone told you that you could get a full skin care regimen for less than $20. When the beauty market is flooded with $30 facial creams and $70 serums, skincare for less sounds like a myth. But the cosmetics industry does have a unicorn, Brandless, an anti-brand that sells beauty products for just $3.
An e-commerce startup based in San Francisco and Minneapolis, Brandless entered the scene in 2017 with a mission to offer quality products for barely any money. Since then, the food and household goods retailer has been whipping up everything from kitchen linens to mouthwash without charging more than three buckaroos. Seriously, every single thing the have-it-all retailer offers won't cost you more than three singles, an unbelievable price for the organic, cruelty-free and nontoxic products the brand is dishing out.
With an inventory boasting household cleaners, home and office supplies, feminine hygiene, and food and beverages, Brandless is truly a one-stop-shop. But for beauty lovers, it's the budget-friendly health and beauty offerings that will entice you to browse the virtual retailer. The brand has everything you need to fully stock your bathroom drawers, and you'll wonder why it's all so affordable.
If you suddenly find yourself obsessed with Brandless, then it's probably because you've given their stock of over 400 personal care products a look-see. It's all not only $3 a pop, but also super clean, formulated without harmful ingredients like sulfates, parabens, and synthetic fragrances. It's a total head-scratcher that a brand could even produce such cruelty-free and chemical-free beauty products for such a dirt cheap price.
As it turns out, it's really not that complicated at all. Brandless simply sells its products to consumers without adding on a hidden "brand tax". According to the company's estimates, "the average consumer pays at least 40% more for products" comparable to their stock and "sometimes, up to 370% more for beauty products like face cream." Rather than charge for a big, fancy logo and costs associated with marketing, the company claims to have eliminated brand tax altogether. It has no-frills packaging, no harmful additives, and a no-nonsense mission, all in the name of selling quality goods for less.
So, what's to be expected of a name brandless beauty line? It's really worth the investment, considering Brandless has something for all of your skin care and grooming needs. Their newest inductees into the Brandless family include a facial cleansing and exfoliating duo, a night cream, a coconut body butter and lip balm, and even a foot cream, to address your needs from head to toe.
The six new green apple, grapefruit and mint scented beauty essentials join an existing lineup of skin, hair and personal care products the brand consistently sells for $3. We're talking good-for-you soaps, body scrubs, lotions, and toiletries for prices you don't typically see without some type of blowout sale involved.
Brandless even just introduced their first-ever assortment of beauty grooming tools, and you guessed it, they're all $3 each. There's a carbon steel eyelash curler, cuticle nippers, nail clippers, nail files, stainless steel tweezers and a double-ended sharpener all up for grabs for the low-low. It's all really too good to be true.
Luckily, this isn't a fantasy world where beauty that doesn't cost an arm and a leg doesn't exist. Brandless really is a distributer of all things for $3, and their goods can compete with the best of 'em. Now, if only the retailer can just add $3 lippies, shadows, and highlighters to their beauty inventory, there would be no reason to ever set foot into a cosmetics brick-and-mortar ever again.