Brow Carving Is A New Makeup Trend & It's Metal AF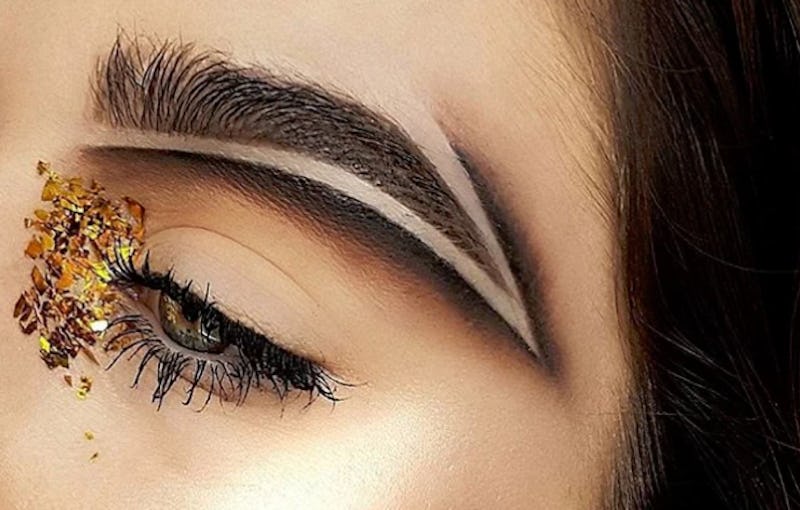 taylorbaker_makeup on Instagram
Nowadays, there are a ton of different things you can do to make your brows stand out. You can put glitter on them, turn them into barbed wire, or give them dragon spikes. But the newest eyebrow trend is metal AF and you're going to love it: Brow carving.
It's like contouring for your eyebrows, but in a very obvious and bold way. Created by makeup artist Alexa Link, she uses shadowing and negative space to make her eyebrows pop in a super avant garde way. "Where the edge of that harsh highlight would be on an Instagram brow, Link has created an unorthodox sculpting effect using meticulously blended shadows and liners. The overall look is haute Halloween meets editorial glam," Popsugar explained. If you like subtle, natural makeup looks, then this trend might not fit your aesthetic. The whole point of it is to get weird and grungy and use your makeup in an out-of-the-box way. Much like how contouring chisels your cheeks, Link used shadows to help sculpt her arches and help them pop — but she didn't buff out the edges like you normally do when you contour.
Instead, she used negative space to outline her brows, and applied harsh, straight lines of shadow a centimeter away from her brow lines. She then incorporated a color of her choice (like brown and copper) to shade them out.
The end result is an in-your-face brow that's more artsy and creative than every-day. But that's not to say you can't wear it on a normal Wednesday; if you're feeling it, you can rock it.
And there have already been so many different interpretations on Instagram, broadening the idea on how you can style your own arches using the technique.
While Link hasn't shared directions on how she got such straight lines, one can assume she used tape as a template, and then buffed out the shadows so they turned smokey. Other reiterations online show just how creative you could get with the bold trend: Some used black eyeliner to carve out the edges, while others incorporated glitter for a more magical look. Whichever way you decide to try it, one thing is for sure: You'll definitely stand out.