Here's Why Some People Are Observing Buy Nothing Day Instead Of Black Friday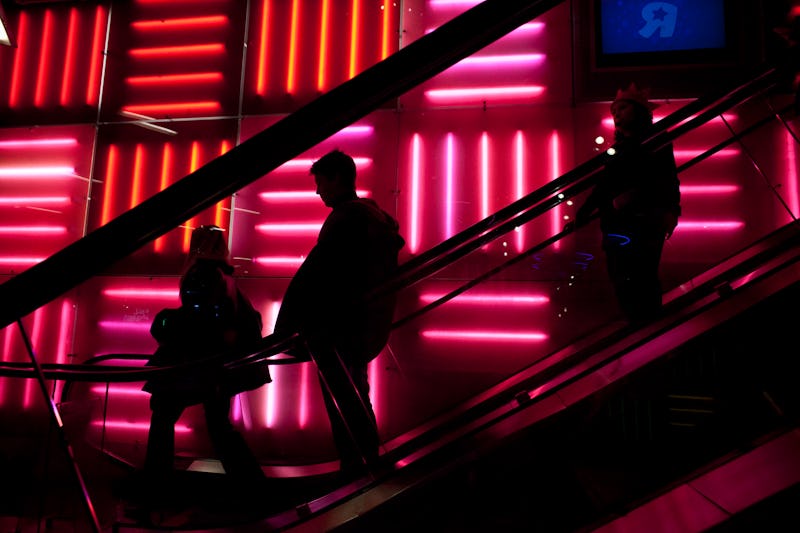 Kena Betancur/Getty Images News/Getty Images
Whether or not you've participated in it, you've definitely seen the reports of people going from being their best selves on Thanksgiving to being their worst selves on Black Friday. This is why some genius person in Canada invented something different. If you're wondering what Buy Nothing Day is, this Black Friday alternative also happens the day after Thanksgiving, but it doesn't involve trampling people to get a deal on a TV. According to a video from TicToc by Bloomberg on Twitter, the anti-shopping day began in Canada 25 years ago to protest mass consumerism, and it quickly spread around the world.
Dubbed as a 24-hour shopping detox, the day was also championed by the Occupy movement, and it encourages relaxing over consumption. So, if your mom/sister/grandma/bestie has talked you into hitting the mall on Black Friday, and you'd rather do anything but, just tell them you're celebrating Buy Nothing Day instead. Rather than push people out of the way to get the last pair of 10-cent socks, heat up some leftovers and settle in for a day of Netflix and chill. I've only been Black Friday shopping once when my stepmom dragged me out of bed at 6 a.m. to shop for gaudy gifts that no one wants, let alone needs. That was over 10 years ago and I'm still recovering.
According to the website Days Of The Year, Buy Nothing Day was founded in Vancouver, Canada, in 1992 by artist Ted Dave. It happens on Black Friday because, "anyone who has ever seen what happens in North America during the Black Friday sales understands all too well why it was high time that we take a step back and look at ourselves, our behavior, and contemplate the meaning of all of the Black Friday madness," the website noted of the day that's now celebrated in 65 countries. On the other hand, staying in on Black Friday is a welcome opportunity to digest your Thanksgiving dinner and get pantsdrunk or practice some well-deserved hygge.
If staying home is not your jam, Days Of The Year has an alternative that aligns with something that might be: The Walking Dead. "Some organize a so-called 'zombie walk,' during which all of the participating 'zombies' lurch around stores, supermarkets and shopping malls aimlessly, buying nothing, and staring ahead blankly. This is used to raise awareness about Buy Nothing Day, as the 'zombies' will inevitably be asked what they are doing and why, and then can proceed to explain their point of view," the website explained.
I'm all for activism, but heading out to a shopping center for any reason on Black Friday sounds like a punishment. If you still want to do some good to combat consumerism, consider using Buy Nothing Day to start your Giving Tuesday early by donating to victims of the Camp and Woolsey fires in California, or by signing up for the Born This Way Foundation's #MultiplyYourGood challenge. Once you pledge, any time you volunteer or donate to a nonprofit, BTW will match it by performing an act of good for one of its nonprofit partners.
Doing good for others is going to make you feel a whole lot better in the long run than buying stuff just because it's on sale. If you still need to score some gifts on the cheap, wait until Cyber Monday where you can shop from your computer or phone without getting caught up in the madness. While things will surely sell out online, no one is going to run you over with a shopping cart to get the last pair of discounted bluetooth headphones.