How Chris Has Put His 'Bachelorette' Meltdown Behind Him After The Show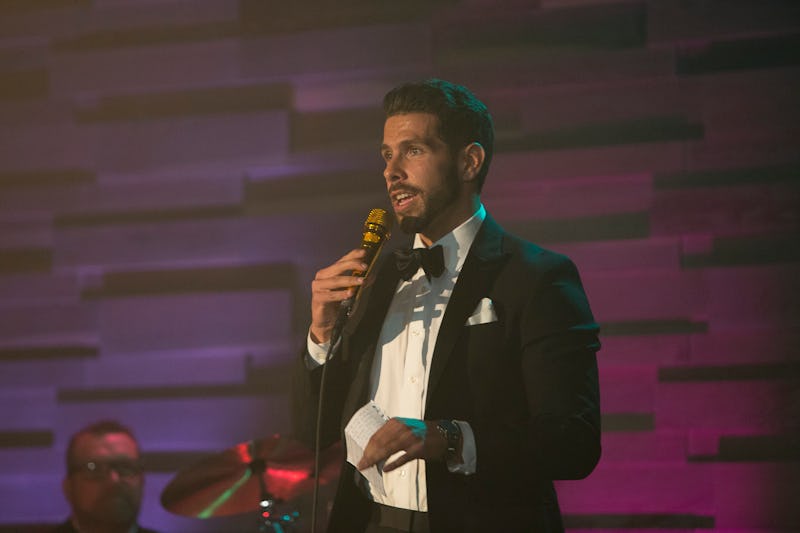 Paul Hebert/ABC
More than a few fans might have been left scratching their heads after Chris received a rose at the end of last week's episode of The Bachelorette. After all, his past few interactions with Becca have been less than stellar, convincing most viewers at home that the Bachelorette would be better off dumping him. But whether Chris manages to cling on only for another week, or whether he wins Becca's heart at the end of all of this, he and all of the other contestants have been home for a while since filming wrapped. So what is Chris doing after The Bachelorette?
For one thing, he's having Bachelorette viewing parties. I have to admit, the video he posted to Instagram of his friends all cheering for him as he received a rose on the first night of the season was cute and endearing. It seems that he had a pretty large crew out there to support him, including his mother. Chris wrote in the caption, "I haven't seen my mother smile or have that much fun as long as I can remember," and that he hopes the right man for her will come along soon. Cue the awws! Chris has clearly been having a good time hanging out with friends and family since filming wrapped.
It's also safe to assume that Chris has been hard at work since his return to Orlando. He is the CEO of Dominant Sales Training, a company working to assist sales companies and professionals on perfecting their techniques. As a CEO, the company likely depends on Chris to keep their operations running, so it would make sense that he came home from filming, unpacked his bags, and went straight back to work.
But that doesn't mean that Chris isn't having any fun. Most of the pictures he's posted post-Bachelorette feature the contestant out with friends, including fellow contestants from Becca's season Mike and Nick, who have already been eliminated. Chris clearly knows how to work hard and play hard.
Let's hope that since leaving The Bachelorette, Chris has gotten a better handle on his insecurities and fluctuating emotions. The Orlando resident was at the center of much of last week's drama, after he felt slighted by the fact that Becca didn't seek him out on a group date, despite the fact that he had also made no effort to find her. He quickly spiraled, claiming that there was no point in continuing the journey and that he should just go home.
During the cocktail party before the rose ceremony, Becca asked Chris why he had been so ready to leave at the slightest moment of doubt. As Chris struggled to find an answer that Becca would believe, he continued to dig himself a deeper hole, eventually getting into a standoff with Wills after the latter refused to give up more of his time with Becca to Chris, who had already spoken with her that night. Words were exchanged. A staring contest ensued. Wills eventually came out on top, and Chris had to retreat back to the rest of the men, who all seemed pretty unsympathetic to Chris' perceived slight.
Even though Chris managed to emerge from this hot mess with a rose pinned to his chest, it seems only a matter of time before Becca sends him packing. But this might not be the last time you see Chris on ABC, because there's a good chance that after stirring up all this drama, the CEO will be rewarded with a spot on this season of Bachelor in Paradise. Nothing has been confirmed yet — and he hasn't been announced as part of the cast — but after going from front-runner to insecure mess in a matter of weeks, it seems likely that the producers would be eager to capitalize on the drama he could bring to the beach.