Why This American Company Is Being Linked To Trump, His Lawyer, & A Russian Billionaire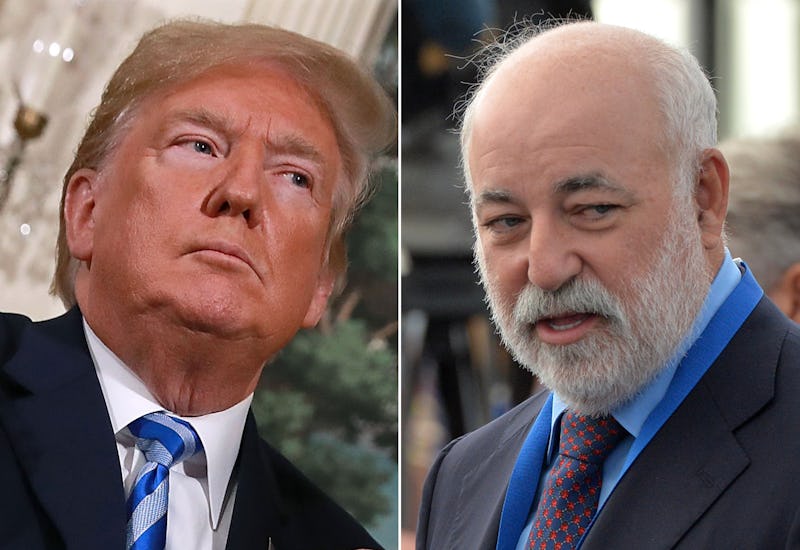 Chip Somodevilla/Getty Images News/Getty Images / Handout/Getty Images News/Getty Images
An attorney for adult film star Stormy Daniels made quite an explosive allegation on Tuesday. The attorney, Michael Avenatti, alleges Donald Trump's personal lawyer received $500,000 from Columbus Nova, an American company reportedly controlled by a Russian oligarch, and then used some of that money to pay off Daniels. However, multiple people from Columbus Nova rejected the claim that billionaire Viktor Vekselberg exercised any control over the company. It's also unclear whether Trump and Vekselberg personally know each other. Bustle has reached out to Columbus Nova for comment.
Earlier this year, Vekselberg was banned from traveling to the United States after being placed on a list of individuals sanctioned by the U.S. Treasury, NBC News reported. According to Forbes, Vekselberg was targeted by sanctions along with other "Russian oligarchs and elites" in order to penalize Russia for the occupation of Crimea, as well as for its alleged efforts "to subvert Western democracies."
Vekselberg also reportedly was questioned by agents working for special counsel Robert Mueller, although he hasn't been accused of wrongdoing in connection to potential Russian interference in the U.S. election. However, CNN reported that federal investigators interrogated Vekselberg on his business relationship with Michael Cohen, Trump's personal lawyer — and Columbus Nova's role in that relationship is now under heavy scrutiny.
Columbus Nova has insisted that the New York-based investment firm is exclusively run by Americans, but investigators have noted that Andrew Intrater, who is American and Columbus Nova's CEO, is Vekselberg's cousin, as CNN reported. Federal agents have also questioned Intrater, largely due to his generous contributions to Trump's inauguration.
The New York Times reported that Columbus Nova's biggest client is a company controlled by Vekselberg. According to the Times, a lawyer for Columbus Nova said in a statement that the $500,000 payment to Cohen — which was made via a shell company — was a consulting fee that was unrelated to Vekselberg. Nonetheless, both Vekselberg and Cohen's ties to Columbus Nova are now sparking numerous questions, primarily about Vekselberg's potential connection to Trump.
According to The Washington Post, Columbus Nova is the American affiliate of the Renova Group, a company founded by Vekselberg. Columbus Nova reportedly hired Cohen last year, but told The Washington Post that Vekselberg had nothing to do with this hiring decision, nor is he involved in paying Cohen.
The nature of Vekselberg and Cohen's business relationship is also unclear. Vekselberg's spokesman told The Washington Post that the Renova Group does not have any "contractual relationship" with Cohen, nor does the Russian oligarch himself. However, Columbus Nova hired Cohen just as American investigators were amplifying their investigation into potential Russian interference in the 2016 presidential election, and Cohen was reportedly being paid by Columbus Nova while receiving legal fees from Trump.
Columbus Nova and other companies only started confirming their ties to Cohen after Avenatti alleged on Twitter that Cohen had received money from Columbus Nova. Avenatti suggested that the $500,000 Cohen received from Columbus Nova had been used to reimburse the $130,000 payment he made to Daniels. That claim has not been verified. Vekselberg, meanwhile, attended Trump's inauguration and was confronted by federal agents earlier this year when he disembarked from a private plane in New York. Vekselberg also allegedly has a close relationship with Russian President Vladimir Putin, CNN reported.
As Mueller continues his investigation into the Trump campaign's potential collusion with Russia, his team's interest in Vekselberg and Cohen — as well as both men's alleged ties to Columbus Nova — have led to further questions about the Trump administration's ties to Russia, as well as about whether or not Trump was aware of any business relationship between Cohen and Vekselberg.