What Is Donald Trump Jr. Doing Meeting The Senate Judiciary Committee?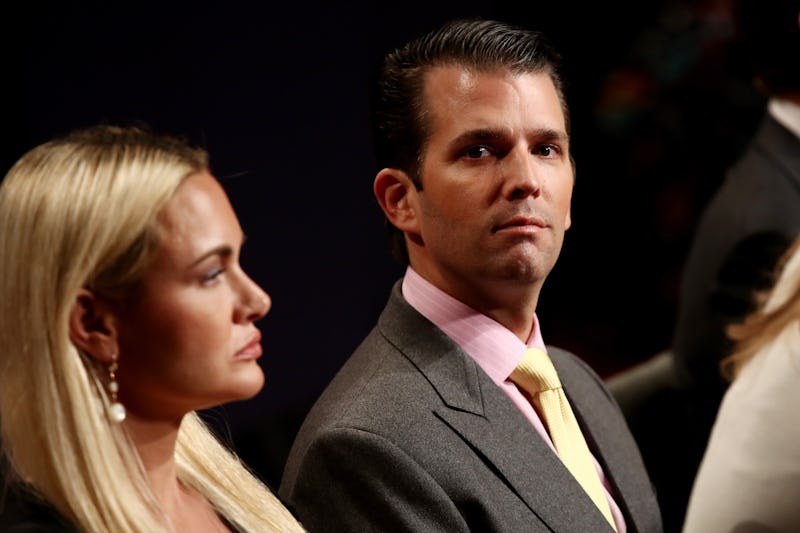 Win McNamee/Getty Images News/Getty Images
Amid the ongoing investigations into the Trump campaign's connections to the Russian government and any possible collusion between the two, the president's eldest son is slated to be interviewed by the Senate Judiciary Committee. Which might raise a question for you if you've been out of the loop on the news. What is Trump Jr. doing meeting with the Senate committee?
Don Jr.'s interview won't be in public and it won't be under oath. But it is going to happen, thanks in no small part to a report by the New York Times earlier this month revealing that Don Jr. attended a meeting with Russian attorney Natalia Veselnitskaya in June 2016.
Moreover, Don Jr. was told by British music promoter and intermediary Rob Goldstone that the meeting might involve damaging information about the Hillary Clinton campaign, part of "Russia and its government's support for Mr. Trump."
His response to the suggestion of receiving information about the Clinton campaign from the Russian government? "If it's what you say I love it especially later in the summer," Don Jr. replied, in an email he released just prior to the Times breaking the story. "Could we do a call first thing next week when I am back?"
Don Jr.'s account of the meeting changed gradually as journalistic outlets reported more concrete details, with the acknowledged number of attendees swelling over time. As it stands now, the meeting was reportedly attended by Trump campaign chairman Paul Manafort, presidential son-in-law and adviser Jared Kushner, Veselnitskaya, Goldstone, translator Anatoli Samochornov, Russian-American lobbyist Rinet Akhmetshin, and Ike Kaveladze.
The last name on that list, the eighth and (so far) final attendee revealed, is a Russian national who was investigated for laundering Russian money through U.S. banks in the 1990s. He was never charged with any crimes, however, and as the Washington Post notes, his lawyer Scott Balber denies there's ever been any indication of wrongdoing on his client's part.
This meeting and the uncertainty surrounding what was discussed and whether any information was exchanged are central to the scrutiny Don Jr. is currently under. He has insisted that no information passed between the Trump campaign and Veselnitskaya, and that the topic of the meeting was mainly the ability of American parents to adopt Russian children relating to the Magnitsky Act.
In a nutshell, that's basically it. Don Jr. is one of the central figures embroiled in this hyper-controversial and still-murky meeting, and his email expressing an eagerness to get Russian dirt on Clinton is the first hard public evidence that the Trump campaign was interested in colluding with a longtime foreign adversary.
It's unclear when precisely Don Jr.'s interview will take place, but it's expected to go down this week. Needless to say, many Democrats are unhappy that it isn't being done in a public setting, nor will he actually be testifying under oath. Democratic senator Al Franken has decried the current arrangement, which will also allow Manafort to be interviewed privately and not under oath, as "not good enough."