This Is What Emily Maynard Is Doing Now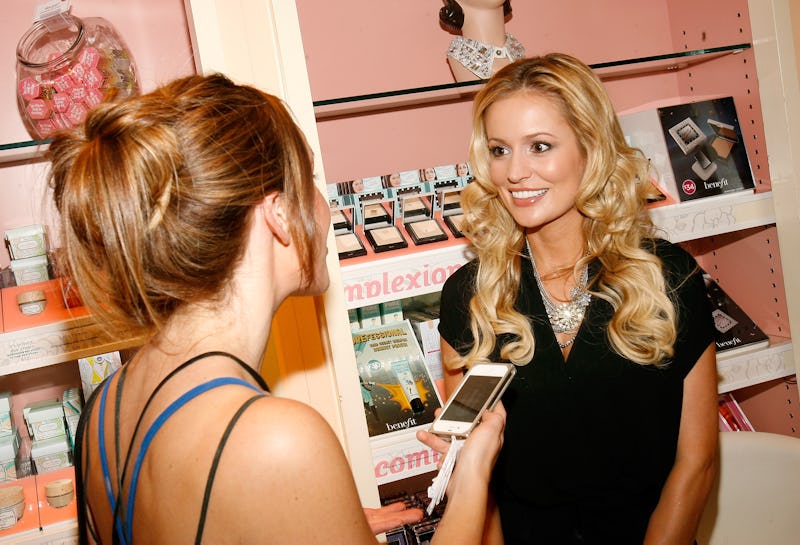 Mike Lawrie/Getty Images Entertainment/Getty Images
Emily Maynard found love twice on the Bachelor franchise, but both times, it sadly turned out to be short-lived, with her engagements to both Brad Womack and Jef Holm falling apart inside of a year. But while reality TV might not have worked out for the then-single mom, what Emily Maynard is doing now in 2018 proves that everything happens for a reason, because she finally found love, settled down, has achieved a ton in her career, and seems happier now than ever before. After her 2011-2012 back-to-back run on The Bachelor and The Bachelorette, Emily refocused, spending her energies on her daughter and her career — and then love found her.
According to The Muse, in 2013, Emily started a jewelry line with brand Towne & Reese, collaborating with the established company to create her own pieces. Emily told The Muse, "I wanted to do something more constructive with my time — something that I could work on every day and be proud of in the end." And after getting a taste of entrepreneurship, Maynard's career has started a new chapter — literally. She wrote a book, I Said Yes: My Story of Heartbreak, Redemption, and True Love, detailing not just her experiences on The Bachelorette and The Bachelor, but also her relationship with Ricky Hendrick, who died in a tragic accident while she was pregnant with their daughter, according to The Huffington Post. The book explores how Emily took those experiences and moved forward, ultimately realizing that she didn't want to be with someone because of reality TV, but because of real chemistry and compatibility, which she eventually was able to find.
Per HuffPo, the book also reveals that Emily knew her husband, Tyler Johnson, before she was on The Bachelorette, and that he even suggested they should date if she didn't find lasting love on the show. So when the couple started dating in early 2013, that history must have made it easy for them to decide to get married after just a year and a half of dating. When Emily and Tyler got married, the bride told People magazine, "He's given me such peace about everything. I'm so grateful I met him." She also noted her excitement for Tyler to become her daughter's stepdad. "It's just as much her day as it is mine because it's a big change for her. She just adores Tyler and he is so good with her. He loves her as if she was his own daughter. It's been so great to see their relationship grow." Given that one of the reasons Emily wrote that she knew relationship with Jef woul never last was because she couldn't see him as a coparent, this was an early sign that the Johnsons were destined to be together.
And now, three years later, they're still going strong. The couple has also grown their family, with three sons — Jennings, Gibson, and Gatlin — all younger than three years old. Emily actually just gave birth to Gatlin in November 2017, so the family has spent this fall dealing with the challenges of raising four kids that range from a preteen to an infant. But according to what Emily told People, they might even think about adding more members to the family. She said that while she thinks she'll be happy with four kids, that Tyler "wants two more."
After two unsuccessful relationships on The Bachelor and Bachelorette, it may have seemed like Emily Maynard was doomed to be unlucky in love forever. But as you can see, things worked out for her in the end. Now she's married to a fellow Southerner who shares her values and who's happy to have a big family with lots of kids together, but she's also a business woman and an author who hopes to inspire others with her story. The past few years have been big for Maynard in both her career and her family, and 2018 is likely to be no different. Now fans will just have to tune in to see if Bachelor Arie can find what Emily has.