Sorry 'Bachelorette' Fans — Grocery Joe Might Already Be Off The Market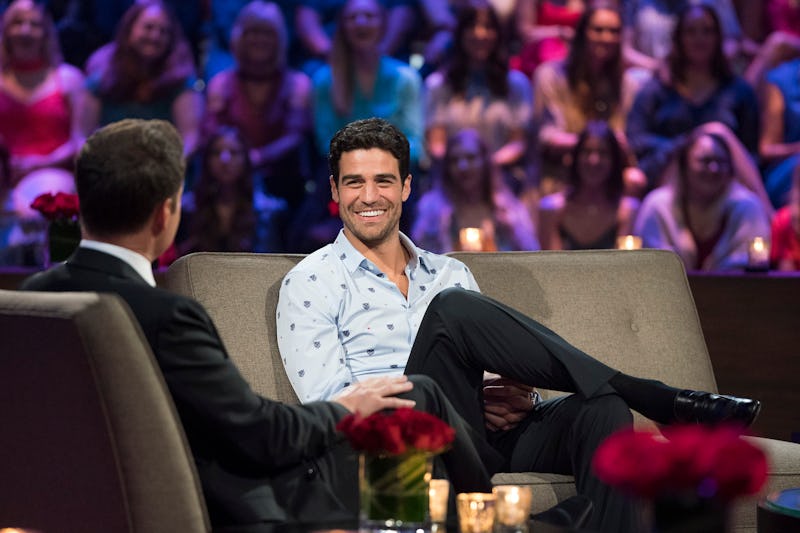 Paul Hebert/ABC
Watching The Bachelorette is like watching your friends date, only better — it's because you can scream at your television and comment about the poor decisions being made in real time. Becca's biggest poor decision on this season of The Bachelorette was sending home Joe Amabile, the grocery store buyer affectionately known to the masses as "Grocery Joe." He is tall, handsome, kind, and can get you an unlimited supply of your favorite chunky peanut butter and all the Oreo cookies you can eat. Becca, look at your life. Look at your choices. Anyway, fans are still reeling from Becca sending Joe home, which begs the question — what is Grocery Joe doing after The Bachelorette?
I am a married woman, but I can't get over how handsome and approachable Joe is. Even in photos! I mean, damn, Becca, really? You keep Garrett, who doesn't know how to use Instagram without revealing his shady racist, sexist, and homophobic leanings, and send our gorgeous grocer packing? Sad! But Joe is moving on, and he's not slowing down now. He is officially a part of the Bachelor In Paradise cast, which means that Joe will be frolicking in the surf with other The Bachelor and The Bachelorette castoffs. His introduction in the opening better include a watermelon or a grocery apron, ABC — I'm serious.
Bachelor In Paradise filming has wrapped, and so Joe was able to tease a little bit of information to People about his time in Mexico. "I had a good time," he said. "There wasn't really anyone I was looking to meet. I just went into it." Okay, but like, how much of a good time did you have, Joe? Did you leave in love? Why can't you share just a little more? The trailer for the season implies that Joe and Kendall from Arie's season might be together, though there's no confirmation of their romance just yet.
Joe's involvement with Bachelor In Paradise was smart, because people love him and why not capitalize on a little more fame? I mean, there is Grocery Joe merch out there. If your face is on a tote bag, you should milk that for as long as you can. If Anheuser Bush if putting your name on billboards to try and make you the next Bachelor, you should stay in the public eye.According to his Instagram, Joe is spending times with his friends and family and even a few of his fellow Bachelorette contestants, too.
As for Joe and Becca Kufrin, who is rounding the bases to complete her own season of The Bachelorette, the two saw each other recently in Chicago and there were no hard feelings, it seems. Becca told E! that she sent Joe home on night one because he was nervous and she was afraid he "couldn't get past the cameras." Personally, I would want a man who was a little nervous in front of all the cameras, because if you're TV-ready, it probably means you're not there for those ubiquitous "right reasons" everyone talks about when they talk aboutThe Bachelorette.
For now, Joe is relishing his newfound fame, and he doesn't seem to be taking it too seriously. Let's hope this notoriety "produces" a love match for this hot grocer.