Hawkeye's Back For 'Avengers 4,' But He's Not Looking Quite Like Himself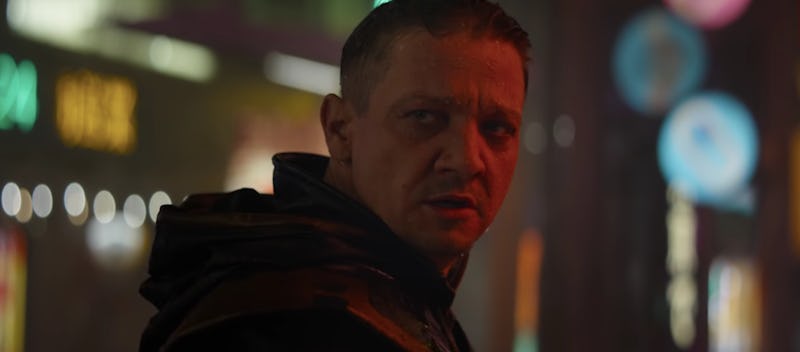 Marvel Studios/YouTube
Jeremy Renner's Hawkeye was missing from Avengers: Infinity War. But as the trailer for Avengers: Endgame shows, he's back, and he doesn't look quite like the Clint Barton Marvel Cinematic Universe fans are used to seeing. It sure seems like Hawkeye in Avengers 4 may now be one of his comic counterparts — Ronin. In the first Avengers 4 trailer released on Dec. 7, Scarlett Johansson's Black Widow finds Hawkeye on what appears to be a street in Japan rocking a new hooded suit and a weapon that is not his familiar bow and arrow. Natasha definitely seems surprised to see her old fighting buddy looking so different. But while Black Widow is in shock, Marvel fans already have some pretty solid theories about what Hawkeye is up to in Avengers: Endgame.
After he was caught in Captain America: Civil War, Hawkeye and Ant-Man (aka Scott Lang) made deals with the government to be under house arrest. So, during the events of Infinity War, fans could assume he was with his wife Laura and their two children, Cooper and Lila, on the Barton family farm. But in the Endgame trailer, Hawkeye is not on the farm anymore, y'all. In fact, he's now on an abandoned, rainy street in Japan, and he's looking rather menacing.
Based on his new duds and weapon choice of a sword, it feels fairly certain that Hawkeye is now Ronin. Ronin has a few identities in the Marvel comics and Clint is one of them. As ComicBook.com outlined, Hawkeye became Ronin in the Marvel comics after he is killed by Scarlett Witch. He's resurrected and rather than return to his Hawkeye identity, he assumes the mantle of the ninja warrior Ronin. Rumors that Hawkeye would be Ronin in Avengers 4 have been around for more than a year, as CBR.com reported. And the Endgame trailer appears to validate the theory.
Just how Hawkeye evolved into this new alias isn't clear from his brief trailer appearance. However, since the last time we saw Clint on screen, tragedy probably befell his family. After all, right before Hawkeye appears in the trailer, Captain American can be heard saying, "We lost family." Considering that half of the entire universe was destroyed in Infinity War, it seems likely that Hawkeye's family could be gone now too. Captain America's voiceover continues, "We lost a part of ourselves." And so, Clint most likely gave up being Hawkeye and replaced it with the darker identity of Ronin when he tragically lost his family.
While it's of course sad that Hawkeye's family is (maybe) dead, fans are pretty stoked to see this new identity play out on screen. Especially since Endgame appears to have done a great job of recreating Ronin's gold and black costume. And even though Ronin doesn't necessarily look as well-meaning as Hawkeye, he's still one of the good guys and a member of the Avengers.
Then there's the fact that with with Clint as Ronin, it leaves the Hawkeye position open. In the comics, Kate Bishop assumes the bow and arrow-wielding identity. And with 13 Reasons Why actress Katherine Langford being cast in a secret Endgame role, the theory is she could be the Kate Bishop version of Hawkeye.
But the truth about Hawkeye's fate will all be revealed when Endgame hits theaters on April 26, 2019. So for now, just take comfort that Clint (whether as Hawkeye or Ronin) is back in Avengers action.