Why Hope Hicks Is Reportedly Back In New York Makes So Much Sense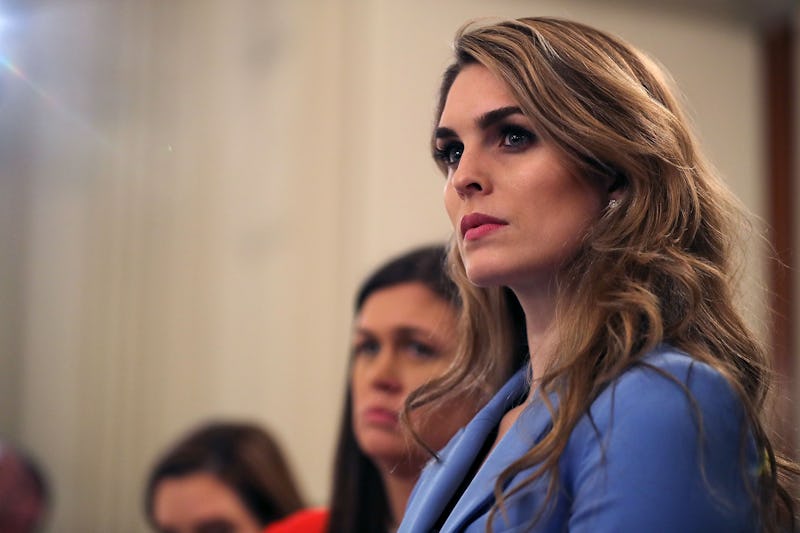 Chip Somodevilla/Getty Images News/Getty Images
Since she resigned from her position as communications director for the White House, the public hasn't heard much about what Hope Hicks is doing now. But according to Business Insider, Hicks is reportedly back in New York, supposedly in the market for a new job. Page Six reports that after leaving the White House, Hicks spent some time at home in Greenwich, Connecticut with family, but is now shopping along the job market for her next position.
"Whatever she decides to do, my guess is it will be outside of Washington, and outside of the political arena," Mike Feldman, a close friend of Hicks' family, told Town and Country magazine when she resigned as communications director back in February. "I don't think Washington is a place that she felt at home."
Hicks' resignation came only a day after she testified before the House Intelligence Committee for eight hours, according to the New York Times. In her testimony, Hicks said that she had "occasionally been required to tell white lies," but didn't lie about anything relating to Russia and the 2016 presidential election. Despite this, the Times also reports that White House aides say that Hicks' decision to leave was unrelated to testifying in front of the committee.
"It's not a total surprise to me," Feldman told Town and Country, referring to when Hicks announced her resignation. "She was starting to think about life outside the White House and that didn't just occur this week. I have to believe that the last two weeks were especially stressful for her. But you can't look at that in isolation from the three years she's been on this ride."
Before her role as communications director (the youngest communications director in the White House's history at 29), Hicks worked with Ivanka Trump on her clothing line and brand. When it came time to plan his presidential campaign, the Times reports, President Trump asked Hicks to join his political staff, despite the fact that she didn't have any political experience. According to Town and Country, she still remains loyal to the president and for recognizing her talent, relying on her, promoting her, and putting his trust in her.
"Hope is outstanding and has done great work for the last three years," Mr. Trump said in a statement when Hicks resigned. "She is as smart and thoughtful as they come, a truly great person. I will miss having her by my side, but when she approached me about pursuing other opportunities, I totally understood. I am sure we will work together again in the future."
Ivanka Trump took to Twitter and expressed pride in her friend and colleague saying, "Hope Hicks is loved & admired by all who know her. It's with a heavy heart, but tremendous gratitude, that I wish her well in her next steps."
White House press secretary Sarah Sanders even expressed her feelings over Hicks' resignation, also taking to twitter to say, "There is no one that can fill the void Hope Hicks will leave behind. She is in a league of her own and no one can replace her. Far and away one of the most talented and skilled people I've ever met and coming to work won't be the same without her."
"The role she played was clearly as a go-to person inside the west wing—someone who could preview the President's mood or judge his potential reaction to something," says Feldman told Town and Country. "That kind of person becomes indispensable. It's not sufficient to say he [was] losing his communications director."
Page Six reports that Hicks is being "wooed" by a few different companies that have expressed interest in bringing her on to their team. But who knows? Maybe Hicks will find her home with the Trump administration again when campaigning for the 2020 election begins.