Kaia Gerber Just Got A Tattoo To Celebrate Herself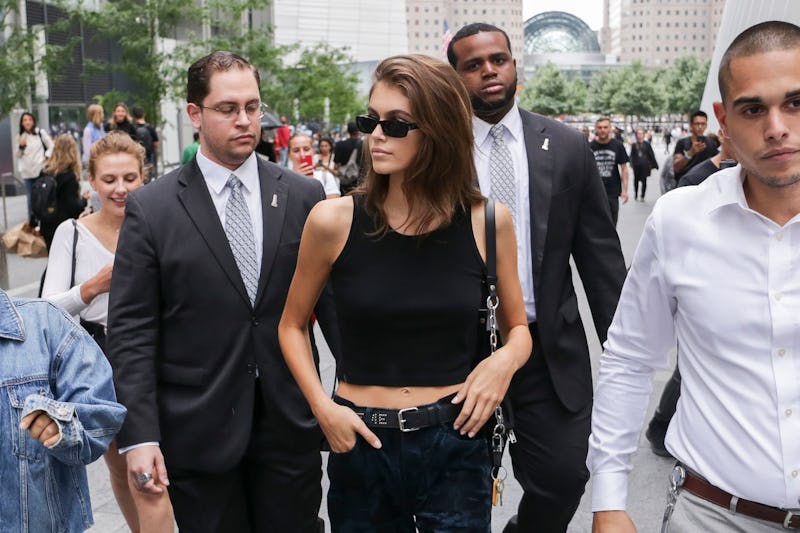 Achim Aaron Harding/Getty Images Entertainment/Getty Images
Tattoos in fashion are more prevalent than ever. Everyone from Cara Delevingne to Ashley Graham is sporting ink. Cindy Crawford's daughter Kaia Gerber got a tattoo and low key showed it off on Instagram. The brand new ink has caused a little bit of chatter online due to the fact that the young model is only 17. The legal age for getting a tattoo in California is 18 — and Gerber legit just turned 17 on Sept. 3 of this year.
It seems that Gerber got the ink with a legal guardian present and that appears to be her older brother Presley, 19. Their famous supermodel mama must be so proud of how supremely tight her kids are.
It is worth nothing that tattoo artist Rafael Valdez posted photos on Instagram in which Gerber appears to be getting a tattoo while rocking a cropped red and black hoodie and a loose bun. He also shared a shot while inking her big bro. Valdez also posted a pic of himself and Gerber seated together. It surely looked as though they were workshopping ideas for a tattoo. The caption of the post calls it a "fun session" and therefore suggests that the bro x sis duo was getting tattooed.
That said, the now-visible design is subtle and tasteful, delicate and dainty. It's located on the inside of her right arm and the script is slightly hard to read from a distance. Page Six reports that the word is "Jordan," which is Gerber's middle name. It's as though it's a dedication to herself — and not something impulsive or impetuous. The tattoo is tucked in a private space that she can show off or cover up as she wishes. Also, take a moment to marvel at how awesome she looks in the makeup-free, peace sign-throwing selfie.
The tat certainly won't interfere much with her day job or editorial gigs since it can be easily concealed with makeup or clothes. Or it can be left as is and featured as part of a spread — since real people, including models, don't get tattoos in order to keep them hidden.
Gerber may have been bitten by the tattoo bug thanks Presley. PEOPLE reports that she often accompanies him to his ink sessions. He also got her name in simple but sprawling script on his person. Clearly, these sibs are super close.
Perhaps the model decided to get a self-referencing tattoo first and will eventually get a tattoo that honors her brother — basically repaying the favor? You can keep your eyes affixed to Gerber's Instagram for awesome fashion photo spreads, a look at her fab life, and perhaps another peek at the tattoo.
PEOPLE also reports that Gerber may have a second micro tattoo. She posted a cryptic Instagram story which appeared to reveal another inking on her leg. The image features a paint palette and what looks like a black tattoo. It's not quite clear if that's Gerber's leg and tattoo, if it's real, or if it came before or after the middle name ink.
Tattoos can be addictive and it's hard to stop at just one. Are even more tattoos in Kaia Gerber's future? Time will tell.