What Kim Kardashian Is Doing In 'Ocean's Eight'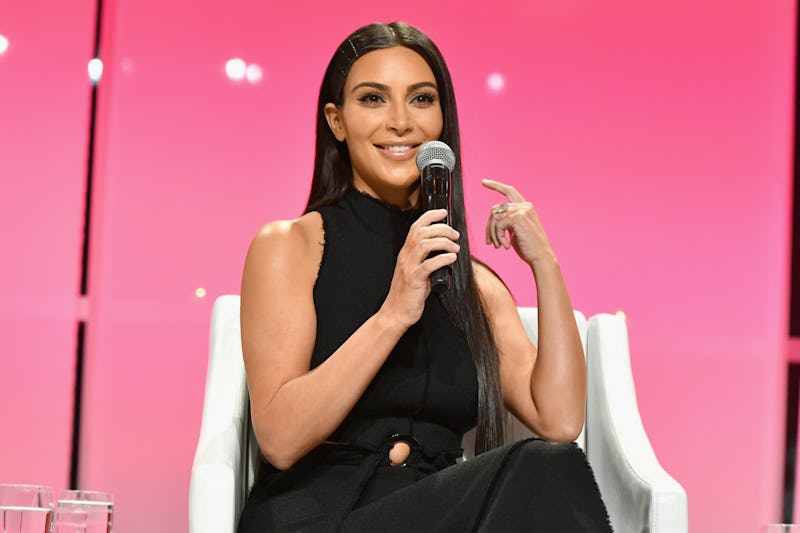 Slaven Vlasic/Getty Images Entertainment/Getty Images
Filming of Ocean's Eight is currently underway, and the cast list keeps getting more and more exciting. Unfortunately, we'll all have to wait until June 2018 before we can watch the long-awaited Ocean's movie, but, in the mean time, it's fun to speculate about it. So what will Kim Kardashian's Ocean's Eight cameo entail? The media mogul filmed a segment in New York on Monday alongside sisters Kylie and Kendall Jenner, and eagle-eyed fans think it might have something to do with the Met Gala.
Kardashian has largely been out for the spotlight over the past few months, since she was involved in a terrifying robbery in Paris in Oct. 2016. Having had over $10 million worth of jewelry stolen during the traumatic attack, she took some much-needed time away from the public eye to recover. Gradually returning to social media, the revelation that Kardashian will appear in Ocean's Eight alongside at least one of the Jenners is incredible news and proves that the reality star is back with aplomb.
It seems likely that Kardashian's cameo is related to the news that Anna Wintour is in Ocean's Eight. On Jan. 12, 2017, Page Six reported that a scene in the new movie "meticulously re-creates the Met Gala... down to the place cards, VIPs, and couture gowns," with scenes being shot "in the Met Museum's Temple of Dendur." Could Kardashian and the Jenner sisters be featured in the same scene?
According to Just Jared, plans for the Met Gala scene have been coming together well. Apparently, "Katie Holmes and Adriana Lima have also been seen on set in the past week and the event's annual host Anna Wintour is set to appear," meaning that Kendall Jenner's Elie Saab Haute Couture gown, and Kardashian's impressive ensemble, were likely put together to replicate their trademark style at the important event. Kardashian famously co-ordinated outfits with husband Kanye West at the 2016 Met Gala, and any filmic version of the event would have to include her iconic style.
While we all have a long wait ahead of us before the release of Ocean's Eight, it already sounds like it's worth the wait.