Kylie Jenner's Latest Trademark Hints At A Skin Care Line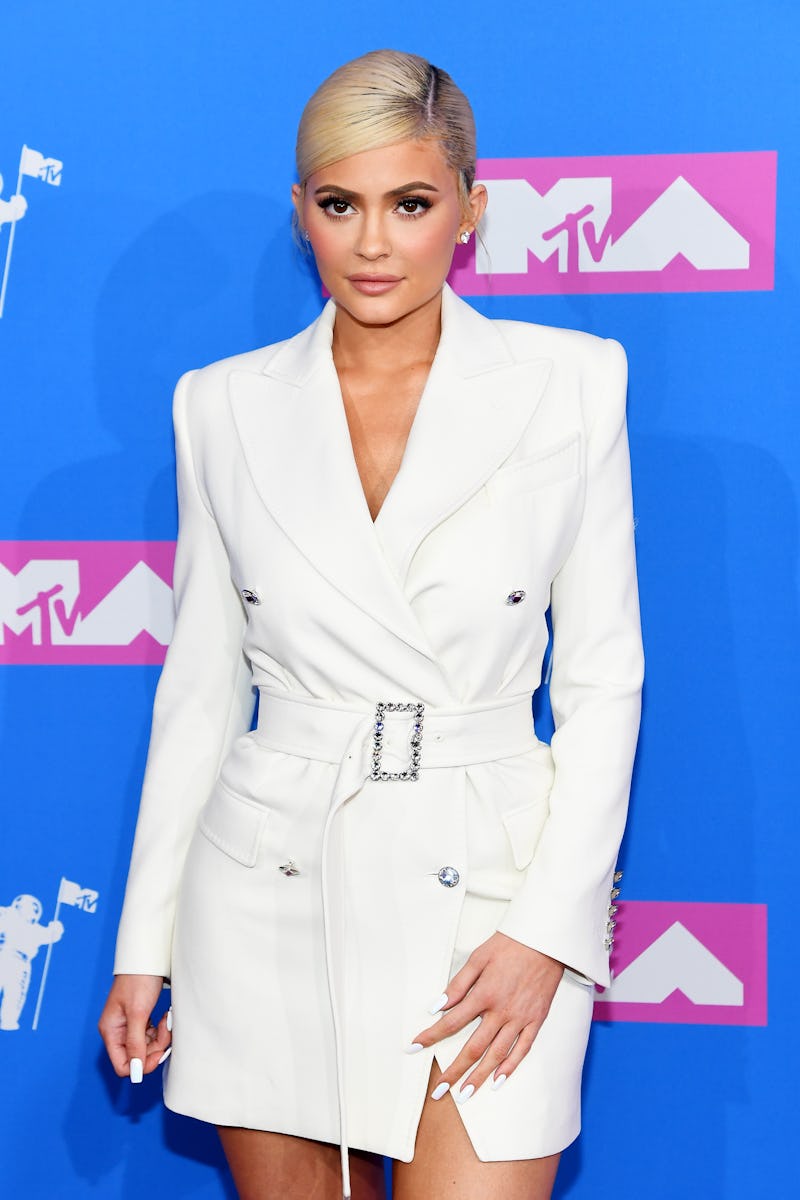 Nicholas Hunt/Getty Images Entertainment/Getty Images
The Kardashian-Jenner clan never seems to sleep when it comes to business, as is evidenced with the youngest member's recent trademark moves. Kylie Jenner might be launching Kylie Skin soon, which is a mysterious new venture that she applied for trademarks in not too long ago. Already the owner of a billion dollar empire, the 21-year-old mogul is looking to branch her lip kits and eyeshadow palettes into something new — though what that new thing is exactly is still up for debate.
All that is known so far is that Jenner has filed three trademark applications last week with the United States Patent and Trademark Office, all of which have to do with "Kylie Skin." Two of the trademarks are listed as having to pertain to beauty products that include things like masks, scrubs, moisturizers, cleansers, facial mists, skin peels, and serums among other things, providing a pretty solid hint that the beauty entrepreneur is looking to expand into skin care.
But even more exciting is the second trademark, which might be hinting at a brick-and-mortar store. The third application is specifically for a "retail store services featuring skin-care products, skin-care preparation products, cosmetics, cosmetic preparations and gifts." While Jenner's lip kits and eyeshadows have invaded brick-and-mortar stores like Topshop and Ulta, and sometimes she even dabbles in pop-up shops, she has never had her own standalone shop before. A storefront could be the next step in her beauty mogul career.
There has also been a website for Kylie Skin registered in the beginning of July, though one cannot see who registered it. While all signs seem to hint that there will be a new Jenner skin care line — making her the first of the Kardashian-Jenner sisters to break into the skin care game — that isn't to say that this will be a done deal. Plenty of brands register for trademarks but don't go through with the ideas. For example, Caitlyn Jenner has three registered trademarks, one of which has to do with beauty and skincare products. And while she has done two collaborations with M.A.C. before, there is no standalone line just yet.
On the other hand, it doesn't seem too far of a leap that Jenner would expand her beauty empire into skin care. In the recent Forbes cover story on the young billionaire, the magazine explained why the Kardashian-Jenners keep diversifying their businesses and constantly add more branches. "They're not looking to be sustainable brands," said Sarah Jindal, a senior innovation and insights analyst who focuses on beauty and personal care at Mintel. "In a couple of years it wouldn't surprise me if she was on to something else. When you are leveraging your name, you can turn it into anything you want to sell."
That time might be now, and the beauty world might be soon treated to a whole new brand of serums, face masks, and body scrubs that can become as viral and popular as the original lip kits. Only time will tell, but get your bathroom shelves ready just in case.