I Worked Out Like Meghan Markle & It Was Way More Chill Than I Expected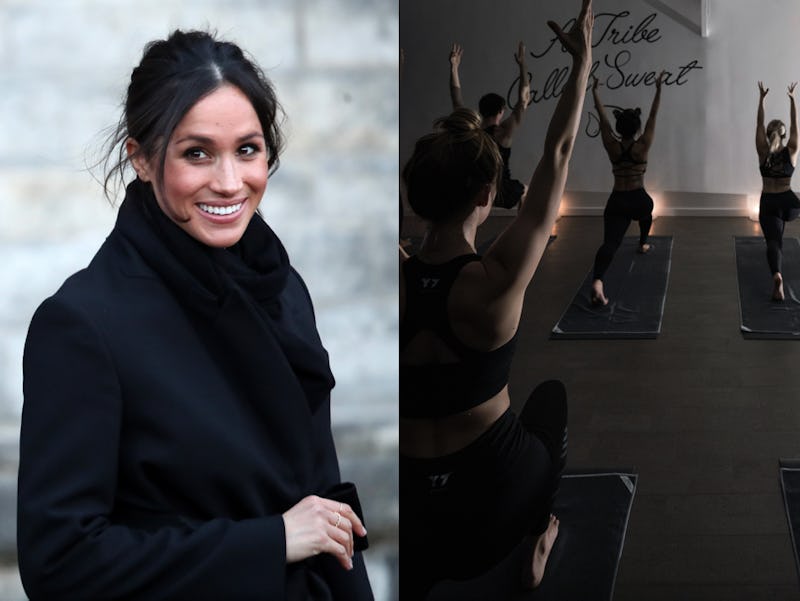 Chris Jackson/Getty Images Entertainment/Getty Images / Brad Warsh
The royal wedding is just a few months away, and all eyes are on what Meghan Markle is doing to chill out and destress while planning the most-anticipated nuptials of the year. Earlier in January, E! News reported that Markle's fitness routine incorporates a solid mix of cardio, yoga, and pilates — understandable, given that her mom is reportedly a yoga teacher and social worker. Many people might think that working out like a duchess-to-be would be a kind of stressful, but I tried working out like Meghan Markle and it was actually way more chill than I expected.
E! News reported that Markle is known to frequent the West Hollywood, Los Angeles outpost of Y7, a New York-based yoga studio that uses infrared technology to heat its rooms to between 80 and 90 degrees. Y7 co-founder Sarah Levey tells Bustle that Markle has been going to classes at Y7's West Hollywood location since spring 2016. "She is really sweet. Our staff loves her, she is really great. Always super kind and gracious," Levey told E! News. She tells Bustle that Y7's signature flow "is great for wedding prep — it increases detoxification, circulation, and your metabolism, plus is great for your skin and pores." The workout is also popular with studio-goers because of its inclusive and welcoming environment — yoga is done by candlelight to a modern hip-hop soundtrack, in studios without mirrors, and instructors stress that attendees "do what they can," and modify poses as needed. Though I am not prepping for a wedding (sad), I really wanted to try out the workout for myself — and found it to be just as chill as Markle seems to be IRL.
I was invited to practice at the Y7 Lab, which serves as an event space, the company's headquarters, and "innovation lab," for a special class celebrating the launch of the brand's "Intentions Collection." The two-piece sports bra and leggings set takes inspiration from two walls in the brand's West Hollywood location (aka, Markle's go-to), where Y7-goers are invited to write their intentions in black marker. The class, fittingly, was all about intentionality: We began by visualizing what we wanted to accomplish in 2018, then broke down how we wanted to feel from that accomplishment, and used that as our mantra for the class. (I am experienced, I breathed in and out, in response to my desire to travel more, try new things, and finally cook engagement chicken.) Throughout the class, we were reminded of how to be more mindful as we moved through our flow — engaging new muscles here, rolling our shoulders further back there. I've been doing yoga casually since I was a teenager, but this class was the first time I was guided through how to be mindful of what I was asking my body to do.
Though the Y7 Lab practice space doesn't use the brand's signature infrared technology to heat up the room, the class was packed at least 30 people deep, so I definitely felt myself building up a sweat as I moved through the flow. Candles further warmed up the loft we were practicing in, and as we ended our session with some more guided meditation, I sensed my muscles simultaneously feel sore and more relaxed. When the class ended, I felt noticeably warmer and calmer than I was when I walked in — no easy task for the middle of January in New York. (And yes, I left with my hair in a messy bun.)
Since Y7's launch as a pop-up in 2013, the brand has expanded to seven locations, including a just-opened branch in Los Angeles' Silver Lake neighborhood, which Levey tells Bustle was converted from an "old auto garage." Given that LA is Markle's hometown, there's plenty of reason to believe she'll still make it back for class despite her new, jet-setting royal lifestyle. But luckily, she makes it easy for us non-royals to work out like her.