Microfeathering Is The Newest Way To Get Bold Statement Brows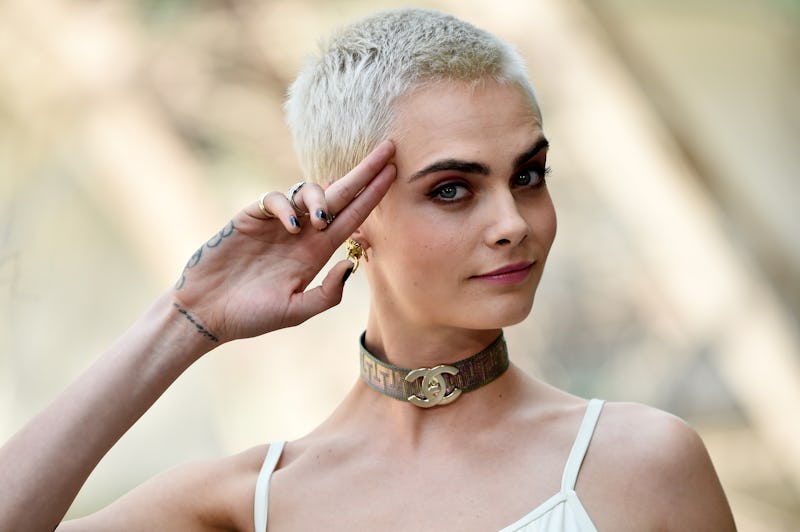 Pascal Le Segretain/Getty Images Entertainment/Getty Images
Brows remain a facial feature that we all obsess over. After all, they frame our faces and our eyes, so a properly 'scaped Cara Delevingne-inspired brow is critical for many. Microblading has come into prominence, but there's also a brow procedure called microfeathering on the horizon meant to help beauty lovers gain a statement brow.
Here's how the process is different from microblading, thanks to a breakdown provided by Allure.
Put simply, microblading is a semi-permanent pigmentation technique where tiny needles or blades are used to fill and shape brows over the entire surface of the brow area. As Allure notes, it is often used by those with generally sparse or thin brows.
So, what is microfeathering, as popularized by Kristie Streicher of Striiike? This procedure is often employed by those who already have full brows, but want to fill in any sparse area. The process still uses ink and a blade, and is undetectable.
"Microfeathering is typically used on areas of the brow that are surrounded with natural hair," Streicher told Allure. "Gaps and sparsely covered areas can be filled in, resulting in the most natural look possible."
According to the Allure story, microfeathered brows can last for about a year before pigments fade, but has to be done over two appointments. The procedure can cost up to $1000 and takes up to 90 minutes per appointment. Those getting the procedure must leave the area untouched for six-to-eight weeks prior to the microfeathering.
This composite of before and after pics, courtesy of Streicher, essentially illustrates that microfeathering has absolutely nothing to do with the Insta-famous feather brow. Instead, it acts as a maintenance technique for those of us with already thick brows.
Microfeathering basically makes bushy brows even bolder. If you have extra cash and a passion for big brows, maybe consider giving it a go.