This App Matches Your Leftovers With People In Need & Makes Saving The World So Easy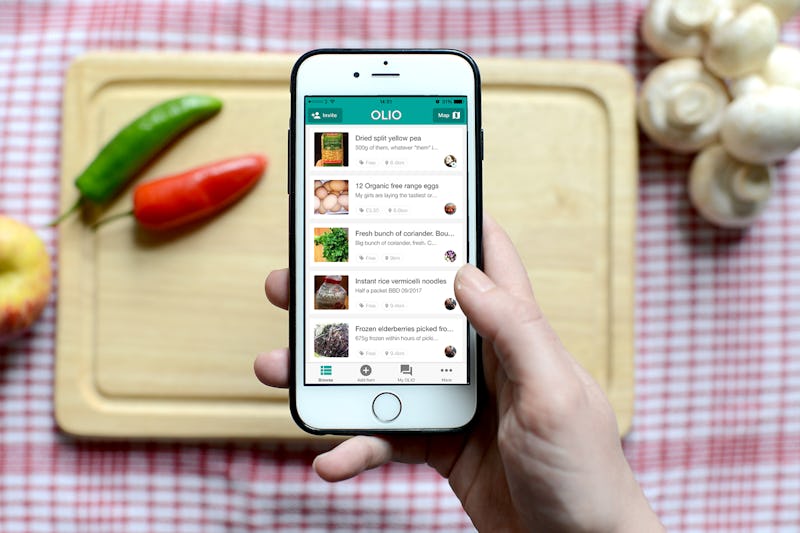 SOURCE: Olio
It feels like every week there is a new app everyone is telling you that you simply have to download. Well, hear me out, because the latest app, Olio, is worth all that attention and you should actually download it. Right now. But what is Olio? The app is the brainchild of two women with a vision to totally change how the average person treats unwanted food. It aims to connect users with both each other and local businesses who have leftover food that can be shared and put to good use because, to be honest, it's time to stop throwing away food. Think of it as a clothes-swap, but for your kitchen cupboards.
The backstories and childhoods of Olio co-founders Saasha Celestial-One and Tessa Cook could not have been more different. According to the app's website, Iowa-native Celestial-One is a self-proclaimed daughter of "hippie entrepreneurs" (hence the unique surname) and was raised as part of a large family where money was often scarce and dumpster-diving with her mother was a regular occurrence. From an early age, Celestial-One learned the importance of not taking food and possessions for granted.
Speaking to Bustle, Yorkshire-born Tessa Cook said,
I'm a farmer's daughter, and so have always hated throwing away good food. This is because I know from first-hand experience just how much hard work goes into producing it.
Both of these women's backgrounds, though slightly different, are evident in the ethos of Olio, which challenges how we view food waste, and more importantly, what we class as waste in the first place.
So, how does it work? Olio is a really easy app to use. The home screen cleverly separates listings into three categories: Food, Non-Food, and Wanted, the latter being for items you can put a call out for. Within a few minutes of downloading the app, I was browsing the listings in my area to see what was on offer, which was an abundance and wide variety of perfectly good food that would otherwise be thrown away. You can even increase the location range if you are willing to travel for your free grub, meaning Olio isn't confined to certain areas — it goes where you go.
It also doesn't limit itself to the contents of fridges nearing sell-by dates. It works as a directory for local farmers who may have extra produce, or even your neighbour whose allotment has had a particularly fruitful harvest. (Thanks for the carrots, Ethel.)
The stats for Olio so far are hugely impressive and a sign that it is well on its way to becoming a common approach to sharing unwanted food and reducing waste. Since launching in the UK in 2016, Tessa told me that the app has gained a lot of traction.
"Olio has grown to over 450,000 users who have together shared over half a million portions of food – which is the environmental equivalent of taking over 1.3 million car miles off the road."
Pretty impressive for a fledgling app.
Tessa puts attributes the app's popularity in UK down to the simple fact that people do not want to see good food wasted, and Olio allows people to quickly, easily and cheaply share with others what we won't use ourselves. Testament to how good Olio is at fulfilling its aim, Tessa noted that "40% of all food added to the app is requested in less than one hour and 75% is requested in less than 24 hours."
Olio's aim in tackling how we view household waste is just one way in which the average householder is being encouraged to pursue a more ethically conscious lifestyle. Millennials are quick to adapt to new trends and are thinking more and more about the influence we have on the world around us. It is reassuring that this is reflected within the usage statistics. Tessa told Bustle that "whilst all age ranges are represented on OLIO – from students to pensioners – we do find that we slightly over-index on 25 to 44 year olds and two thirds of our users are female." Being an ethical consumer doesn't have to mean following a strict vegan diet — it can take the shape of simply making more considered choices that change habits and mean we can go about our day knowing we have made a positive impact. Whether this is opting for a reusable coffee cup over a paper cup during the morning commute, declining a plastic straw for a drink at the bar, or bringing your own carrier bags to the shop, each of us can reduce the amount of waste we produce.
Olio has been a topic of the ethical consumer conversation on Twitter for a while, with co-founder Celestial-One featuring in a panel with Girls in Tech London, and many users singing its praises and backing up the founders' claims of how useful Olio is for sharing extra food. Like 50kg of potatoes, for example.
According to findings from the Food and Agriculture Organisation of the United Nations, of all the food that is produced in the world, approximately one third goes uneaten and ends up in landfills. That astonishing figure is hard to reckon with when we are inundated with reports of food poverty within the UK and high numbers of families nationwide relying on foodbanks. According to the Trussell Trust, the organisation that operates 482 foodbanks across the UK and Northern Ireland, 666,476 people have benefitted from food they obtained from foodbanks, food they would otherwise go without due to poverty.
In a society where food poverty is becoming more prevalent, an app like Olio could be monumental in providing food to those in need while simultaneously reducing household waste. Technology makes it easy for this type of crowdsourced sharing to be accessible and this is just one extension of the small choices we can make as consumers that add up to big changes for ourselves, others, and the planet. One gal's trash is another gal's treasure, and with Olio, it is all up for grabs directly from your phone.