The Queen Just Promoted Prince Harry & Gave Him This MAJOR New Role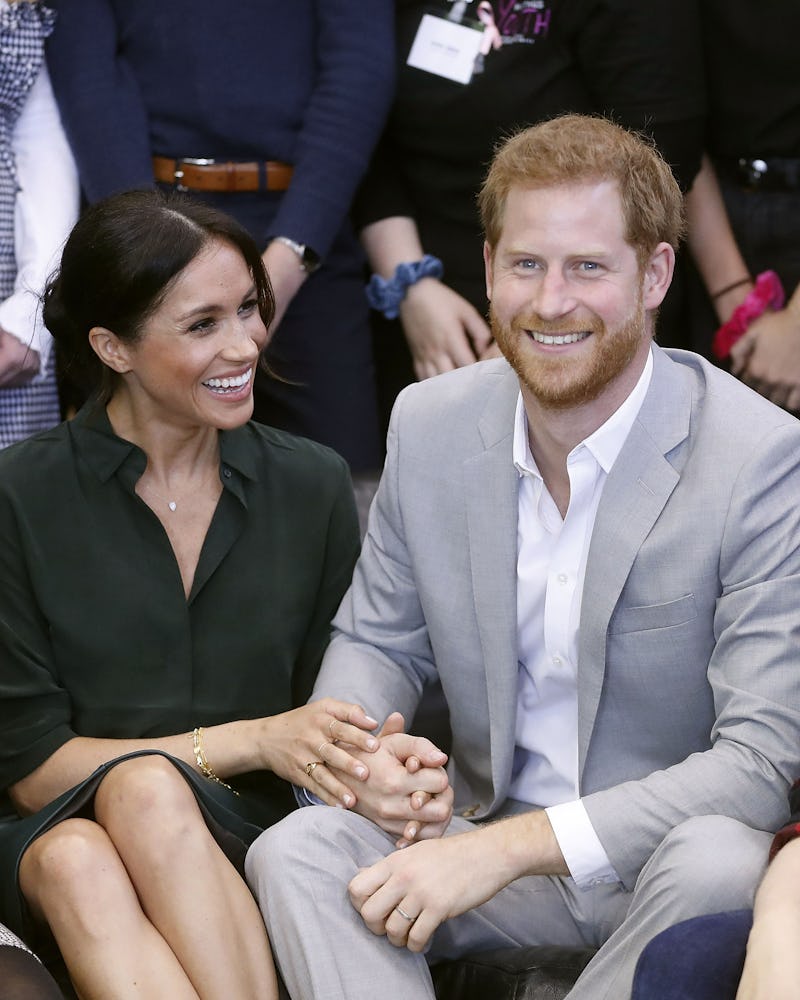 Chris Jackson/Getty Images Entertainment/Getty Images
It has been a weekend of big announcements for Prince Harry. Whilst Kensington Palace revealed today that the Duke and Duchess of Sussex are expecting their first child together in spring 2019, the Queen has also given Prince Harry the new role of a personal aide-de-camp. It is nice to be busy and it looks like the Duke of Sussex is going to have a lot on his plate. It is funny to think of the royals getting promotions, especially from their grandmother. But what is Prince Harry's new job? With a baby on the way and his royal responsibilities with Meghan Markle kicking into overdrive it looks like Prince Harry is going to be one busy bee.
Royal Central reported that Prince Harry had been appointed as personal aide-de-camp to the Queen. In a statement from Monday's Court Circular it said, "The Queen has been pleased to appoint The Duke of Sussex as a Personal Aide-de-Camp to Her Majesty with effect from October 13 2018." But what exactly will this new role entail for Prince Harry who will be a new dad in spring 2019?
Royal Central went on to explain that the role is an honorary one given to senior military officers and carries very few duties. However, Prince Harry's appointment signifies the increase in responsibility he has and the larger role he is playing in the Royal family.
I contacted a press representative from Buckingham Palace for a comment on Prince Harry's new appointment. However, I am still waiting to hear back.
He isn't alone in taking on the role of personal aide-de-camp to the Queen. His brother, Prince William was made an aide-de-camp to the Queen back in March 2013, four months before Prince George was born. The Duke of Sussex will also join his father, the Prince of Wales, the Duke of Edinburgh, the Duke of Kent, Captain Mark Phillips, the Duke of York, the Earl of Wessex, and Sir Tim Laurence.
Queen Victoria was the first monarch to appoint an aide-de-camp to the sovereign and in his new job Prince Harry will act as the honorary military attendant to the Queen. Whilst the job description may come with few duties the responsibility is massive. Prince Harry will be expected to represent the Queen at super important events like national memorial services if his grandmother cannot attend. He will also be expected to attend the State Opening of Parliament. For a while it has felt like Prince Harry has always taken a bit more of a casual approach to being part of the royal family. Of all the royals he seems super accessible. Running his own projects, such as the Invictus games has definitely proved he is more than capable at dealing with the responsibilities that being a royal brings.
It feels like everyone is celebrating Prince Harry and Meghan Markle's baby announcement. It is testament to how well liked they are. As the younger royals have made more of an effort to appear more accessible to the public, with their mental health charity, Heads Together it will be nice to see more of Prince Harry. Let's just hope he doesn't get in trouble with the boss. It would be hard enough if you messed up and it was your grandma you had to answer to, never mind if she was the Queen as well.