Sandra Oh's Done A Lot Since Leaving 'Grey's'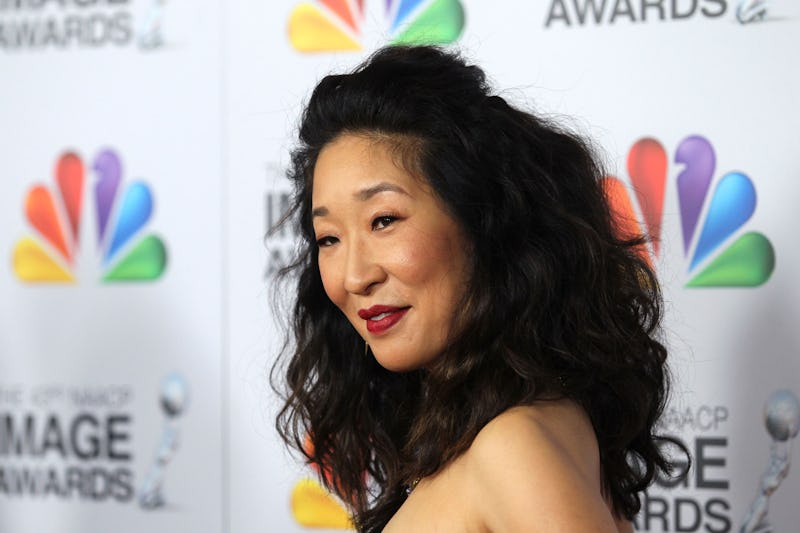 Frederick M. Brown/Getty Images Entertainment/Getty Images
Have you been feeling like you're missing something lately, but haven't been able to put your finger on what it is? I'm thinking it might be Grey's Anatomy's Dr. Cristina Yang. She was such a reliable part of our lives for so long — 10 whole seasons — that going on without her just doesn't feel right. So what is Sandra Oh up to now? The actress joined the show in 2005 and turned in her scrubs in 2014, and, although she hasn't fully ruled out going back, she says it won't be in the foreseeable future.
That doesn't mean Oh has slowed down even a little bit since her final Grey's Anatomy episode, however. Her career of late is not only thriving, but it's all over the map. She's done movies, TV shows, a webseries, theater, shorts, and voiceover work. Probably the biggest name on her resume is 2014's Tammy, in which she played Susanne. It was the only project she completed that year, but she followed that up with a bigger 2015, turning in a short called The Scarecrow in 2015, and six episodes of the Refinery29 webseries Sh*tty Boyfriends, where she played Kathy.
The trend of increased activity only continued the next year, with a one-off episode for Peg+Cat, where she voiced the President, as well as more voiceover work for Window Horses, and then a movie with Anne Heche and Alicia Silverstone called Catfight, in which she played Veronica. And, as if that didn't keep her running around enough, Oh also acted in a 2016 play inspired by the Virginia Tech shooting entitled Office Hour, about a writing professor who reaches out to an isolated student with "unexpected results."
If this career trajectory continues, we should expect to see even more credits to Oh's name in 2017. The trend so far has been to add a project or two with every passing year, and, true to form, she does have two upcoming projects currently in various stages of completion.
The first is 33 Liberty Lane, which has been announced, and is being described as a "phone sex comedy" with Melora Hardin and Nia Vardalos. However, it has been given no release date, suggesting that production has yet to begin. There's also Meditation Park, which is in pre-production now for a 2018 release date, and features Oh as Ava, in a fictional offering by independent writer and director Mina Shum.
In short, it sounds like her plate is exactly as full as she wants it to be, and Oh is exploring all the career opportunities that she might not have had access to when Grey's was taking up all her time. So while I'm sure you miss her on the medical drama, isn't it nice to see all the different ways she can come into our lives now?