What Happens to 'Grey's' Actors After They Leave?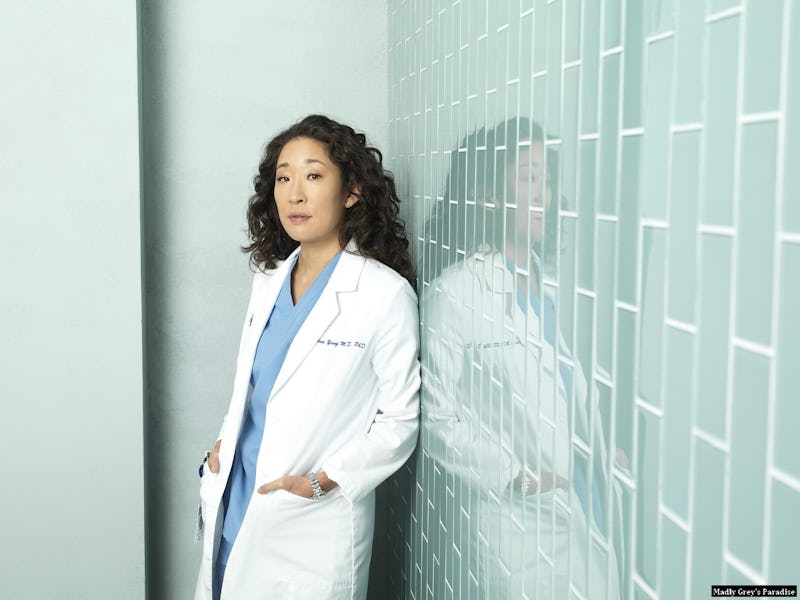 We've had months and months to prepare, but that doesn't mean it won't still be painful when Sandra Oh leaves Grey's Anatomy for good in Thursday's season finale. As the brilliant, acerbic Cristina Yang, the crazy-talented Oh has been a huge factor in what's kept Grey's so watchable ten years in, and it's difficult to imagine a future for the series where she doesn't play a major part. Apparently, show creator Shonda Rhimes feels the same way, as she's been tweeting non-stop about how much she'll miss Oh and how heartbreaking Cristina's exit in the finale will be. If Rhimes, self-described as "not a person who cries," is warning viewers to "bring tissues" and saying that one's "heart gets ripped out" by Cristina's farewell scenes, then you know it's going to be rough. Grey's fans, prepare yourselves.
The person who should be preparing herself the most, however, is Sandra Oh. While many people have come and gone through the doors of Seattle Grace-Mercy West/Sloan-Grey Memorial over the years, surprisingly few of them have gone on to have much in the way of post-Grey's success. Could there be a curse on the actors behind the series? Knowing the catastrophes that occur on a regular basis in that hospital, probably. As a well-known actress for Sideways and Arli$$ well before Grey's, Oh has a better chance than most of doing well. Still, considering the track record of her former co-stars, we're a bit nervous. Here's how Grey's actors have fared after leaving the show, from least successful to most:
11. Eric Dane
Character: Mark Sloan, the McSteamiest plastic surgeon at Seattle Grace.
Manner of Exit: Died of plane crash wounds in the hospital.
Reason for Leaving: To star on another TV show, TNT's The Last Ship. "I loved doing Grey's Anatomy ," he told EW at the time. "I would have done it until the final episode, but this was something I couldn't pass up."
Post-Grey's success? Too soon to tell. The Last Ship, an apocalyptic drama, premieres in June. Michael Bay's involvement doesn't have us too optimistic, though.
10. Loretta Devine
Character: Adele Webber, Richard's Alzheimer's-suffering wife.
Manner of Exit: Died from her disease.
Reason for Leaving: It made sense for the story.
Post-Grey's success? A bit. Devine, best known for a pre-Grey's role in Boston Public, was a regular on the now-cancelled The Client List.
9. Chyler Leigh
Character: Lexie Grey, Meredith's sweet, dorky half-sister.
Manner of Exit: Died from the plane crash.
Reason for Leaving: Thought it was time for the character, and wanted to pursue other things.
Post-Grey's success? Nothing yet, but she does have a new show, Taxi Brooklyn , set to premiere on NBC this summer.
8. Kim Raver
Character: Teddy Altman, a no-nonsense Cardio surgeon in love with Owen.
Manner of Exit: Left to take a job as an Army doctor.
Reason for Leaving: Her own desire to "give Teddy Altman a much-needed vacation," explained Rhimes.
Post-Grey's success? As of this month, yes. Raver, a regular on 24 in the mid-2000s, is reprising her role in 24: Live Another Day. She also had a supporting part in the now-cancelled Revolution last year.
7. Brooke Smith
Character: Erica Hahn, the brusque heart surgeon who replaced Burke and began a romance with Callie.
Manner of Exit: Decided to leave the hospital after her relationship with Callie went sour.
Reason for Leaving: ABC wasn't a fan of her character or her lesbian relationship, which shocked Smith as much as the rest of us.
Post-Grey's success? A bit. Smith has a recurring role on Ray Donovan, which will begin its second season this summer. She's also had small roles on SVU and American Horror Story, among others.
6. Isaiah Washington
Character: Preston Burke, the smooth, confident Chief of Cardio who fell in love with Cristina.
Manner of Exit: Left Cristina at the alter and moved away, only to return seven years later to convince his former fiance to move to Zurich.
Reason for Leaving: Fired, after calling co-star Knight a "faggot" on-set, and then again at the Golden Globes.
Post-Grey's success? Not much at first, but it's starting to grow. Washington has a role on The 100, a CW show that was just renewed for a second season. Last year, he starred in the acclaimed indie Blue Caprice, and his May return to Grey's put him back in the spotlight.
5. Jeffrey Dean Morgan
Character: Denny Duquette, a patient who, while awaiting a heart transplant, falls in love with Izzie.
Manner of Exit: Died from transplant complications.
Reason for Leaving: To give Katherine Heigl her Emmy.
Post-Grey's success? Somewhat. Morgan has a recurring role on Shameless, and has appeared in a number of so-so films.
4. T.R. Knight
Character: George O'Malley, a sensitive, talented doctor with a bad habit of sleeping with his friends.
Manner of Exit: Died after heroically saving a girl from being hit from a bus. R.I.P., 007.
Reason for Leaving: A "breakdown of communication" between Knight and Rhimes, after George's screen-time was reduced drastically in season five.
Post-Grey's success? On Broadway, yes. The actor starred in 2010's A Life in the Theatre alongside Patrick Stewart, and has appeared in several shows Off-Broadway. Last year, Knight had a recurring role on The Good Wife.
3. Kate Burton
Character: Ellis Grey, Meredith's intimidating, cold, hugely successful mother.
Manner of Exit: Died from Alzheimer's complications.
Reason for Leaving: To teach Meredith a lesson. "Be extraordinary!"
Post-Grey's success? Yup, and it's all thanks to Rhimes. Burton plays lunatic V.P. Sally Langston on Scandal . She's also had small roles in movies like Liberal Arts and 127 Hours.
2. Kate Walsh
Character: Addison Montgomery, a neonatal surgeon and Derek's ex-wife.
Manner of Exit: Left Seattle to begin a private practice in L.A.
Reason for Leaving: To start a Private Practice. Literally.
Post-Grey's success? Definitely. The Grey's spinoff was never as beloved as its original, but it went on for six seasons. Walsh, who's appeared in projects as diverse as The Perks of Being a Wallflower and Fargo, has a new NBC show, Bad Judge , set to premiere this fall.
1. Katherine Heigl
Character: Izzie Stevens, a kind, tough doctor who was a fan favorite until she started seeing ghosts and bailing on Alex.
Manner of Exit: Left Seattle to start fresh after divorcing her husband and chewing out her friends.
Reason for Leaving: Ah, remember Heigl-gate? The actress said she left the show in order to focus on her family (she had adopted a daughter a year earlier), but we can't imagine that the tension that rose on set after Heigl so publicly noted the ridiculous material she was given to work with wasn't a large factor in her exit.
Post-Grey's success? A whole lot, although if she wanted better material that she was getting on Grey's, One for the Money probably wasn't it. Heigl has starred in plenty of films since the show, many of which have done well at the box office. None of them have been as watchable as her role on Grey's or in earlier movies like Knocked Up, but her new TV show has us excited that the Heigl we knew and loved is finally making a return.
Images: ABC