The "Bad Liar" Film May Be A New Video From Selena Gomez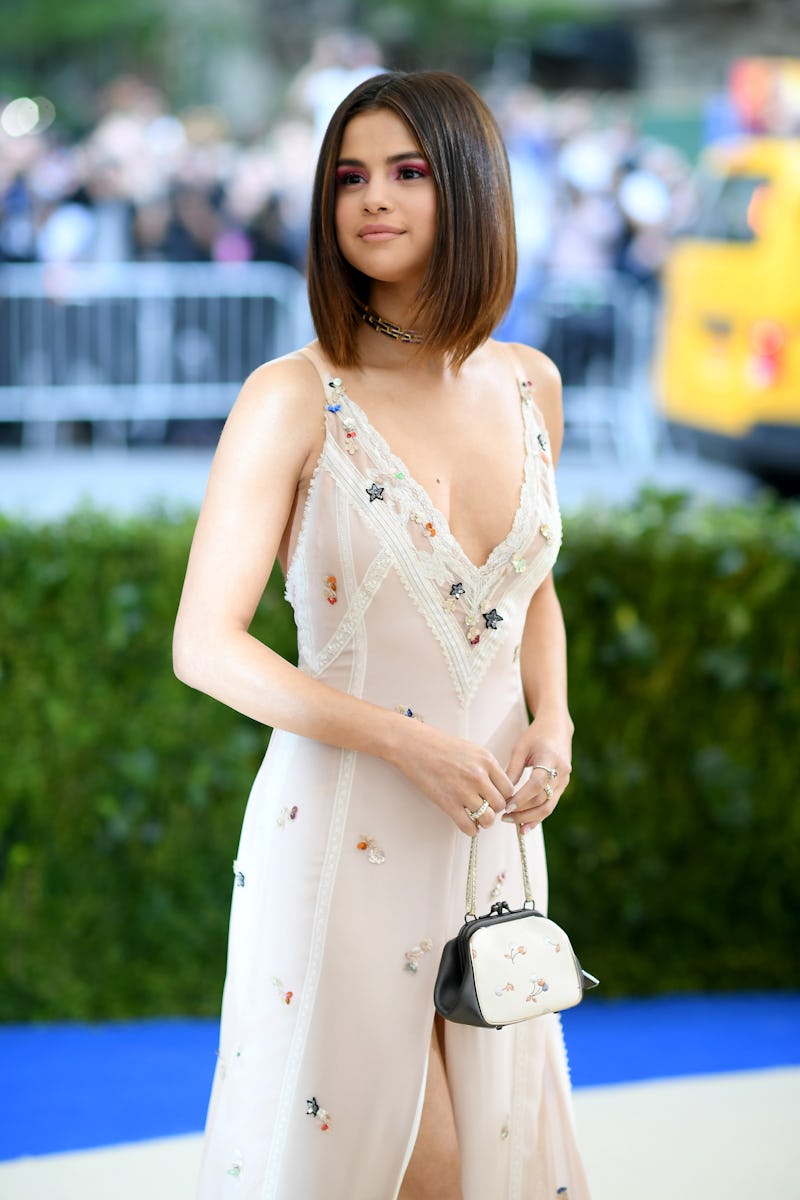 Dimitrios Kambouris/Getty Images Entertainment/Getty Images
When Selena Gomez says she is releasing a new film, you have every right to be excited. But when Gomez posted about a "Bad Liar" movie on Twitter and Instagram on June 12, your predominant feeling may have been confusion. Did Gomez really make a movie for "Bad Liar," her latest single? Or are these posters just some elaborate marketing for a new music video? Although details are sparse, the "Bad Liar" movie is set to drop on June 14 and while it's probably best not to expect a feature-length film, it feels safe to anticipate something captivating from the singer, actor, and producer.
Gomez shared movie posters on her social media advertising for a "Bad Liar" film coming on Wednesday. Like with her other posts teasing "Bad Liar," she posted pretty much the same thing three times, but in alternating colors of red and purple. And while these posters are what caused all of the speculation about what she's up to, they also provide some clues that tip you off to the fact that it's probably not an actual movie. For example, the poster says "Interscope Records presents" the film. Considering Interscope is Gomez's record label, you can assume that these posters are just clever marketing for a music video. Plus, the three stars of the "film" listed on the poster are all Gomez, so it feels like she has played fans a bit.
Something else that adds to the confusion of Gomez's posters is she already released a video for "Bad Liar" exclusively on Spotify's mobile app. Because of that, it didn't seem far-fetched to believe that Gomez created something else in a different medium for the song. Yet, the rest of the evidence points to it not being a true "film" film. Regardless, whatever Gomez is releasing on Wednesday should hopefully be a different music video than what was released before — otherwise, it would be kind of cruel to hype up a movie with posters if she was just promoting a previously-released video.
Yet, that doesn't mean there aren't reasons to still be interested in seeing what this "Bad Liar" movie entails. After all, Jesse Peretz apparently wrote and directed the video, which should entice fans of Nurse Jackie, New Girl, Girls, and Orange Is the New Black since he has directed episodes for all of those shows (most notably Girls). Peretz also is experienced in directing music videos. As a founding member of The Lemonheads, he has directed music videos for his former band, as well as for the Foo Fighters. And he's actually the person responsible for Marnie's hilariously bad "What I Am" music video from Girls.
Let's just say that movie or no movie, I expect something a bit better from Gomez's "Bad Liar" video when she releases whatever she has in store for fans on June 14.