Senate Rule 19 Allowed McConnell To Silence Warren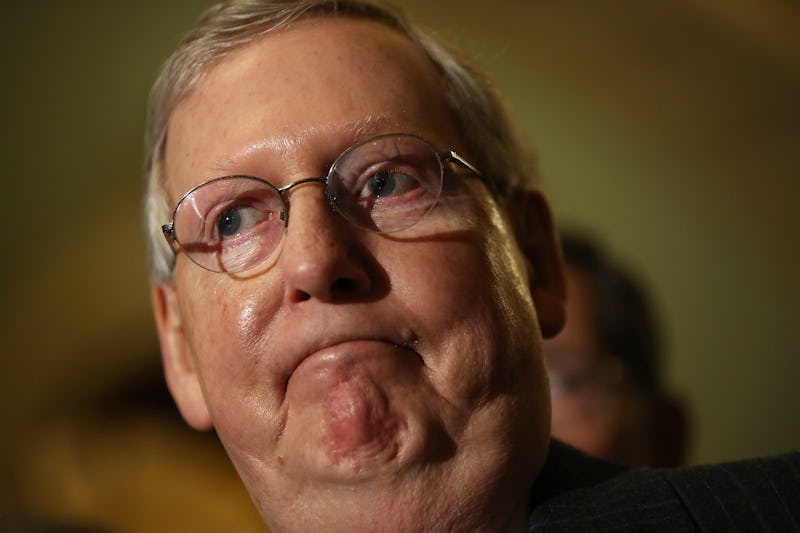 Win McNamee/Getty Images News/Getty Images
As normal citizens of any given country, you pretty much never hear about the inner workings of government bodies unless something goes horribly, horribly wrong. And so today, everyone wants to know what exactly Senate Rule XIX is, after Elizabeth Warren had it used against her on the Senate floor on Tuesday.
Rule XIX is one of many governing how debate should proceed in the Senate, and the whole rule covers a lot — how a senator should step into the debate, how a former U.S. president may always address the Senate with the proper arrangements, and how senators must not denigrate individual states. Senate Majority Leader Mitch McConnell silenced Sen. Elizabeth Warren using just one section of Rule XIX: Section 2, which states that "no Senator in debate shall, directly or indirectly, by any form of words impute to another Senator or to other Senators any conduct or motive unworthy or unbecoming a Senator."
In other words, Sen. McConnell was claiming that Sen. Warren's testimony against Sen. Jeff Sessions' nomination as Attorney General had veered into the realm of indecently "[impugning] the motives and conduct" of Sen. Sessions. Warren herself, followed by her many defenders across the internet, was quick to point out that she was simply reading the words of civil rights leader Coretta Scott King.
King, speaking out against Sessions when he was nominated for the position of a federal judge in 1986, had some very strong words about his alleged civil rights record. "Mr. Sessions has used the awesome power of his office to chill the free exercise of the vote by black citizens in the district he now seeks to serve as a federal judge," she wrote, a powerful line that Sen. Warren repeated again on Tuesday. Sessions has firmly denied the racism allegations.
Despite the experience with Sen. Sessions that King had to back up her experience, and her standing as an important civil rights leader in the country before her death in 2006, Sen. McConnell felt that her words constituted an unbecoming attack on Sen. Sessions' character. When Sen. Warren appealed the objection that Sen. McConnell had lodged, the Senate voted along party lines to uphold it. As Democrats then pointed out, Republicans have used the rule rather spottily in the past, choosing to ignore moments when members of their own party have flirted with crossing that line.
Warren will not be allowed to speak on the Senate floor until the debate over Sessions' confirmation comes to a close. An official vote is expected to take place Wednesday.