Sephora Is Throwing A Massive Beauty Festival Where You'll Be Able To Score Tons Of Free Swag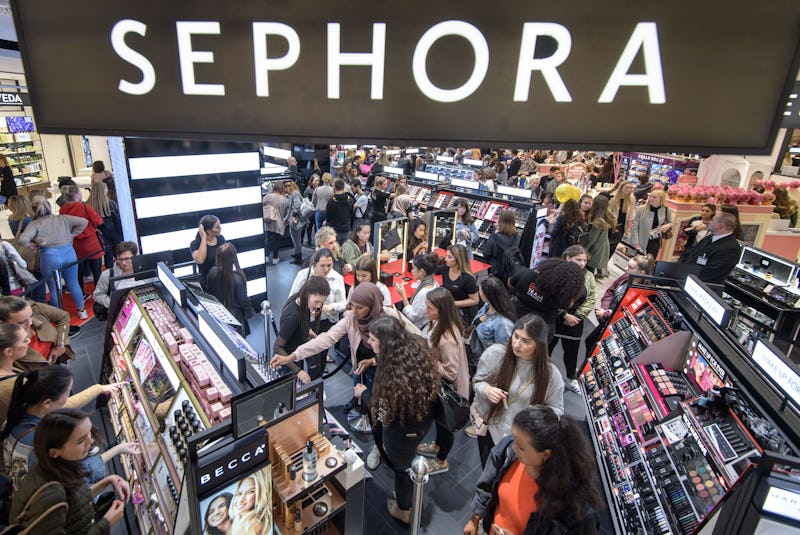 Thomas Lohnes/Getty Images Entertainment/Getty Images
Imagining a world were Sephora doesn't exist is difficult. For beauty lovers, the black and white hued retailer is a staple of both online and in-store shopping with their plethora or hair, skin, and cosmetic items. Don't worry, the store isn't going anywhere. In fact, Sephora's 20 anniversary festival, Sephoria, is coming, and it's basically the Coachella of beauty.
20 years of Sephora is quite a long time, and that's probably why the brand is having a major blowout to celebrate with their own staff and fans. To do so, they're hosting Sephoria (like, euphoria, get it), a two-day immersive experience meant to give customers, influencers, and brands the ability to connect using both physical and digital experiences. Sephoria will be set up as different rooms where attendees who enter have an entire beauty experience behind each new door. Basically, it's like a never ending carnival of beauty, and you're probably wondering where you can sign up.
Unfortunately, Sephoria won't be a traveling beauty circus. Instead, it'll be stationed in Los Angeles at the Majestic Downtown. As for how you can attend if you're willing to travel to the West Coast? Tickets will be on sale starting July 21 at the Sephoria website.
The ticket price, however, remains a bit mysterious as there's been no word about the price tags. However, there will be three different tiers according to the brand. Like most Sephora promotions and events, VIB Rouge and VIB members wills get special access to the tickets when they go on sale.
If you want to be one of the first to know the details of the ticketing system, you totally can. Sephoria already has its own website. Head over and sign up to be notified of announcements and details about the upcoming event that's scheduled for Oct. 20-21.
As for what attendees can expect? Exact details are relatively slim, but what the brand has revealed is that 50 of Sephora customers' favorite brands will be participating in the event regarding everything from foundation to eye shadows. Brands aren't the only people involved, though. Influencers will also be part of the celebration. According to the brand, they'll be helping to reveal Sephoria detail leading up to tickets sales, and some will even be attending as well.
How does Sephora itself invision the event for its clients, though? It's all about experiences and the sense of wonder that all beauty lovers get at the store. According to Business Wire, Senior Vice-President of Marketing and Brand Deborah Yeh, SVP of Marketing and Brand explained:
At the heart of it, SEPHORiA sets out to celebrate the often indescribable euphoria you get from playing in the vast world of beauty – from discovering game-changing products or trying out a new look to engaging with digital technology that takes personalization to a whole new level. We've drawn from our deep understanding of the kinds of physical and digital beauty experiences clients love from Sephora, and set out to create the ultimate event that fuses fun, education and inspiration, and gives our community a place where they can live out all of their beauty fantasies."
Another perk for the event? The Sephoria website promises not just brands and influencers but "one-of-a-kind swag" and custom products. While the brand hasn't revealed what that swag and those products may be, with influencers making announcements leading up to ticket sale time, you can bet Sephora lovers will probably find out soon.
If Sephoria sounds like your beauty dream come true, head over to the event's website and sign-up for announcements. This 20 anniversary event seems like a BFD, and you definitely don't want to miss it.