How One Couple Maintained Their Sex Life When Sex Became Painful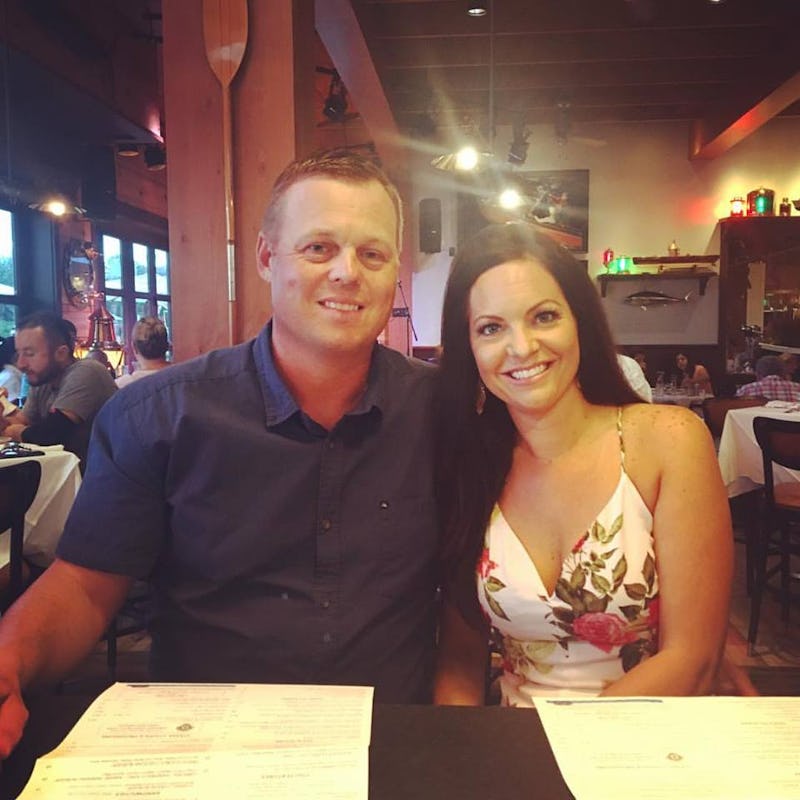 Courtesy of Tara Langdale-Schmidt
When Tara was 26, she started feeling a burning pain at the entrance to her vagina during sex. She worried that if she told her husband Jason she didn't want to sleep with him anymore, he'd be disappointed. Tara has vulvodynia, or chronic vaginal pain. And while many women fear that this condition spells the end of their sex lives and possibly their relationships, Tara and Jason want other couples dealing with vulvodynia and other forms of vaginal pain to know they can still enjoy fulfilling sex lives.
About one in 10 women experiences pain during sex, according to a study in BJOG: An International Journal of Obstetrics and Gynaecology. Vulvodynia is but one of many culprits. Another is endometriosis, which Tara has also dealt with. So early on in her and Jason's relationship, they learned the importance of communicating about pain during sex.
The burning sensation was new, though. Tara told Jason about this discomfort each time she experienced it, and thankfully, he was supportive. "I would describe the pain as becoming worse and the area feeling raw with a burning sensation," she tells Bustle. Once it got unbearable, they decided not to have intercourse regularly. They tried four times over the course of the following year, but they'd end up stopping soon after they started.
"I needed to tell her that we did not need to have sex if it hurt her," Jason tells Bustle. "I knew she had many operations before, and we had dealt with the intercourse pain from her endo. I would feel bad knowing I was causing her pain, so I told her we would figure this out together and told her not to feel bad about anything." Doctors failed to diagnose Tara for four years, minimizing her pain by recommending non-remedies like wine and Advil. It was through her own research that she learned she had a type of vulvodynia called Vulvar Vestibulitis. Even after doctors realized she was right, the treatments they prescribed were inadequate, and she and Jason still couldn't have intercourse.
That didn't mean they couldn't have a sex life, though. "There are many other things men can do to please a woman that do not include vaginal penetration," says Jason. He's right — in fact, many women get more pleasure out of oral or manual sex. It also didn't mean their intimacy suffered. To the contrary, going through this together only made them stronger.
Eventually, Tara got fed up with doctors' failed treatments and decided to create her own remedy. That's when she invented the VuVa Magnetic Dilator. Since her mom had fibromyalgia, she knew chronic pain could be treated with magnets. So, she put a magnet in a dilator and put it in 20-30 minutes before she had sex. She cried the first time this device allowed her to have pain-free intercourse. "Sex was no longer painful. It was becoming enjoyable," she says.
Now that he's been through it, Jason wants men whose partners might be dealing with vaginal pain not to trivialize or dismiss the pain like Tara's doctors did — and not to blame their partners. "Tara did not ask for this pain. Tara was not making up her pain," he says. "Men need to be understanding. It's nobody's fault."
For her part, Tara wants women dealing with pain during sex to know they're not alone, they can talk to their partners, and help is available. And they should never feel pressured to have sex if it doesn't feel good for the sake of maintaining their relationship. A strong relationship can survive without it. "Don't live in pain," she says. "Don't live in shame. You can get help. Don't give up."