Here's Everything We Know About The Sinister Group At The Center Of 'AHS: Apocalypse'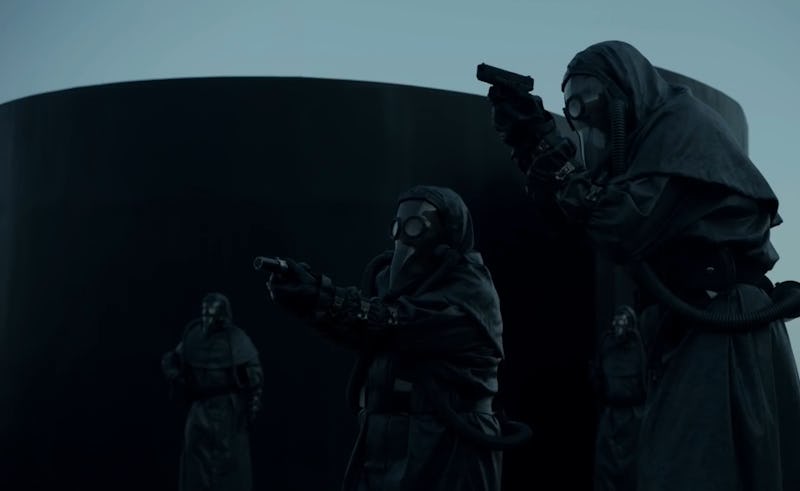 FX
Major spoilers ahead for the AHS season premiere. American Horror Story: Apocalypse blessed its audience with one of the most heart-pounding introductions the series has ever delivered. And soon after, viewers — as well as the show's characters — are in the clutches of a mysterious, supposedly well-intentioned, post-apocalyptic organization. So what is the Cooperative on American Horror Story?
The Cooperative, as far as the audience is able to see, invades people's homes just after a nuclear missile alert buzzed through the country's phones. They select people based on certain criteria found through ancestry websites and other DNA-logging methods, judging that they were genetically inclined to survive in extraordinary circumstances, and sweep them away to "outposts." So though fans don't have a ton of information right off the bat about the Cooperative's structure, or who is the mastermind behind it, it's obviously some kind of organization that was put in place to keep humanity intact in the case of a nuclear holocaust.
Sarah Paulson, as one of three characters she'll reportedly be playing this season, rules over Outpost 3 as Venerable — a stern leader within the Cooperative who forces her charges to wear Victorian garb and adhere to strict rules. "Think of me as [the Cooperative's] face," she says to some of the new arrivals. At first, it seems like she might just be carrying out bizarre orders through no fault of her own, but it quickly becomes clear that she's having a little unauthorized, sadistic fun of her own.
More leadership from the Cooperative arrives at the tail end of Apocalypse's premiere. Someone named Michael Langdon, who appears to be Venerable's superior within the Cooperative, rolls up, apparently unexpectedly, to Outpost 3. He says the other outposts had been overrun — by what, he didn't specify — and that Outpost 3 is the only surviving beacon besides another mysterious "facility" that he now wants to whisk some of her residents to.
If they were quick, viewers could also glean some information from the ID card Langdon shows the outpost's guards in order to gain entry. There are signatures on the card from a "President" and a "Chancellor" of the Cooperative, as well as ID numbers, ranking numbers, and other coding. They're definitely an established, organized entity — not one that was whipped up at the last minute once impending war arrived.
The presence of Langdon within the Cooperative is also a mystery itself. You won't recognize his face from the AHS universe, but the name of Cody Fern's character is certainly one we've heard before. "Langdon" was also the last name of Jessica Lange's character from AHS: Murder House, Constance, and her deceased son, Tate (Evan Peters).
Fans of Murder House will remember that Vivien Harmon (Connie Britton) died toward the end of that AHS season as she gave birth to twin babies — one that was her husband's (Dylan McDermott), and one that was a product of Tate assaulting her. A medium, also played by Paulson, warned that Tate's child, whom Constance took charge of and named Michael, would be the "antichrist." And, the final scene of Murder House gave a grisly glimpse into what Michael would become.
Given that little piece of information, it doesn't exactly bode well for the safety of the cast that grown-up Michael now seems to be high in the chain of command of the Cooperative. The Wrap reported that Britton, McDermott, and Lange are all set to return as their Murder House personas, and there's no doubt that Michael will have something to do with it. Hopefully upon their arrival, viewers will learn even more about the Cooperative, and what exactly Michael's role is in the end of days.