North Korea Says It Successfully Tested Out Its Most Powerful ICBM Yet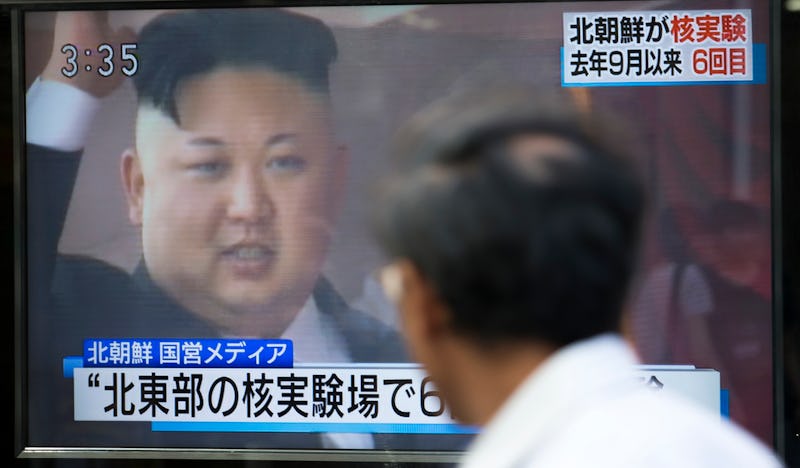 Tomohiro Ohsumi/Getty Images News/Getty Images
Pyongyang has tested another type of intercontinental ballistic missile (ICBM), and it's supposedly the "most powerful missile so far." Late on Tuesday, North Korea reported that it had launched the Hwasong-15, which might be able to reach the entirety of the mainland United States.
The missile reportedly climbed 2,781 miles into the sky and flew about 590 miles in 53 minutes. U.S. Defense Secretary James Mattis told reporters, "It went higher frankly than any previous shot they've taken, a research and development effort on their part to continue building ballistic missiles that can threaten everywhere in the world, basically."
In a broadcast from Korean Central Television (KCTV), the country's state media, North Korea claimed that the missile was a Hwasong-15, the latest in its series of Hwasong ballistic missiles. The previous generation Hwasong-14 was first tested on July 4 in what is thought to have been Pyongyang's inaugural ICBM launch. North Korea claimed that the Hwasong-14's reach extended to "anywhere in the world." Some experts guessed that it would only be able to reach as far as Alaska, while other estimates concluded that it could hit most of the continental United States.
North Korea is claiming that the Hwasong-15 can hit the "entire region of the U.S. mainland." On the KCT segment, broadcaster Ri Chun Hee announced that the missile could hold a "super-large heavy warhead" and that country had "realized great historic cause of completing state nuclear force." An official statement from the government described the missile as having "much greater advantages in its tactical and technical specifications and technical characteristics" than previous generations.
David Wright of the Union of Concerned Scientists told The New York Times that the Hwasong-15 might, in fact, be able to hit the entire continental United States. He said that its range may extend beyond 8,000 miles: "It's pretty impressive."
However, the Pentagon stated on Tuesday that the Hwasong-15 is not a danger to the United States. In order for North Korea to pose a threat, it must not only develop missiles that can travel the appropriate distance, but also create miniaturized warheads to fit on those missiles. Unfortunately, it is also making significant progress towards that goal.
Pyongyang's last test was over two months ago. That missile was presumed to be a Hwasong-12; it flew over Japan on Sept. 15 and is thought to have been able to reach the U.S. territory of Guam.
President Trump responded to Tuesday's event with a short statement: "It is a situation that we will handle. We will take care of it." Earlier in the day, after the initial reports of a missile launch emerged, he tweeted, "After North Korea missile launch, it's more important than ever to fund our gov't & military!"
The president held an emergency telephone call with the Japanese prime minister, Sinzo Abe, on Tuesday. Abe and Trump reportedly said that China should step up its efforts to pressure North Korea into halting its nuclear program. As its largest trade partner, China holds considerable power over Pyongyang.
Shortly after the Hwasong-15 test, South Korea completed its own symbolic missile launch. President Moon Jae-in also released a statement of warning: "If North Korea completes a ballistic missile that could reach from one continent to another, the situation can spiral out of control. ... We must stop a situation where North Korea miscalculates and threatens us with nuclear weapons or where the United States considers a pre-emptive strike."
The United Nations Security Council will discuss the Hwasong-15 launch in a meeting on Wednesday. The council has already imposed sanctions on North Korea for its nuclear program — the development of which is prohibited by UN resolutions — but may increase their severity. U.S. Secretary of State Rex Tillerson said Tuesday that "additional measures" should be taken, suggesting that the international community intercept cargo ships holding North Korean exports and imports.